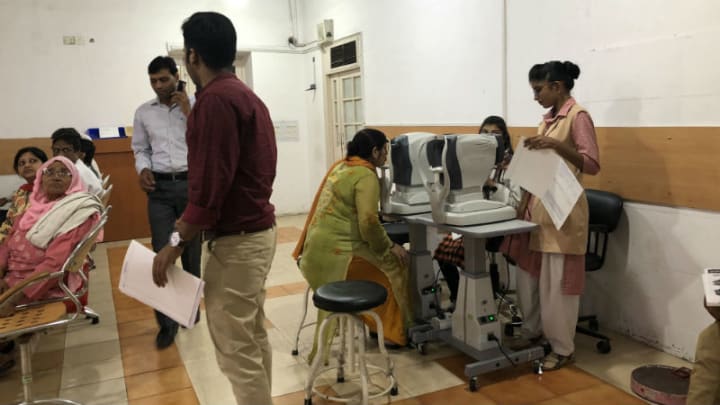 NEW DELHI — Twenty-five years ago, the Vivekananda Mission Asram Eye Hospital, or VMANNN, in India's state of West Bengal, operated only partially and sometimes without a doctor. That was not uncommon in rural areas at the time. But since then, a dramatic turnaround has seen India become a model for high-quality, low-cost eye care.
In the early days of cataract surgery in India, most operations — particularly those targeting low-income or rural populations — were done in makeshift operating rooms in villages. The technology was old and the conditions typically subpar, with little follow-up.
Yet as India came to recognize that its growing rates of blindness were driven by treatable cataracts, things began to change. Over the past several decades, its eye care system has made tremendous strides. On the back of strong leadership, innovation, funding, and government support, eye care has improved and more people have gained access.
Central players on this journey include nonprofit institutions, such as the Aravind Eye Care System. This model has helped spur key eye care innovations, from manufacturing low-cost equipment to training doctors, to developing a system of support staff that has dramatically increased the number of patients each doctor can treat.
According to R.D Thulasiraj, director of operations at Aravind, about half of all eye care in India is provided through NGOs. The strength and robustness of the nonprofit sector has been a "big factor" in achieving progress, he said, alongside cooperation between eye hospitals and political will that has produced a series of key policy decisions.
Turning points
It was a 1976 medical research survey that spurred the government action on eye care. The survey recorded a 1.3 percent prevalence rate for blindness, with cataracts the leading cause.
Despite the launch of the National Program for Control of Blindness, funding still lagged behind "higher priority" issues such as malaria, tuberculosis, and maternal and child health. A follow-up survey in 1986 found that the prevalence rate had risen to 1.49 percent.
Soon after, the government decided to allow free imports of ophthalmic equipment and other supplies, vastly improving access to the critical goods needed for examination and surgery. "That was a huge input … that helped India catch up to [the] West in terms of [state of the art] care," said Thulasiraj.
Yet in the early 1990s, progress on blindness was still slow. With little funding available, the Indian government turned to the World Bank for a loan to support cataract surgery across the country — something the bank had not funded before, according to Dr. Damodar Bachani, who was tapped to lead the program and helped draft the proposal.
Although the original proposal was turned down, Bachani crunched some numbers to figure out the economic impact of blindness in India, which helped convince the World Bank to fund the program, he said. The $117 million, seven-year project launched in 1995 and helped transform eye care in the country. When the program finished, India's health community — armed with proof of success — convinced the finance ministry to carry it forward.
A new model for eye care
The government program helped change the way eye care was done. It focused on a transition to a new type of surgery that was more difficult but also more effective, and changed regulations to require surgery to be done in hospitals and not in makeshift camps. Over time, it has doubled the number of ophthalmologists trained each year and expanded the program beyond cataracts to other areas of eye care, including support for children and those with diabetic retinopathy, Aravind's Thulasiraj said.
India also pioneered the cross-subsidization model for eye care, where fees from wealthier patients help cover the costs of treatment for low-income earners. Aravind and other hospitals charge fees on a sliding scale according to how much a patient can pay, and no one is turned away. Aravind is able to cover all of its expenses with this model. Many other hospitals can sustain themselves day to day, but still need philanthropic support for big equipment purchases or expansions.
What makes this model tick is a network of "allied ophthalmic personnel" — nurses, technicians, and assistants — who help support doctors, take care of many of the initial evaluations, and enable hospitals to carry out far more surgeries each day. Many of the biggest hospitals have their own training programs for eye care support staff. Still, due to high demand, these workers remain in short supply.
Earlier this month, the training center at Dr. Shroff's Charity Eye Hospital in New Delhi welcomed a new batch of young trainees, all women, who have a stipend to help cover their costs. The women talked about the importance of serving their communities as they settled into a program that will teach them medical and computer skills, basic English, and more. After around three months of classroom training, the rest of the program is hands on. About 85 percent of the students graduate and continue on to work for the eye center.
Change agents
For the cross-subsidization model to work effectively, eye hospitals have to attract a high volume of patients to surgery. Initially, many were reluctant to go under the knife. But as those who had surgery suddenly found themselves able to see, word spread.
Get development's most important headlines in your inbox every day.
Thanks for subscribing!
"If you sight one blind person in one village, you've won the war — they become a change agent," Bachani said.
Increasing footfall was a key challenge in the early days at VMANNN, the hospital system's medical director Dr. Asim Sil said. Outreach camps, building off some of the infrastructures that had been left behind when the old, makeshift surgical camps closed, helped build awareness of the hospital and services it provides.
Despite improving results with a new standard of surgery, hospitals still can struggle to get patients on board for treatment. A VMANNN patient survey found that financial problems or a feeling they could get by without surgery were some of the causes. The hospital is working to support patients with financing and to improve counseling to encourage more to take the option up. Hospitals continue to organize outreach camps, but are also increasingly relying on vision centers — small clinics in more remote areas where patients can seek treatment and get referrals to hospitals.
VMANNN and the Shroff's are both expanding the number of these vision centers, aiming to provide better education and increase patient treatment. Since Shroff's started its outreach program and vision centers in the early 2000s with guidance from Aravind, the number of patients it is seeing has more than tripled, said Shalinder Sabherwal, an ophthalmologist who leads public health at the company.
More work to do
Countries from Bangladesh to Kenya are now looking to the Indian model for eye care, and Aravind trains doctors from around the world.
But India itself still has a way to go, say many — from staffing to better use of data, ensuring access to care, and moving to a more comprehensive system.
"I think the next focus has to be looking at equity," Thulasiraj said, explaining that improving care in regions with limited infrastructure, few ophthalmologists, and no dedicated NGOs will be a challenge.
In May this year, the government also declared some 40 private hospitals ineligible to receive subsidies that cover the cost of care for low-income earners — including VMANNN's secondary hospital — in an effort, some say, to improve performance metrics for government hospitals.
"The excuse they gave was that private hospitals were taking patients away from public hospitals, so they withdrew the subsidies," Sil said, adding that government hospitals often provide lower quality treatment. VMANNN is working to find ways to offer reduced pricing.
Others said the Indian system needs to expand beyond cataracts, and several pointed to the challenge of attracting and retaining doctors, particularly in more rural areas.
Dr. Shroff's Charity Eye Hospital has developed a course to address that challenge — a two-year program where trainee surgeons spend at least 15 months in semiurban secondary centers. It is also offering doctors training in a subspecialty to keep them engaged.
Despite the efforts India has made to maximize the use of support staff, the government has not yet recognized or created an accreditation process for them. As it looks to implement regulations around those workers, there are concerns that poorly implemented policies could damage productivity, Thulasiraj said. New government-backed insurance is also changing dynamics and could disrupt the market, he said.
Still, the eye care sector has come far. VMANNN has learned a lot along the way as it develops its systems and adapts to new technologies. The hospital, always busy with visitors, now performs some 22,000 cataract surgeries a year. And the outpatient department is run by a man who was part of the first group of trainees.
Devex, with financial support from our partner Essilor, is exploring challenges, solutions, and innovations in eye care and vision. Visit the Focus on: Vision page for more.