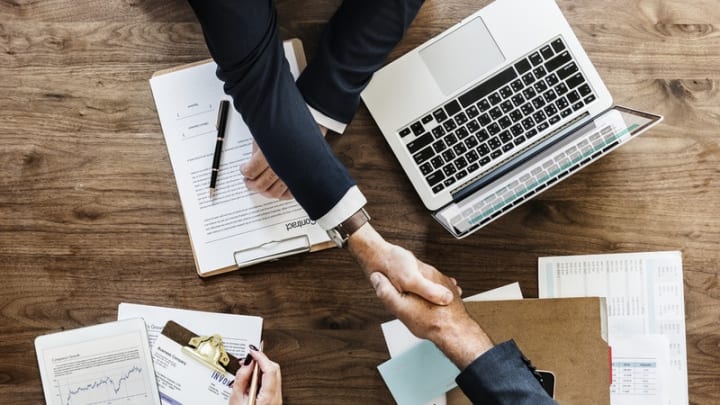 The private sector continues to play a key role in global development, not just in a funding capacity, but in providing market-driven solutions to some of the biggest challenges facing our world.
As a result, there is a growing demand across the sector for people with private sector knowledge and experience to support the work of multilateral development banks, donor agencies, and microfinance institutions.
Devex spoke to some of these professionals to find out how to build expertise in private sector development.
Solid understanding of business and finance
While a degree in business management or economics is not an absolute requirement, it does help. A good grounding in subjects such as international economics, international affairs, statistics, public policy, financial management, and business operations is important, advised Arsalan Ali Faheem, a private sector development specialist currently leading a U.K Department for International Development and European Union-funded program for market development in Palestine.
Business and finance are core academic areas that will give you a sense of the conceptual frameworks needed to engage with different sectors and assimilate knowledge, he explained.
After studying a bachelor's in business administration, Faheem completed a master's degree in public policy with a focus on international affairs and economic development. Combined, these degrees gave him a "sound grounding in both public policy and economic policy, and business fundamentals in terms of operations, financial management, marketing, product placement, and pricing." This, Faheem said, has been extremely valuable to his work in private sector development.
Guillermo Aguilar Rios, currently working on private sector development with the Caribbean Development Bank, advised that a strong background in finance is essential, especially if you aim to work with any of the multilateral banks.
Aguilar Rios was able to transition into global development with a Master of Business Administration and a master's in finance — when donor agencies started to embrace the trend around microfinance in the early 2000s.
At the most basic level, you need to understand balance sheets, how to lend money, and have strong numeracy logic, he explained.
Learn from experience
Degrees and new skills are important, but becoming an effective private sector development professional also requires the type of "sound thinking" that comes from "practical experience, exposure, and spending time in the field," Faheem said.
"Actually managing and executing private sector development projects is the most important element of your growth and effectiveness," he explained.
Before working with development institutions and organizations, Faheem held positions and internships in the financial services and pharmaceutical industries. This cross-functional experience was extremely valuable, he said.
In private sector development, you will deal with companies from different industries all the time, Faheem explained, "you need to be able to understand the context, be able to speak the language, be able to engage with businesses, and understand the perspective with which they are looking at things."
Private sector development aims to think of ways to work with a low- and middle-income country's economy to catalyze and stimulate growth, and create better economic opportunities, Faheem explained. Experience working within different industries in a LMIC is advantageous, as you will already have a sense of what affects business performance in a variety of settings, he added.
Get development's most important headlines in your inbox every day.
Thanks for subscribing!
Develop soft skills
Working on projects entails a lot of cross-team collaboration, so strong communication skills are vital, Aguilar Rios said. In his current role as operations officer for private sector development, Aguilar Rios often has to coordinate with other experts, including lawyers, economists, gender specialists, and agriculture advisers. Solid communication skills are important for briefing managers and donors on project progress and results — avoiding unnecessary meetings, he added.
Steven Hornshaw, a specialist with over 30 years experience working in private sector development, also emphasized the importance of good communication. Hornshaw, who has worked with DFID, World Bank, and Asian Development Bank, said that interpersonal skills are the number one skill for an effective private sector professional. "You have to be able to work in … multinational, multicultural, multidisciplinary teams," he said.
Flexibility and the ability to understand and adapt to local contexts is also important, he added. You might be working alongside local governments, partners, and beneficiaries so it is inevitable to encounter delays or different approaches in how things get done, he explained. However, soft skills combined with management and analytical skills can help you become a more effective professional and leader, Hornshaw said.
"Be proactive and don't be one more barrier, be a facilitator."
— Guillermo Aguilar Rios, operations officer for private sector development, Caribbean Development Bank
Be solutions-oriented
You may find yourself up against a lot of bureaucratic guidelines, or policies and procurement rules, Aguilar Rios said. Meanwhile, you will also be cooperating with businesses to deliver people-centric solutions.
"You have to deal, every day, with all these restrictions and barriers, but try to be proactive and agile," Aguilar Rios said. The private sector requires faster, better, cheaper delivery, and you have to find creative solutions, he added. A solid understanding of institutional rules and policies helps, but you also have to interpret and apply these rules to deliver the market and people what they need.
The key is to "understand the organization and respect what they want to do," Aguilar Rios added, "but on the other hand, be proactive and don't be one more barrier, be a facilitator."
Having a problem-solving mindset is particularly important when working in an international context, Faheem said. If you are working on a project to improve the performance of the agricultural industry in Nigeria, for example, there isn't a textbook on how to do that. You "have to immerse yourself in that context and look for solutions," he said.
Understand modeling software
Individual organizations work with different systems or modeling software, which integrate project information and financials to provide forecasts on organization or loan performance. Knowledge and training in how to use these are valuable, Aguilar Rios advised.
These systems can be complex, Aguilar Rios cautioned, but they allow you to work and create reports more effectively — a skill that is particularly useful when working at multilateral development banks.
For more coverage on professional development, visit the Skills for Tomorrow site here.