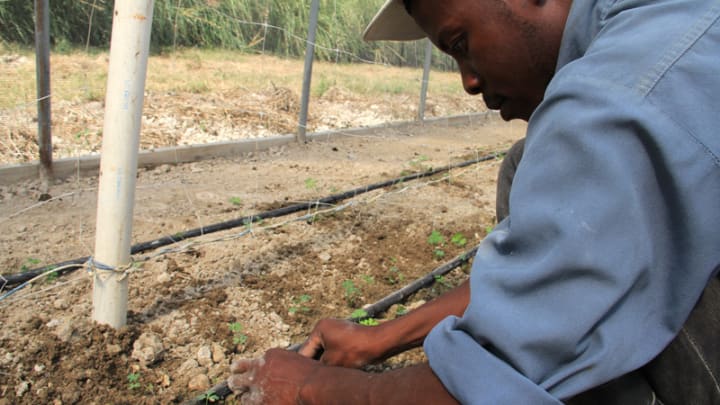 Jude Dessources has problems. One of tens of thousands of smallholder Haitian farmers living on the Cul-de-Sac Plain near Port-au-Prince, his everyday reality is months of drought punctuated by torrential storms or hurricanes that flood his fields and home. The result? Lost crops and economic uncertainty for Jude and his family.
Unfortunately, Jude and his fellow Haitians are not alone in this plight. According to the World Resources Institute, 1 billion people live in water-scarce regions and an estimated 3.5 billion people could join them within 10 years.
This trend will put extreme pressure on smallholder farming systems, which currently produce about 80 percent of the global food supply, at a time when population projections estimate 9.6 billion people by 2050.
Build resilient and prosperous economies through CSA
To help smallholder farmers like Jude break the cycle of poverty and climate shocks, Chemonics' agriculture and food security practice is integrating climate-smart agriculture — or CSA — with inclusive market systems to build competitive industries and use social marketing to encourage increased consumption of nutritious and high quality foods.
The United Nations Food and Agriculture Organization defines CSA as an integrated approach to address interlinked challenges of food security and climate change, along three objectives:
1. Sustainably increasing agricultural productivity;
2. Adapting and building resilience of agricultural and food security systems; and
3. Reducing greenhouse gas emissions from agriculture.
The new challenge is to integrate CSA objectives into a development approach that will protect the planet and improve the lives of farmers like Jude. Over the past 40 years, nongovernmental organizations, international donors, private sector companies and local organizations have collaborated to promote sustainable agricultural growth.
Over the past several years, for instance, Chemonics and the U.S. Agency for International Development have worked closely with local agricultural cooperatives and associations. Through this experience, we've developed an integrated CSA approach along the following components: to empower smallholders through technology; stabilize to re-energize degraded land; and build carbon capture ecosystems.
Empower smallholders through technology
Technology, science, and modern agricultural practices are the key to increasing smallholder farmer productivity and incomes. Drip irrigation is one constantly-developing technology that  iDE, a leader in smallholder technology solutions, has embraced. In Cambodia, iDE developed a package of support, including drip irrigation and fertigation, that doubled farmer productivity.
In Haiti, Chemonics promotes a new integrated system of hillside greenhouses, vertical farming, and drip irrigation systems that is allowing farmers to make the most out of poor water infrastructure and triple their productive seasons. Catchment systems are excellent ways to improve water infrastructure in order to collect water more efficiently during the rainy season so it can be used year-round, extending and multiplying growing seasons for many farmers.
Technological packages like the combination of greenhouses, catchments, and drip irrigation — when developed appropriately with respect to the local context — allow farmers like Jude to more efficiently harness water to get "more crop per drop."
Get development's most important headlines in your inbox every day.
Thanks for subscribing!
Stabilize to re-energize degraded land
Denuded hillsides have created an environmental disaster in Haiti, but new approaches and technologies are providing solutions. USAID funding helped Haitians rehabilitate 71 miles of ravines, plant 5.6 million trees, and build a state-of-the-art water diversion dam that has helped harness water and protect Jude and 50,000 other farmers against flooding in the Cul-de-Sac plain.
Above the plain, farmers are combating deforestation by planting trees and grasses that prevent erosion and allow more productive agriculture on the hillsides. Additionally, promoting greenhouse technology improves potential productivity, reducing pressure on land.
Build carbon capture ecosystems
According to the FAO, agriculture and land use is responsible for 24 percent of global greenhouse gas emissions. Agriculture therefore has the potential to play an important role in mitigating global emissions. According to France's Ministry of Agriculture, a 4 percent annual increase in global soil carbon stock would stop the current increase in atmospheric carbon dioxide.
We have to look to no further than Iowa, a U.S. state where more than 99 percent of the native prairies have been modified, to see this principle at work.
On Nov. 20, a New York Times op-ed reported on the dramatic steps Iowa's farmers and leaders are taking to both enhance carbon sequestration through agroforestry and investing in renewable energy to directly reduce carbon emissions. Grant Schultz, the "mad scientist of permaculture" and owner of Versaland, an Iowan agroforestry farm, has transformed a degraded industrial corn farm into a model to revitalize agricultural ecosystems for farmers around the world to emulate.
Climate change: The shock we need to build resiliency and prosperity?
Many "climate-smart" techniques are not new, and in fact have been promoted as sound agricultural production strategies for decades. However, increases in average global temperatures, and increasing climate uncertainty, are reducing farmers' ability to predict and to cope with changing rainfall, droughts and floods.
Perversely, this increased pressure on traditional resilience may be the shock needed to spur farmers to adopt new coping techniques and strategies that they may not have previously needed. The contemporary smallholder farmer like Jude will have to break with longstanding traditional risk-averse methods and practices, not only to survive, but permanently break the survival cycle in which millions are trapped and preserve the planet for future generations.
Planet Worth is a global conversation in partnership with Abt Associates, Chemonics, HELVETAS, Tetra Tech, the U.N. Development Program and Zurich, exploring leading solutions in the fight against climate change, while highlighting the champions of climate adaptation amid emerging global challenges. Visit the campaign site and join the conversation using #PlanetWorth.