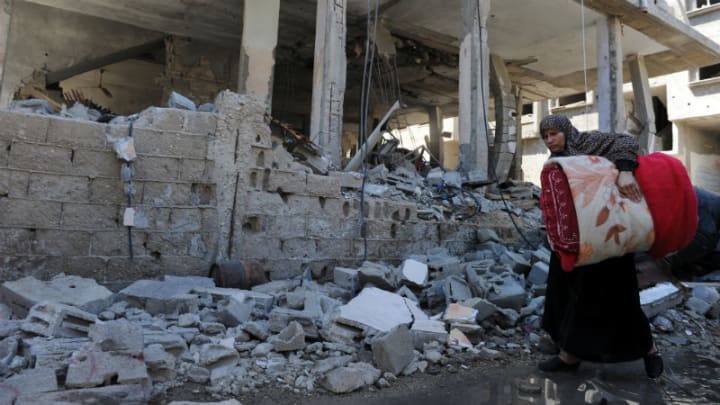 WASHINGTON — As the World Bank looks to do more work in fragile and conflict-affected countries, the humanitarian groups that already work in those contexts are asking the institution to be a partner, not a donor.
Since 2016, the World Bank has taken a number of steps to expand its operations in countries experiencing protracted conflict and crisis, out of a growing recognition that those are the places where extreme poverty is increasingly concentrated. One of the bank's "twin goals" is to eliminate extreme poverty, and there is a general consensus that will not be possible without addressing the root causes of fragility and helping people and countries find pathways out of conflict and into development.
"I don't actually support or like the idea of the World Bank potentially becoming a funder in the humanitarian arena."
— Joel Charny, executive director, Norwegian Refugee Council USA.
The humanitarian community has largely welcomed the bank's entrance into the fragility and conflict arena. As the World Bank puts the finishing touches on its first fragility, conflict, and violence strategy — expected to be released toward the end of this year — humanitarian groups are offering some candid feedback about what role they hope the bank will and will not play in these challenging and politically-sensitive situations.
On Thursday, representatives from humanitarian organizations shared recommendations from a new report, jointly produced by the Center for Global Development, International Rescue Committee, and Mercy Corps.
Their overarching message is that as the World Bank looks to deploy more financing and policy influence in fragile and conflict-affected states, it should do so in close coordination with the humanitarian groups that are already present on the ground. That represents a departure from the bank's standard operating model, which relies on close coordination with national governments — something that is often not possible, or even detrimental in conflict-affected areas.
"In some fragile and crisis settings, the national governments—the default partners of the World Bank—are parties to conflict or benefit from (and perpetuate) protracted fragility," the report reads.
Even in places where the government does not represent a viable development partner, the World Bank is looking for options that will allow it to stay engaged.
"The worst case scenario is disengagement, so that is going to be our last resort," said Olivier Lavinal, a World Bank senior operations officer, speaking at the civil society policy forum on Thursday.
That does not mean the World Bank will try to maintain full-scale operations everywhere, or that it will always work directly with a national government. In some cases, depending on the context and the policies the government is pursuing, the World Bank could scale back its programs, or seek alternative partnership arrangements.
"In some countries we're already starting to change the nature of our engagement, not necessarily working directly with the national governments, but working with NGOs, working with local authorities," Lavinal said.
"Now, will that be the default setting of the bank? No. That will be exceptional cases what we are looking into and what we are trying to do more of," he said.
The bank has a handful of recent examples to point to. In South Sudan and Yemen, Lavinal said the institution has been cooperating with NGOs and U.N. agencies at an operational level. The bank is also working with the International Committee of the Red Cross to develop a Famine Action Mechanism, aimed at using predictive analytics to mobilize famine relief funding.
Get development's most important headlines in your inbox every day.
Thanks for subscribing!
One of the most significant examples of the bank's pivot to fragile states has been the creation of the Global Concessional Financing Facility, which allows middle-income countries that are hosting large numbers of refugees to access concessional bank funding for which they would not ordinarily qualify. Lavinal, who manages that program, said it has provided an opportunity for the bank to leverage its financial resources in pursuit of government policies that can benefit refugee and host populations alike.
"Here let me be blunt, there is a dialogue with the benefiting countries — Lebanon, Jordan, Colombia, now Ecuador — facing these crises, on the policies themselves," Lavinal said.
Even as they welcome the significant opportunity presented by the bank's interest in bridging humanitarian and development support, aid groups warn that opportunity could be lost without better coordination and more intentional partnership.
"I strongly believe that this partnership needs to be about ideas, and learning, and making the work better, rather than about funding. My boss will not like this comment, but I don't actually support or like the idea of the World Bank potentially becoming a funder in the humanitarian arena," said Joel Charny, executive director of Norwegian Refugee Council USA.
"The bank can be so much more intentional about its approach to partnership," Charny said, adding that, "right now it's just very scattershot, very random, very inconsistent."
A significant part of the challenge for the World Bank will be ensuring that it has enough staff and expertise in fragile and conflict-affected areas to provide that coordination with other groups that are working there.
Ella Watson-Stryker, a humanitarian representative with Médecins Sans Frontières, noted that her organization's country director for Yemen has to travel to Cairo if she wants to meet with the World Bank's management team.
"We see World Bank money on the ground. We see the consequences of World Bank money — some positive, some negative. We don't see the people who are actually decision-makers," Watson-Stryker said.
She added that in the Democratic Republic of the Congo, MSF has struggled to engage with the World Bank on how the bank is providing funding for the Ebola crisis, which she suggested has been detrimental in some cases.
"I have Congolese physicians telling me, 'if the World Bank would stop funding, this outbreak would end faster," Watson-Stryker said.
"When we're trying to engage with staff on the ground, they don't have the decision-making ability to actually do anything about how the funding and financing is done," she said.