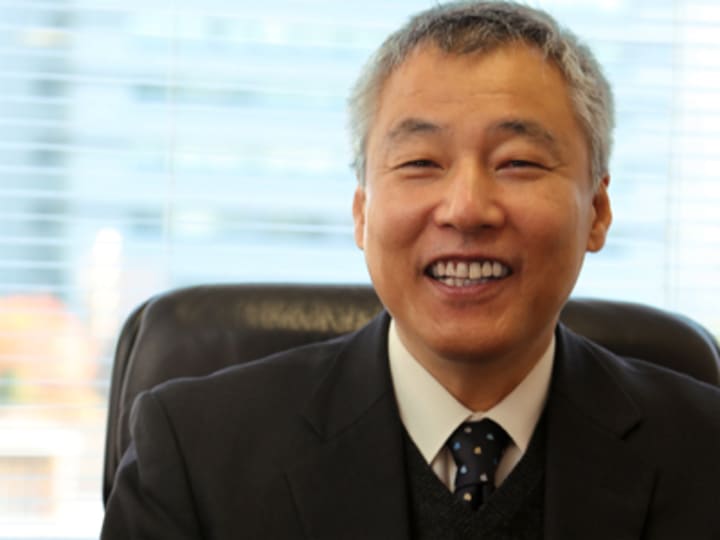 IC Net, a Japanese consulting firm with more than two decades of experience implementing projects for the Japan International Cooperation Agency, is looking beyond its borders for new opportunities and partnerships.  
Under Hiroaki Terashima, its managing director, the company has sharpened its focus on building relationships with aid groups around the globe, and especially with donors in Washington. The company will launch a newly redesigned website in February that offers a comprehensive understanding of its services and outlines opportunities for consultants and companies.
Devex spoke with Terashima during his recent visit to the U.S. capital to discuss his vision for future partnerships, IC Net's unique position as a Japanese firm with extensive experience in countries like Myanmar and Bangladesh, and how the company is adapting to a fast-changing development landscape.
In addition to your offices in Tokyo, Bangkok and Dakha, you have an office in the District of Columbia as well. What prompted your expansion to the United States?
We have actually had an office in D.C. for a while now, but it was focused primarily on the narrow purpose of hiring consultants in the D.C. area. When I became managing director of IC Net four years ago, I thought our U.S. offices should play a broader role to meet the changing nature of our work.
The office is now integrated into our global strategy in several areas including recruiting talented staff and consultants to meet our growing and diversifying human resources needs, developing relationships with new clients such as the U.S. Agency for International Development, the Inter-American Development Bank and the World Bank, exploring new partnerships with firms and NGOs which share visions and strategies, and raising our profile within the larger international development community outside of Japan.
What specific types of expertise do you bring to the development community here in Washington?
We offer a broad range of expertise through the more than 100 in-house experts who manage nearly 30 ongoing development projects around the world as of December 2013 in areas including marine resource management, agriculture, environment, health, education, rural development, governance, private sector development, and evaluation.
In addition to that technical expertise, we also offer in-depth knowledge, experience and networks in countries like Bangladesh and Myanmar. We've been working in Bangladesh for the last 10 years and recently established a country office there, so we have extensive networks with local firms, NGOs and government agencies.
In Myanmar, we implemented a JICA-funded education project for several years before Myanmar's "opening up." More recently, we have been working with the Myanmar Engineering Society, a local professional association, and donor agencies to improve the project management skills of government officials in Myanmar. It's small-scale, but it's been very well received, and we hope it will be expanded. Myanmar has been isolated, and there are very few people in the government and private sector that have project management experience. Many donors are starting to work in Myanmar, and the country needs to be prepared to manage projects effectively. We are there, and we are ready to provide our expertise to other firms and organizations who are implementing projects in the country.
How do you think your experience and perspective as a Japan-based firm informs the work that you do around the world today?
There are a number of practices pioneered in Japan that have applications in international development, including Kaizen, the continuous improvement of business, the 5S method for workplace organization, or the co-management of coastal resources by local government and fisheries cooperatives. We believe that such knowledge and experience from Japan should be widely disseminated to people in developing countries who strive to stand on their own two feet.
We always keep in mind that our country managed to reconstruct and develop from devastation after World War II, through which Japan has accumulated a lot of knowledge and experience. At IC Net, we strive to transfer that knowledge through our work for the benefit of developing countries.
As managing director, what's your vision for IC Net over the next few years, and what new opportunities are you most excited about pursuing?
I believe that overseas development assistance is only one of many means to assist people in developing countries. Since I became managing director, I've been developing the non-ODA business, as we call it, by seeking opportunities to partner with Japanese private firms, usually small or medium-sized enterprises, which are aiming to make their way to markets in developing countries. These firms have products — often very advanced technologies — that are very useful to developing countries. I think our effort in non-ODA business has been gradually bearing fruit, although a lot more needs to be done, and I think our experience can inform other efforts to involve the private sector in development activities.
Get development's most important headlines in your inbox every day.
Thanks for subscribing!
Against this background, in the coming decade, I would like to see IC Net become a firm that has a unique vision and a strategy for mobilizing needed knowledge, experience and resources not only from ODA but also from non-ODA resources such as private companies, nonprofit foundations, universities and so on.
What types of partnerships are you most interested in building in the near future?
Our partnerships could take a variety of paths, and we want to think creatively in this regard. One type of partnership that we have been exploring recently is to partner with U.S. consulting firms to bid for JICA-funded projects in which U.S. firms dispatch consultants to meet our needs. We think those partnerships could go both ways. For example, we could dispatch consultants who could complement and strengthen a U.S. firm's need to bid for U.S. government-funded projects.
We started looking for new partners specifically for our work in fisheries, rural development and rural infrastructure, governance evaluation and public health. But this is not to say that we are not interested in other areas. We are happy to explore new partnerships in other areas and any interesting new opportunities that might arise.
You work in a number of diverse fields, from resource management and sustainability to gender, health and education. What are the common elements that IC Net brings to its work all of those fields?
Yes, we do a lot of diverse work, but there are some key features that cut across all of our projects. The first is our participatory approach. We believe that no progress or change can be made without the inclusion of a broad range of stakeholders in our projects. We have been developing effective skills and techniques to facilitate environments in which the participation of stakeholders could emerge and grow over time.
The second is capacity development. We believe in people-centered development, and we see capacity development at three broad levels: individual, organizational and institutional. Our projects address capacity development at all three levels by ensuring not only that people enhance their skills, but that their organizations and institutions provide favorable environments for them to use the skills they have gained.
IC Net has a lot of experience in the field of monitoring and evaluation, and establishing more rigorous M&E is obviously a big priority for aid agencies. What makes for effective M&E?
In 20 years of working in development, we have been involved in a number of evaluation projects covering all stages of M&E. One of our strengths is the combination of a ground-based approach with an academic and experimental methodology. We recently conducted an in-depth assessment of the impact of a transport and rural infrastructure project funded by JICA's yen loan scheme. We also examined the feasibility of randomized evaluation to assess the impact attributed to that specific intervention.
We do a lot of qualitative evaluation, too. There is a lot of focus on quantitative evaluation in development work, but at the same time, depending on the goals of a project, qualitative assessments can be very useful. Our approach is nuanced and about finding the right balance. And we involve the community and incorporate their feedback into our evaluation. One of the important things is that the community should understand the current status of the project.
You have worked in resource management. How does that inform your vision for sustainability in IC Net's work?
My background is in fisheries and marine resource management, and I've learned that if we try to do these projects without the cooperation and participation of the local community, it's very difficult to do them sustainably. That's true for resource management, but it's also true for education, health and other sectors.
Sustainability is critical not only in the environmental sense, but also in the social and economic sense. In that regard, community participation and capacity development also enhance sustainability. Participation enhances people's ownership of activities started under a project, and capacity development provides people with knowledge and skills necessary to manage and sustain those activities. We believe that the main task is capacity development.
This article was sponsored by IC Net. Find out more about IC Net.
Join the Devex community and gain access to more in-depth analysis, breaking news and business advice — and a host of other services — on international development, humanitarian aid and global health.