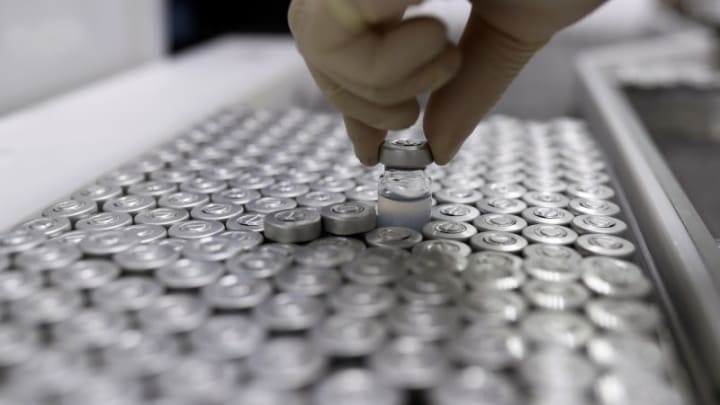 Inter-American Development Bank President Mauricio Claver-Carone said Tuesday the bank is working closely with Latin American and Caribbean governments and the private sector to ensure a successful COVID-19 vaccine campaign and noted that the "challenge is not small."
Speaking at a virtual event, Claver-Carone said the effectiveness of vaccination efforts in the region, one of the hardest hit in the world by the coronavirus, will determine the course of its economic recovery. Claver-Carone said IDB predicts the region's governments will "sufficiently advance in vaccination" in the next 12 to 18 months.
Some countries have already begun vaccination campaigns.
"Access to safe and effective vaccines is one of the most important components of the COVID-19 health response and will also allow us to speed up the reactivation of the economy of the region," Claver-Carone said.
"A few weeks ago, we announced that we would be mobilizing up to $1 billion dollars to support in three main areas. The first is to support the countries in the purchase of vaccine doses through multilateral mechanisms such as the COVAX Facility, as well as helping the self-financed participants and those subsidized in this joint purchase platform."
The bank will also focus on institutional strengthening and investment financing to support the costs of national vaccination plans, he said.
Many countries in the region have signed procurement agreements for anticipated vaccine doses, Claver-Carone said, and IDB will be offering technical support to ensure national vaccination plans are implemented effectively and equitably. This includes improving cold chain and logistics capacity, among others.
"Economies are clearly tied to adequate health. And if you don't have a healthy population, you're not going to have economic progress."
— Roberto Tapia-Conyer, general director, Carlos Slim Foundation
At the event, ministers of health from the region described their vaccine preparation efforts, from developing vaccine recipient priority lists to ensuring health care workers are properly trained to carry out mass inoculations. Renward Wells, minister of health of the Bahamas, said his country joined the COVAX Facility in September and has been working to allocate government funds to support vaccine efforts.
"This strategy guides our discussions with the IDB and World Bank as to the funding requirements to address our ongoing challenges of our public health care system," Wells said. "These challenges impact our COVID-19 response, and making sustainable improvements to the public health system delivery will facilitate our delivery of the COVID-19 vaccine."
Wells said his country, which relies heavily on tourism, will not be able to recover economically unless vaccine access is widespread. The Bahamas has used IDB funding to support procurement of additional personal protective equipment and the cost of caring for COVID-19 patients, while additional money will be used to implement its strategic plan for vaccination, support primary care clinics with diagnostic capacity, and develop a public health care information system.
Get development's most important headlines in your inbox every day.
Thanks for subscribing!
Francisco Alabi Montoya, health minister of El Salvador, said preparations to roll out the COVID-19 vaccine in his country provide an opportunity to review and strengthen other immunization efforts.
"This is going to be a whole-of-country effort in order to expand the vaccine coverage [and] also raise greater awareness about the vaccines," Alabi Montoya said. "In El Salvador, we had deficiencies in terms of maintaining adequate records. We need to provide this set of vaccine records not just for the COVID vaccine, but expand it so that we can conduct a much more timely follow up with our patients."
Alabi Montoya said the pandemic has forced growth in El Salvador's health care capacity, such as an increased number of hospital beds, thereby accelerating availability of the infrastructure required to adequately serve its citizens in the future.
"One of the essential lessons from this is … we don't realize until we're in the middle or after the events just how much we have developed," Alabi Montoya said. "This will serve as a reminder that health care always needs to be supported and not just when there's a major crisis like we're faced with now."
Claver-Carone also stressed the importance of public information campaigns around COVID-19 vaccines, encouraging governments to work on their messaging even before the first shots are given. Honduran Health Minister Alba Consuelo Flores said her country has focused on holding press conferences, conducting media interviews, and using social networks to provide the public with information about vaccinations and distribution of doses.
The pandemic provides an opportunity for increased public-private collaboration in Latin America and the Caribbean, Claver-Carone said, and could help promote growth in regional vaccine production and other industries.
Carlos Slim Foundation General Director Roberto Tapia-Conyer said the private sector must play a role in supporting public health infrastructure.
"A nation's economy, or of a region or of the world, depends on the health care conditions. I think that's been clearly and painfully shown in our societies," Tapia-Conyer said. "Economies are clearly tied to adequate health. And if you don't have a healthy population, you're not going to have economic progress."