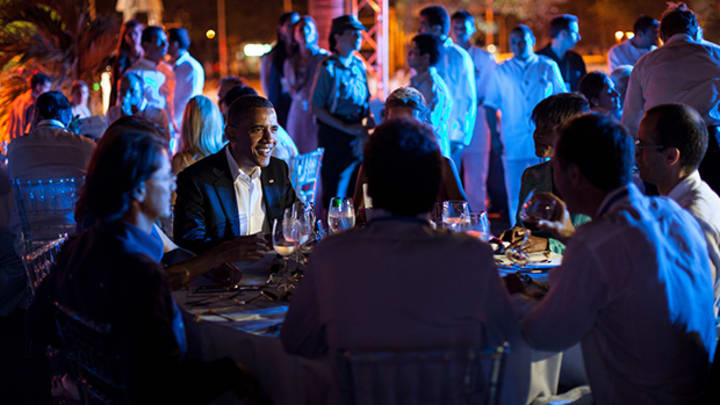 Leaders of the Americas will have some serious bonding time this week, as U.S. President Barack Obama meets with heads of state of Caribbean nations today in Jamaica and with those of the rest of the region Friday and Saturday at the Summit of the Americas in Panama.
The summit, held every three years, is receiving much fanfare this time around for its historic splashes: Cuba will join for the first time following a half-century stalemate with the United States, which enters the gathering after last month labeling Venezuela a national security threat. Power dynamics in the region are also changing as countries that have benefited from Venezuelan assistance seek other sources of financing given the country's growing tumult.
Amid these dynamics, negotiations will center around "prosperity with equity" for this region that has seen significant economic growth in the past two decades but is struggling with issues like financial inclusion, social mobility and rights of minorities to accompany the upward economic trend.
"The overall theme is equity as we see a tension between development initiatives and economic development initiatives," Carl Meacham, director of the Americas program at the Center for Strategic and International Studies, said as he explained the key points of the summit.
"In the region, the focus has been on what is the capacity of the government to deal with provision of services like health and education and ensuring people's rights are respected and brought into the broader discussion and mobility," he told Devex.
While in Panama City, the 35 heads of state will debate eight focal points outlined in the draft "mandate for action" created in January- health, education, security, migration, environment, energy, democratic governance and citizen participation- with an eventual goal of identifying common initiatives to implement going forward.
Energy: a major talking point
Energy is an underlying theme to much of the dynamics and discussions of the summit.
Through its oil alliance Petrocaribe, Venezuela has provided oil subsidies as well as assistance for social programs to Caribbean and some Central American countries that are largely dependent on the funds. With Venezuela's economy increasingly in chaos, countries are taking a look at how the crash of Petrocaribe could have serious implications for countries reliant on its aid.
"The question is what happens when Venezuela is unable to keep these commitments, what effect that might have on poor people who have been receiving assistance," Meacham said, posturing that it might make them want to emigrate to seek better options, weaken regional economies, create unemployment and spur illicit jobs like drug trafficking.  
"There's a series of issues and implications that should be a concern to the U.S. and regional actors here," he said.
Venezuela already cut oil shipments by as much as 75 percent to the Dominican Republic and Jamaica, but has not yet cut back on providing social program funding and likely would hold off on doing so as long as possible because of political implications, analysts told Devex.
Cuba has been the largest beneficiary of Petrocaribe, receiving half its supply at 100,000 barrels per day from the oil alliance, said Lisa Viscidi, director of the energy, climate change and extractive industries program at the Inter-American Dialogue.
Analysts say that a major factor in Cuba's willingness to cooperate with the United States stems from the government's recognition that it can no longer depend on advantageous yet dubious provisions from Venezuela.
Energy is the primary theme of Obama's meetings now in Jamaica with Caribbean leaders, who came to Washington earlier this year for the first-ever Caribbean Energy Security Summit to explore ways the United States could help them obtain financing from institutions to invest in alternative energy sources, technical assistance and knowledge sharing.
"The idea is to reduce oil demand and reliance on oil. The U.S. has the opportunity to fill the lending gap and offer benefits in financing and technical exchange," Viscidi told Devex. "The [Inter-American Development Bank] does work in this space, and the idea is for the U.S. to have more multilateral donor collaboration."
Leaders will again call upon IDB, the World Bank and other donors to facilitate funding mechanisms, particularly for renewable energy projects, as well as to improve energy efficiency, legal and regulatory frameworks, and regional integration. Discussions will also involve developing indicators for countries to measure energy efficiency as well as tackle securing universal access to modern energy services at affordable costs under the United Nations Sustainable Energy for All initiative.
Get development's most important headlines in your inbox every day.
Thanks for subscribing!
Environmental negotiations will touch on identifying areas of commonality for hemispheric positions for the 21st session of the Conference of the Parties to the U.N. Framework Convention on Climate Change in December, assessing costs and benefits of climate change adaptation measures and quantifying impacts on critical sectors with attention to mitigation and adaptation in energy infrastructure. Leaders will also promote programs to build capacity for sustainable water resources and plans to include environmental risk prevention and mitigation as well as promote sustainable urban development.
Other key issues
Discourse on education will center around teacher training, policies for linking education to promote labor skills that meet market demand, and investment in a regional educational research and innovation laboratory to innovate learning methods, with help from IDB.
On health, leaders will discuss adopting universal health care systems, as well as strengthening health systems to respond to infectious disease outbreaks, including the creation of the Inter-American Fund for Preparedness and Response to Emerging Infectious Disease Outbreaks.
On migration, leaders will encourage labor migration policies, anti-trafficking and migrant protection laws, and support for economic and social conditions — human capital, more and better jobs, productive sector stimulation and citizen security — to entice people to stay in their home countries.
On security, leaders will raise establishing an inter-American network for preventing violence and crime, investing in better data gathering and evaluations to address crime, reducing violence against women, and creating a regional position on confronting "the drug problem."
Discussions on citizen participation will cover establishing the Inter-American Forum of Civil Society and Social Actors, which aims to include civil society in politics and facilitate new forms of citizen participation through technology and digital solutions as well as open government and information to counter corruption.
And on democratic governance, debate will home in on strengthening rule of law, separation of powers, respect for human rights, transparency, integrity and efficiency in public administrations. Leaders will propose support for multilateral mechanisms that pursue modernization and regulation of electoral institutions, reduction of underregistration and establishment of indicators to enhance democratic institutions.
Civil society, Cuba and Venezuela
Cuba's first appearance at the summit and normalization of ties with the United States as well as the worsening U.S.-Venezuelan relations will likely steal the spotlight.
Four forums will take place at the summit — Civil Society and Social Actors, Youth Forum, Business Forum, and Rectors Forum — and the first will likely see a wide array of rights groups raising awareness on a variety of social issues and will focus on human rights, highlighting the voices of Cuban dissidents.
Earlier this week, U.S. officials for the first time signaled that the administration plans to remove Cuba from the list of state sponsors of terrorism, a move that would bring the United States closer to delivering official development assistance. Analysts said the announcement could happen at the summit.
Dissidents will also call attention to the freshly imposed sanctions from the United States on seven Venezuelan politicians for corruption and human rights abuses. President Nicolas Maduro is expected to slam the move for its paternalistic approach while the United States normalizes its ties with Cuba.
The U.S. Agency for International Development significantly downsized if not stopped its operations in Venezuela in recent months amid the deteriorating stability of the country and Maduro's accusations that the United States is undermining his regime.
What are your expectations of the Summit of the Americas? Share your views by leaving a comment below.
Read more international development news online, and subscribe to The Development Newswire to receive the latest from the world's leading donors and decision-makers — emailed to you FREE every business day.