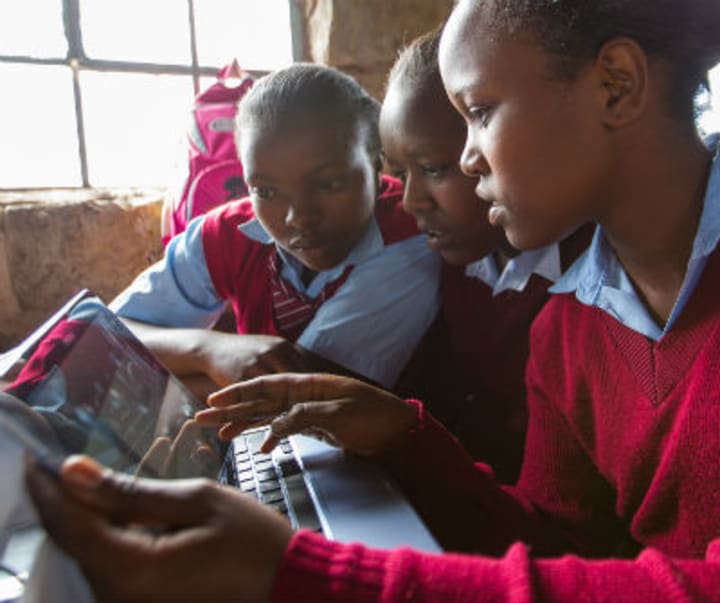 This article is produced and published by Devex Impact, a global initiative of Devex and USAID, that focuses on the intersection of business and global development and connects companies, organizations and professionals to the practical information they need to make an impact.
As part of the multipronged Microsoft4Afrika initiative, a new public-private partnership between Microsoft, Indigo Telecom and the government of Kenya, called Mawingu (meaning "cloud" in Swahili), aims to bring broadband Internet service via solar-powered stations to two remote communities.
In earlier Devex Impact coverage, ICT expert Wayan Vota said that white space has the potential to be a "game changer" for development.
When Indigo Telecom CEO Peter Henderson visited Washington D.C. last month, Devex Impact sat down with him to find out more about how white space technology works, who will pay for it, and what the potential development impact may be.
What is TV white space, and what does it mean for Africa?
To understand what white space is, think of what's in between the channels on a TV: You have white dots and noise. That's unused spectrum. With new radio technology and Microsoft's database, we can use that TV white space to transmit digital broadband signal over a long distance. If Wi-Fi goes a few hundred meters, then this is super Wi-Fi: The signal can go up to 10 km and travel through barriers like concrete walls and forests. So for the first time we have the ability to reach a very large community with broadband Internet.
Imagine what an incredible impact it would have to drop this electronic mist of Internet connectivity over the continent of Africa, providing complete coverage at an affordable price with content that was relevant to the community. That means unlocking opportunity for millions of Africans who previously would have been forgotten and never given the opportunity to get connected. In my view, the network will have a greater impact than the railroads, roads, and ports of Africa. And we're excited about what it can do for rural connectivity in particular.
How did this partnership come about?
It started when I was Skyping with a friend who lives in on a remote island in Scotland. I was impressed by the speed of his Internet. He explained he was using TV white space [due to a local public-private partnership to pilot white space technology.] I was absolutely intrigued. I knew that Africa was just waiting for this technology.
I discovered that Microsoft has been researching this technology for about 10 years. I met with Microsoft's country director [in Kenya], and together we went to see Dr. [Bitange] Ndemo [Secretary of Kenya's Ministry of Information and Communications,] who looked at us and said, 'I'm sure God has sent you here, because this is exactly what we need in Kenya.'
Our partnership is based on recognizing that this technology is affordable and can have a massive and positive impact on Kenya.
You've launched the project in two particular areas of Kenya, one in the Rift Valley and one near the town of Nanyuki in the country's central highlands. Why did you start there?
We had to start somewhere, and we wanted to choose locations remote enough to prove the potential impact of the technology. We chose the Rift Valley, parts of which are very remote, with no running water or electricity. In the area we chose near Nanyuki, the schools and clinics there have almost nothing. But that area does have a strong farming community, and we wanted to introduce the product where there is a trading community.
So we are starting with those two places but our ambition is to quickly cover the entire country. I think that, within two years, it'll be a service provided in probably 80 percent of the country.
One of the stated purposes of this pilot project is to test the 'commercial viability' of white space. What does that mean?
From my point of view, the success of any project in Africa depends on having a successful business model underlying it. So if you can find technology that is sustainable and has a life-changing impact, then you've found the winning model. Indigo's business model allows that to happen.
We are able to provide power, because you can't have Internet without power. You can almost envision us as a rural power company providing Internet as a byproduct. Then the Internet connects and educates and provides health care and services to the community. Income is generated by as little as a dollar a month from our end users. The most important part of this is that we are creating thousands of local entrepreneurs.
Imagine a [solar-powered] mast in a school providing free Internet to children. From that mast we can go 300 square kilometers in a 360-degree circle, connecting 120 local entrepreneurs, who we will help fund and support. These agents will provide local power and Internet to their community, generating an income for themselves and providing income back to the network and allowing our project to be sustainable.
Get development's most important headlines in your inbox every day.
Thanks for subscribing!
This has a dynamic and amazing impact. Right now, many rural Kenyans travel to Nairobi to look for jobs, but often they not only remain unemployed but find themselves in a worse situation. [Our project] allows a person to stay local and become a provider of power and Internet. You'll start to find trade taking place, where people are buying and selling goods online, and getting online to learn about better forms of agriculture and health care. They will certainly have an improved quality of life by being connected.
How will you be working with NGOs, donors and other partners?
The three most important ingredients for success in this project all begin with the letter "C." Coverage, that's the technology. Cost, at $1 a month, it is affordable for the community. The third and perhaps most important "C" is the content, or, what does this mean to the local person? The content will comes from NGOs, companies, even the entrepreneurs themselves providing the information flow that is going to make a difference.
At the schools, we'll provide connectivity plus 30 e-readers and 15 tablets. In a school of 300 students, that effectively gives the children four hours of tablet time a week. We have a full-time, dedicated ICT teacher, who teaches the teachers who then teach the kids who then teach their parents. The knowledge transfer is quite dynamic.
In Nanyuki, an American organization has started to train our teachers, through a service funded by the U.S. government. There is a huge opportunity for NGOs, government and other organizations to make real impact by providing training, education and financial assistance to help people take advantage of this information superhighway that we've created.
I would like the NGOs and other development organizations to consider using white space technology for the delivery of their projects because of the reach, the cost, and the accountability that it provides. We would welcome partnerships with folks who could bring to the table good ideas, good people and financial assistance.
Another goal of this pilot project is to inspire African governments to change the regulatory environment for white space. What changes would you like to see?
It is important that governments, not only in Africa but around the world, recognize the importance of unlocking this technology to help their countries develop. Allowing their populations to connect and communicate via the Internet will have a direct impact on their GDP. The World Bank has shown an increase of 1.3 percent to 1.5 percent of GDP for every 10 percent of the country that is connected.
In the case of Kenya, the Kenyan government is very forward thinking and enlightened, and it has supported this initiative by entering into this public-private partnership agreement with Indigo Telecom and Microsoft, to roll out this technology across the country.
What's in this initiative for Indigo?
It's the opportunity to make a massive difference and change millions of people's lives for the good, while being involved with one of the most exciting opportunities in the world today.
Indigo is a for-profit company, and this business is profitable, sustainable and successful for us. It is an act of classic corporate citizenship, but it's also part of something new, finding business at the bottom of the pyramid.
For too long, Africa's been considered a continent with its hand out, asking for donations. But as an African company, Indigo Telecom has recognized there is a massive appetite for support that will allow African people to improve their lives themselves. Indigo is acting as a catalyst to provide that opportunity to Africa, by providing a new technology supported through a sustainable business model.
Now that the connections are live, what impact are you seeing so far?
I went to a clinic last week, and I asked one of the nurses what type of impact the Internet had had on her life. She was excited. She explained that every Friday she had to take a bus for two hours to a nearby city to submit her weekly report from the clinic. Then she had to travel back, and the whole trip cost her $10. Now, she said, she can send an email with the report. Not only does she save $10, but she has four more hours to work and help the people in her community. She said she realized how wonderful this Internet connection can be.
Amanda Gibson contributed to this report.
Explore related content:
Join the 500,000-strong Devex community to network with peers, discover talent and forge new partnerships – it's free! Then sign up for the Devex Impact newsletter to receive cutting-edge news and analysis at the intersection of business and development.