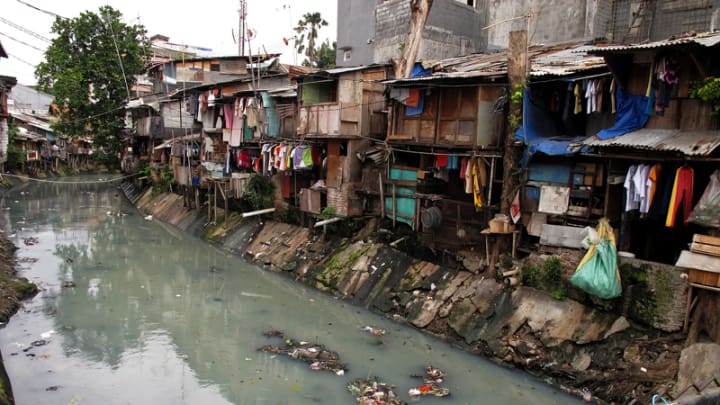 As the World Bank's spring meetings get underway this week in Washington, D.C., the institution is facing another round of questions about its approach to involuntary resettlement.
The World Bank has had its fair share of stumbles when it comes to investments that require communities to relocate. This week in Washington, D.C., some groups are challenging the global financial institution's commitment to avoiding resettlement in its development projects wherever possible.
"I think really the bank's dealing with a crisis," Kate Geary, land rights policy lead at Oxfam told Devex on the sidelines of the World Bank Group and International Monetary Fund spring meetings. "There has to be some messaging from the very top that to pose harm to some of the poorest and most vulnerable people is totally unacceptable," Geary added.
In the lead up to last year's spring meetings of the IMF and the World Bank Group, World Bank President Jim Yong Kim recognized flaws in the bank's resettlement policies.
"We took a hard look at ourselves on resettlement and what we found caused me deep concern," Kim said in a statement at the time. "We must and will do better."
Just months later, a media investigation sparked a global conversation about 9,000 slum residents evicted from their homes in Lagos, Nigeria, during the implementation of World Bank urban development project. Devex raised further questions about whether the bank's Inspection Panel was working the way it should, following the panel's decision not to formally investigate the Nigeria case.
In a report released on Tuesday, the World Bank's Inspection Panel — the world's first independent accountability mechanism established to hold an international financial institution accountable to its own operational policies and procedures — noted that of the 32 cases it has formally investigated, 21 involved involuntary resettlement. The report called resettlement "one of the most challenging aspects of development," and resurfaced examples of World Bank projects that failed to put in place proper resettlement procedures.
Some of the blunders were administrative in nature. World Bank resettlement documents for a hydropower development project approved for Nepal in 2003, for example, were only made available in English at a local project office, causing confusion among the local population. A translation finally became available seven years later. In Accra, Ghana, where the World Bank sought to build a sanitary landfill in 2003, the bank's environmental and social impact assessment based its resettlement estimate on a 4-year-old analysis and, as a result, underestimated the affected population.
With 22 years of experience as the bank's accountability mechanism in hand, the Inspection Panel oriented its report around practical lessons the World Bank and other development institutions can consider if they want to do resettlement better. Among the key takeaways are: "accurate scoping of risks is the foundation of successful resettlement programs;" and, "meaningful consultation and participation are essential elements of involuntary resettlement programs."
Get development's most important headlines in your inbox every day.
Thanks for subscribing!
But some stakeholders in Washington, D.C., are disappointed that it has taken so long for such lessons to emerge, and they question whether the World Bank is doing enough to avoid resettlement in the first place.
"Is there adequate due diligence … with respect to providing alternative analysis and alternatives for projects that would not require displacements?" asked Nadia Daar, policy adviser at Oxfam, during a discussion about the Inspection Panel's report at the World Bank's headquarters on Tuesday.
While the bank has not always succeeded in avoiding resettlement, that is the first thing bank staff try to do when they are engaged in a project, according to Alberto Ninio, deputy general counsel for operations at the World Bank.
"The current bank policy [on] involuntary resettlement states that resettlement should be avoided whenever possible, and when not, it should be conceived and implemented as a sustainable development program," Gonzalo Castro de la Mata, chairman of the Inspection Panel wrote to Devex in an email. The policy "recognizes the challenges of resettlement and provides a framework to maximize positive development outcomes of resettlement," Castro de la Mata wrote.
Oxfam has gone so far as to call for a moratorium on resettlement altogether. Geary told Devex that Oxfam's call for a resettlement moratorium focused on agriculture projects, in particular, that have the potential to displace farmers for "agribusiness expansion."
Oxfam's concerns beg the question: If involuntary resettlement is so challenging, should development finance institutions pursue it at all? That needs to be answered at the project level, according to Scott Morris, senior fellow at the Center for Global Development.
"It really depends on a fair weighting of the costs and benefits of any [multilateral development bank] project," Morris told Devex.
It is possible to imagine an "extreme case," in which a large infrastructure project would require the involuntary resettlement of 10 individuals, but with the potential to produce economic gains for thousands, Morris said. "That's not to say, even at those extremes, that you should be indifferent to the 10."
And that, according to Morris, is where the multilateral development banks tend to struggle. In attending to the potential for their projects to benefit thousands, they too frequently fail the 10.
"They simply have not managed the process of engagement and compensation adequately," Morris said.
Read more international development news online, and subscribe to The Development Newswire to receive the latest from the world's leading donors and decision-makers — emailed to you FREE every business day.