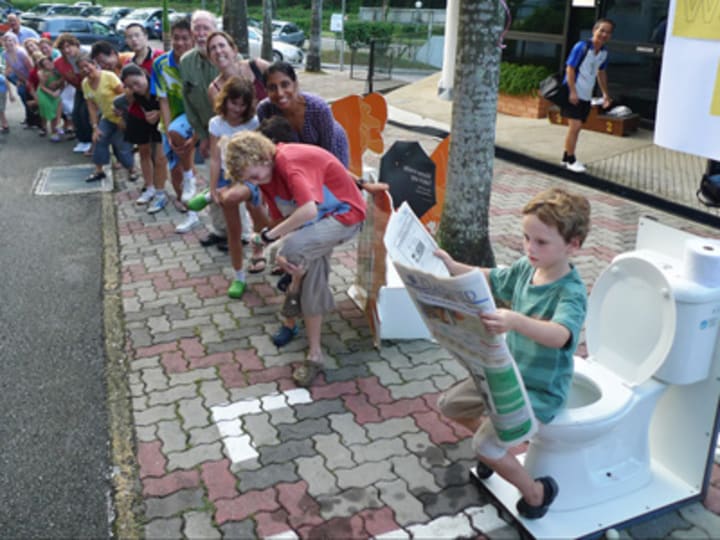 Jack Sim, the founder of the World Toilet Organization and popularly known as Mr. Toilet, has made it his mission in life to raise the profile of the loo, trying to turn "poop culture into pop culture."
"It may seem funny," he told Devex. "But it's serious."
Joking aside, his aim is to improve the health and well-being of the 2.5 billion people in the world who lack adequate sanitation. And this year, thanks to the intense lobbying efforts of Sim's group, the U.N.General Assembly officially recognized November 19 as World Toilet Day.
"After 13 years of World Toilet Day celebrations, to have it inscribed as a U.N. official day means we now have the … legitimacy to engage at country and local levels to generate awareness down to where it matters most," he said. "We've finally broken the taboo on sanitation."
Health issue
The lack of toilets in the developing world is an enormous health issue, as contaminated water and poor sanitation and hygiene are leading causes of disease. It also has a serious impact on women and girls, who are more vulnerable to assault when they lack the privacy on the loo. Fewer girls attend school when there are no facilities.
But getting attention for such an unglamourous issue was a major challenge, hence Mr. Toilet's creative outreach, which has included stand-up comedy and a worldwide series of awareness-raising events called "The Big Squat."
The creativity has paid off with the U.N. recognition of World Toilet Day, part of a broader drive to spur increased access to sanitation around the world.
"By working together — and by having an open and frank discussion on the importance of toilets and sanitation — we can improve the health and well-being of one-third of the human family," U.N. Secretary-General Ban Ki-moon in a statement.
Targets for improving sanitation and access to clean water were included in the Millenium Development Goals, but advocates argue that more progress can be made as the sanitation issue has been brought out from "under the shadow" of water issues. In a report published on Monday, Unilever Domestos, WaterAid and the Water Supply & Sanitation Collaborative Council said that "if progress continues at the current rate, the global community will not meet MDG 7C by 2015" and suggests better public-private coordination to address the issue.
Get development's most important headlines in your inbox every day.
Thanks for subscribing!
Making the toilet more 'glamourous'
For Sim, the experience of what a difference a toilet can make is personal.
"I grew up from poverty in Singapore in the 1960s… I've had the privilege of being poor and later middle class, of being a serial entrepreneur to serial social entrepreneur," he said. "So I understand how the sanitation crisis can be solved through the marketplace sustainably."
The World Toilet Organization has focused on delivering market-driven solutions, including the SaniShop model of social franchises, through which local entrepreneurs are trained to build and sell affordable toilets in their community.
Sim however also understands that — like an business — much of the success lies in marketing, so efforts to make the toilet more glamourous are at the heart of his strategy.
"With the competition for limited budget,  we need toilets to be seen as important as a mobile phone," he said.
Read more development aid news online, and subscribe to The Development Newswire to receive top international development headlines from the world's leading donors, news sources and opinion leaders — emailed to you FREE every business day.