Margaret Chan isn't backing down in her last few months in office. Early this week, she engaged member states in her fourth — and last — financing dialogue in hopes of convincing them to increase their contributions to the World Health Organization.
The outgoing director-general asked member states to support the health agency's proposal for a 10 percent increase in assessed contributions, or the dues member states have agreed to shoulder for the continuous functioning of the U.N. agency. Each member state's contribution is based on the size of its economy and population. In return for their contributions, they become a member of the World Health Assembly, the body that makes key decisions for the organization from its budget down to its work priorities.
The last time this core funding source saw an increase was in 2007, Chan's first budget since she became director-general in 2006. In the current biennium, assessed contributions cover just 20 percent of the WHO's budget, a stark contrast from 28 percent in 2006 and 47 percent in 1998.
WHO is currently operating on a diminished budget to cover the organization's management and administrative functions, its leadership and governance mechanism and its programmatic areas.
With 84 percent of specified voluntary contributions going to only 10 technical programs, WHO funnels funding from its core budget to fill gaps in others, such as the areas of noncommunicable diseases, aging and gender equity mainstreaming. The WHO's new health emergencies program is also currently severely underfunded, according to a WHO document that provides a breakdown of WHO's programs and budget for each.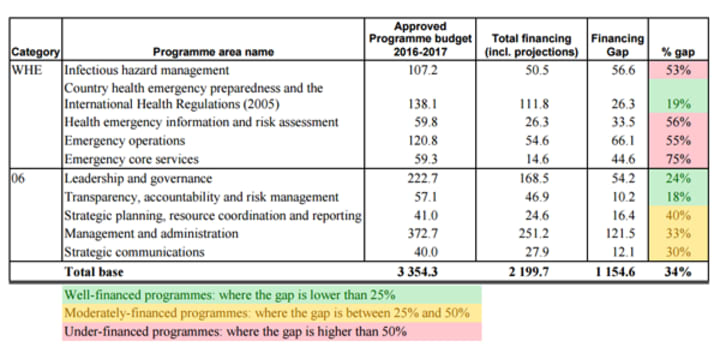 "In the absence of income yet, I reprioritized $130 million from the WHO own money to make sure the [health emergencies] program doesn't go under. But I thank the U.S. government through USAID [in] pledging $35 million," WHO's Chan said on Monday during the financing dialogue.
The director-general didn't elaborate from which program or function she pulled the money from, but later reminded member states of the importance of the contingency fund. In 2010, following the bird flu pandemic, an independent review committee recommended the creation of a rapid response contingency fund, but the World Health Assembly rejected the proposal.
"With the benefit of hindsight, we can ask the question … If we had the contingency fund in operation, do you think we need to spend $3.2 billion for the Ebola response eventually? Based on my 40 years of experience in managing outbreaks, the answer is no," Chan said.
In her opening speech, Chan itemized some of the cost efficiencies she has established in response to member states' request for the organization to exercise more financial discipline, such as capping travel expenses for staff across all offices and encouraging the use of technology like teleconferences, as well as outsourcing some of its key administrative and IT functions. The organization is currently saving $35 million annually after moving its Global Service Center to Malaysia, according to Ian Smith, executive director of the director-general's office.
But Chan argued these actions are not enough to address the organization's "long-standing problem of budgetary imbalance."
If not addressed, the organization is likely to lose expertise and struggle in providing countries the necessary technical guidance on a number of health issues, such as antimicrobial resistance and HIV, according to a document detailing the organization's finances as of Sept. 30.
Already, the funding WHO receives from UNAIDS has been halved, and the aid agency expects further significant reductions in 2017. The reduced finances will likely lead to the loss of about 50 percent of staff in regional and country offices working on HIV, and might pose challenges in the implementation of new WHO guidelines recommending the initiation of antiretroviral therapy to patients found with HIV regardless of their CD4 cell count, or the white blood cells that help protect the body from infections.
"You expect a great deal from WHO. The organization is uniquely mandated to deliver. But someone must invest the requisite funds," Chan told member states. "We cannot empty the coffer and leave. So whoever will be next [director-general], I owe it to them to have a smooth transition."
Making the case
Several senior WHO officials were present at the meeting to provide budgetary information and other details aimed at helping the organization make the case to member states to approve the U.N. aid agency's funding increase request. Peter Salama, executive director of the Health Emergencies Program, gave member states a rundown of the successes and challenges of the new program.
Ian Smith of the director-general's office, meanwhile, championed security and the organization's commitment to responsible use of resources in return for the additional financial boost. He narrated how during the global financial crisis in 2010, WHO lost an estimated 1,000 positions, the majority at headquarters and in the WHO's Africa regional office. WHO's Global Capacities for Alert and Response suffered as a results, he said.
Get development's most important headlines in your inbox every day.
Thanks for subscribing!
"That loss of capacity had profound serious consequences as we're all aware as we saw in the Ebola outbreak of 2014," he said.
Several WHO regional and country representatives were also in attendance to fill in member states on what the additional funding would do in practice. Member states continue to ask the organization to better communicate its work and impact on the ground rather than simply sharing statistics.
Elizabeth Hoff, country representative from Syria, gave an honest assessment of what WHO has done, but also what it has failed to do in the conflict-affected country, including WHO and partners' frustrations in failing to implement a WHO-developed medical evacuation plan for lack of approval from armed opposition groups and the Syrian government. The organization and its partners are also facing difficulties in bringing in surgical supplies, including blood, to besieged areas because of lack of government permission.
"I take many ambassadors from member states to this hospital [in Damascus] to see the patients, and I get emails back that say they haven't slept for many days after they visited the hospitals. They meet children that have been burned 50 to 80 degrees [and] have traveled on a bus with open skin wounds for 17 hours because there are no more referral systems in Syria," she said.
"We are doing our best, but there are constraints beyond our control," she concluded.
Member states' response
No decisions were made at the conclusion of the financing dialogue. The discussions were meant to gauge member states interest and win their support before the call for increased funding moves for decision at the World Health Assembly in 2017.
A number of member states have expressed support for the increase. Germany, for example, noted that member states have added to the long list of global health priorities the WHO now has to work with. If member states will not provide more flexible, predictable funding to the organization, the WHO is set for a "dramatic financial crisis," the representative said.
Other member states have also expressed willingness to consider the proposal despite their government's decision to apply a zero-nominal growth in funding across all U.N. aid agencies.
But others, such as the Czech Republic and other Central European countries, weren't as satisfied and insisted the organization continue to work on broadening its donor base. These countries also called on the director-general to work on prioritization — investing limited funds in areas where it can achieve the biggest impact — and look further where the organization can apply cost efficiencies.
The representative from the Czech Republic in particular called for the director-general to further align its flexible funds against program priorities.

"In this context, it would be desirable if the DG exercise leadership in identifying program budget categories that have the most impact in terms of global public health and propose to resize them at the expense of those areas with a limited impact," the representative said on behalf of his country and Austria, Bulgaria, Hungary, Latvia, Poland, Slovakia and Spain.
The representative from China asked Chan how WHO can demonstrate its value over other organizations, how the additional resources WHO is asking for would be allocated, and what the WHO Secretariat plans to do if its request for an increase doesn't come through. Chan will be answering these questions following the dialogues, she said.
China would have the largest increase in assessed contributions — estimated at $16.56 million — if the World Health Assembly approves the proposal.
In her closing remarks, Chan thanked member states for reaffirming their support for the organization, and said she understands why some countries cannot yet commit.
She also acknowledged what a number of member states have repeatedly voiced: WHO should prioritize. But she cautioned member states shouldn't be surprised if her determined priorities don't meet theirs.
"The DG should exercise her leadership to cut," she said. "That's easy. I'll do it. But, at the end of the day, don't come back to me if I cut your happy horses. I mean that's a fair exchange isn't it? You can't come back and say, 'why did you cut what I liked?'"
For more Devex coverage on global health, visit Focus On: Global Health