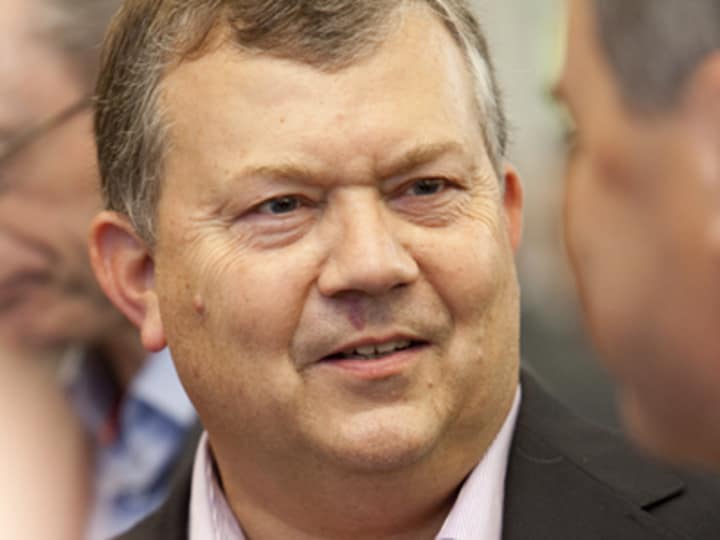 Mott MacDonald, the global management, engineering and development consultancy, has opened a new office in Washington.
The company has a long history of working with U.S. donors and delivery partners and the move is in line with its ethos of providing local support to its clients. In the aid and development sector the move gives donors easy access to 'traditional' health, education and social development expertise. And as the sector increasingly recognizes the central importance of infrastructure to long-term development, it enables clients to tap into Mott MacDonald's skills in power, oil and gas, transport, water and environmental management.
On a recent visit to the U.S. capital, Mott MacDonald Chairman Keith Howells spoke with Devex about the firm's commitment to building local businesses around the world. Mott MacDonald's skills, expertise and global reach mean the company is ideally positioned to support international development agencies with its services, said Howells, who also provided some background to the consultancy's considerable experience with global power generation projects particularly in Africa.
Here are some excerpts from our conversation with Howells:
Mott MacDonald is generally known as a global engineering services firm, but you also have experience in diverse areas such as management, health and education. How does international development fit into your overall business strategy, and what core capabilities do you feel set Mott MacDonald apart as a global partner?
We started working in international development in the 1950s and 60s. By the mid 1980s, we had done a lot of work for the World Bank, the Asian Development Bank and others. While physical capital development remains hugely important, we have witnessed a tremendous amount of consideration given to human capital development. The fact is you need both, but it's hard to find the right point on that spectrum. You need the institutional capacity. You need to give people the skills to deliver those projects and make them successful and run them thereafter, but you also need someone to invest in those projects.
We recognized this inter-reliance and also identified strong similarities in the skills sets required to run physical and human capital projects. Whether you're delivering a hydropower plant or improvements to an education system, you need a strong understanding of local environment so that your solution is appropriate, effective systems for engagement and communication so that stakeholders buy in and take ownership of the solution, rigorous project and commercial management so that outputs are delivered to budget and on time, and rigorous legacy planning to assure that the right skills, funding and systems are in place to make the project sustainable over time.
We also recognized that the best development outcomes are achieved when issues are addressed holistically — you need health and education and clean water and sanitation and power. Providing a joined-up interdisciplinary service enabled us to work with donors in a way that delivered more fundamental and lasting benefits. This change to our business and ways of working started with education in the late 1990s. We added health expertise in the early 2000s.
Infrastructure, health and education are mutually supportive. The health and the education businesses play into the infrastructure work that we do and vice versa. We're doing basic services frameworks in South Sudan, where all three things come together. There's an education component, there's a health component, there's a basic infrastructure component. It seems odd to some people that we should be doing all these things, but actually it makes a lot of sense when you unpack it.
At the same time, performance monitoring of projects is becoming much more important as a way of demonstrating value for money. Mott MacDonald regularly measures project success against the original aims.
As a specific example of the growing interest in public-private partnerships to meet development goals, U.S. President Barack Obama's Power Africa initiative is looking for businesses to help double access to electricity in sub-Saharan Africa. Mott MacDonald recently convened a technical forum of leading private sector firms to provide thought leadership on the topic of closing Africa's "energy gap." Given your experience with energy delivery in Africa and elsewhere, what are the key lessons you would share as Power Africa's team begins to look at new energy deals and seeks out new partners?
The energy gap in Africa is a bit of a chicken-and-egg situation. We all recognize that economic development will help pull people out of poverty. We all realize that power and electricity are key to a lot of economic development, but we also know until you have that economic development people can't afford to pay the cost of the energy.
The way projects on the generation side happen most effectively these days tends to be through private sector investment, but if the banks don't understand the particular country, then they tend to misunderstand the risk profile on the one hand. On the other hand, if you don't have an insight into what is a normal commercial deal in the power sector right now, then you could end up signing a long-term contract that leaves you with an expensive problem in the long term. You see that combination coming back again and again. It's that lacing together of real-market knowledge and sector expertise.
Another thing that comes out again and again is political commitment. A minister of energy who is passionate about getting things done and stays in post for a significant period makes a big difference. And good communication is key for those people in political positions. Often you need investment to actually change things; the sector is not viable because the tariffs are too low; because the quality of service is so poor, if you try and actually increase the tariffs then you start a riot. Unlocking that spiral requires skillful engagement and communication that investment is going to bring benefits, which will have this long-term impact on the country as a whole.
Get development's most important headlines in your inbox every day.
Thanks for subscribing!
It's a subtle and careful process. We've seen examples where that has been managed quite well and senior political leaders have been able to give investors confidence. An effective consultant can play a pivotal role here in undertaking the market analysis, forecasting, master planning and risk profiling activities that both the government and investors need to move forward. The right consultant can also do a lot to manage and reduce risks associated with project delivery and long-term operation — whether they're environmental, social, technical or commercial.
As an employee-owned firm with local offices and shareholders in many developing countries, do you feel that your business model has helped you prepare for aid donors' recent move towards greater local ownership of development projects?
For us, employee ownership is a key ethos. We've got 2,500 people who have a stake in this business. People care about the company and care about its reputation. They have invested their own money in it, and that makes a difference.
Up until the mid-1990s, all businesses like ours were exporting expats. When I started out, we had a project in Pakistan with 30 or 40 U.K. nationals working in country.
For us, that model has totally changed. We recognized that if we wanted to continue in business, we had to move from being an export model to being an investment model. So, we shifted our strategy to building local businesses in selected countries where we wanted to work, and that's the model we apply to do this day. We endeavor to create local business. We're able to offer global support, in terms of expertise or good IT systems, or financial systems that underpin successful business operation.
Collaboration is absolutely key. We need our businesses to work together, because that's how we deliver best value for our customers. Employee ownership encourages an "all for one, one for all" culture in which everyone benefits from delivering successful projects. It drives collaboration through the organization and incentivizes everyone to make sure it happens.
With austerity measures in place in many countries, the allocation of aid budgets can often be a political issue. How does Mott MacDonald get the most out of existing aid budgets?
One of the good things about having the local presence is continuity. You can come up the learning curve faster. It's very easy to go into a place, do a project and go out again and never go back and never see the consequences. When you've got a business there that has to live with the consequences of what's been done, good or bad, then you can continue to provide longer-term support to that customer.
Having a long-term presence in a country can make quite a bit of difference to the success of a project, and we see it in places like Pakistan, where we've had a business for a long time. Long after a project is completed, our local team is still there, very often just providing a bit of advice, or helping to find a bit more money.
If you have that strong local team, you can also challenge your methodology. You are on hand to judge the results of what you've done and are less likely to embark on something that just doesn't work in that context. And if you are transferring a few people who've had experience elsewhere, you can then avoid other mistakes. You're seeding a few people who've seen the type of work in a whole number of places, but you've got the strong team that's prepared to challenge and say, "Look, that won't work here." You don't go down the road and get something that's half done and then find you have to revisit.
Diversity and local presence play important roles in delivering better value for money. Many consultants are specialists in a single area or have a "trademark" working style that characterizes their interactions with clients, beneficiaries and delivery partners. We don't have a "Mott MacDonald way." Instead, we're flexible and responsive, looking for synergies between disciplines and tailoring our approach to the conditions of each project.
Innovation is also fundamentally important to value for money. It's back to that earlier point about interlinkages between the skills required to deliver very different types of project. We're always looking at what works best. When we see new thinking in one area of our business that is really making a difference, we look for opportunities to apply that elsewhere — project set-up, commercial and management innovations can travel between sectors very effectively.
There's also scope for innovation in areas like communication and community engagement. We've pioneered the use of radio, television and theater to raise awareness of health and education issues, communicate key messages and get stakeholders to take action, ranging from parents and children in recipient communities through to politicians in national government.
Using "popular" media to get the message across has proved hugely successful in the education and health sectors and, for the right projects, it has enormous potential for improving the effectiveness and value for money on infrastructure, too. It's important to continually challenge conventional practices and ask what "good" looks like.
Find out more about Mott MacDonald, and follow the company on Twitter @MottMacDonald.
Join the Devex community and gain access to more in-depth analysis, breaking news and business advice — and a host of other services — on international development, humanitarian aid and global health.