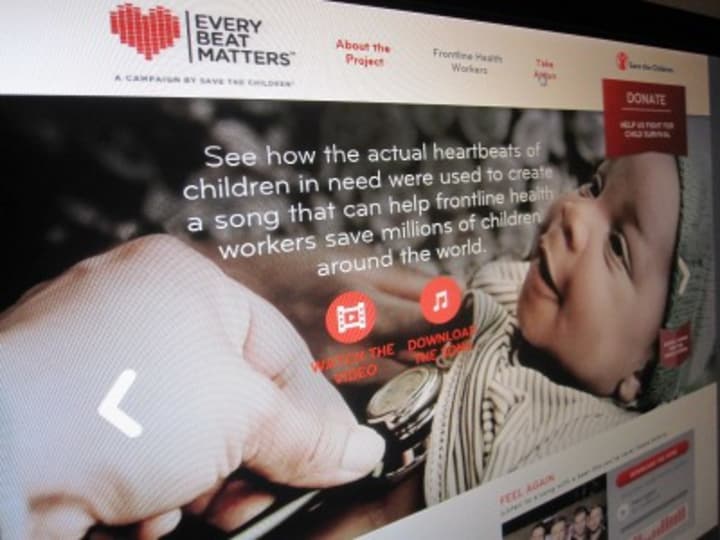 In its continuing efforts to fight for child survival, Save the Children has turned this time to beats and music to raise funds and awareness.
The "Every Beat Matters" campaign is the newest branding of Save the Children's newborn and child survival campaign. It was introduced Sept. 10 in New York with the launch of public service ads with behind-the-scenes footage from the creation of the song "Feel Again" by U.S. band OneRepublic.
The campaign aims to mobilize U.S. citizens to actively engage in efforts to reduce the deaths of children under age 5 in developing countries. Its success will be "measured by how effectively we can move the American public from being unaware of the issue or aware but inactive to taking action to help reduce child deaths," Mary Beth Powers, head of Save the Children's campaign for child survival, told Devex in an email.
The campaign's concept, according to Powers, was inspired by a trip advertising agency BBDO New York's members took to Save the Children program sites in Guatemala. The work of the health professionals they saw there and how the lives of children depended on these workers inspired the idea that "that the heart beats of children are preserved thanks to the care and attention of health workers."
Save the Children's campaign for child survival and its partnership with the Ad Council and BBDO New York, which produced the PSAs, are not new. The three have been working together since 2010 in a campaign called "See Where the Good Goes," which mobilized $60 million in donated media.
Get development's most important headlines in your inbox every day.
Thanks for subscribing!
The new element in the "Every Beat Matters" campaign is the partnership with OneRepublic, Powers explained. The band's "access to the media [promises] to both raise new resources to ensure health workers are supported in their daily efforts and to make sure people know that this is a winnable battle," she added.
Aid groups, as well as the United Nations, have time and again been tapping celebrities around the world to provide more publicity to their campaigns and activities. Among high-profile celebrities engaged in development work are singer Bono and media personality Angelina Jolie, whose work with the U.N. High Commissioner for Refugees has brought her to some of the world's most conflict-afflicted areas like Syria. The United Nations similarly tapped a U.S. singer, Beyonce, for a song to accompany its 2012 World Humanitarian Day observation in August.
Read more development aid news online, and subscribe to The Development Newswire to receive top international development headlines from the world's leading donors, news sources and opinion leaders — emailed to you FREE every business day.