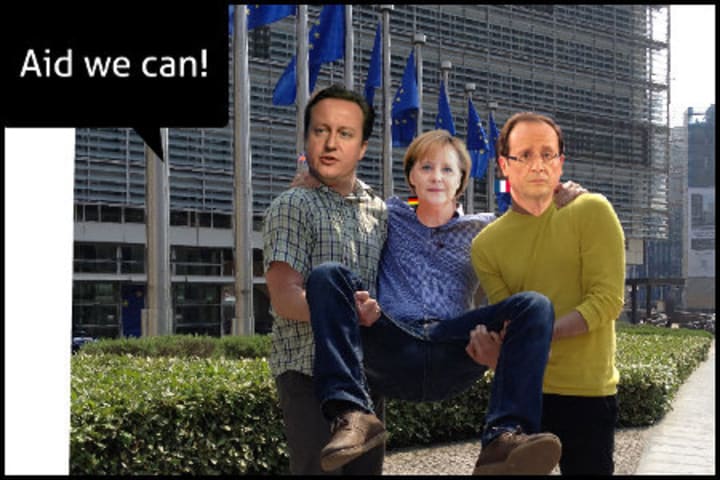 More than €7 billion ($8.7 billion) of the European Union's €53 billion official development assistance in 2011 was not "genuine aid."
This is one of the findings of the annual AidWatch report, which was released a few days ahead of the EU Council meeting in Brussels. The council is expected to discuss the bloc's 2014-2020 budget, including ODA, which is currently proposed at €51 billion, the Guardian reports.
The report says six EU countries have met the 2010 aid target of 0.55 percent of gross national income: Luxembourg, Sweden, Denmark, the Netherlands, the United Kingdom and Malta. Four of these have met the 0.7 percent target ahead of deadline, while one remains on track to reach the goal by 2015.
But there are more countries that may not even be able to meet the 2010 target by 2015. Eleven EU countries cut their aid budgets in 2011, and an additional nine countries are planning to reduce aid spending this year, according to the report.
ODA remains important in these times of austerity, and much so genuine aid. But the report says €5.86 billion of the bloc's total ODA in 2011 went to refugees and students in EU donor countries, and debt relief — sectors AidWatch considers "problematic" and should not be counted as ODA. Also, €1.53 billion of the European Union's 2011 ODA was "lost" in tied aid and interest loans.
"Reduction in aid volumes is just one side of the coin. The other side — how the aid is used — is just as worrying," ActionAid Uganda country director Arthur Larok said of the report's findings in a press release.
Meanwhile, Caroline Kroeker from World Vision International said, "People need to be able to trust that aid is making a difference, it should be transparent and truly reach the poorest in developing countries. If not, how can we guarantee sustainable results?"
Get development's most important headlines in your inbox every day.
Thanks for subscribing!
The report lists several recommendations for EU countries to meet their promises by 2015, increasing not only aid quantity, but also quality:
Agree on "realistic" and "binding actions" to meet aid targets by 2015.

Ensure "genuine resources" for development by ending aid budget inflation, which goes to refugee and student costs as well as debt relief.

Exclude climate finance from EU countries' ODA.

To fully realize the effectiveness of EU ODA, countries should untie aid completely, ensure all aid is invested in poverty reduction and development activities, and improve transparency.

Focus aid on the poorest and most marginalized groups, not just on poor countries.

Retain current definition of ODA until 2015.
A separate report from ONE, meanwhile, highlighted EU countries' lagging aid targets to Africa. Member countries have committed to channel 50 percent of global ODA increases to the continent by 2015, but the report says only 22.5 percent of the target has so far been met.
The report, however, commends those countries that were able to "protect" and increase their aid budgets amid a tough economic climate. It notes the proposed €51 billion EU budget will help member states meet their individual targets.
ONE's report will be a "valuable input" in the commission's discussions on the next EU budget, EU Commissioner for Development Andris Piebalgs said in a press release. He also believes "political courage" and "leadership" is needed to meet the 0.7 percent aid target, but said he is "confident" EU member states will "not make savings on the back of the poor."
Read more development aid news online, and subscribe to The Development Newswire to receive top international development headlines from the world's leading donors, news sources and opinion leaders — emailed to you FREE every business day.