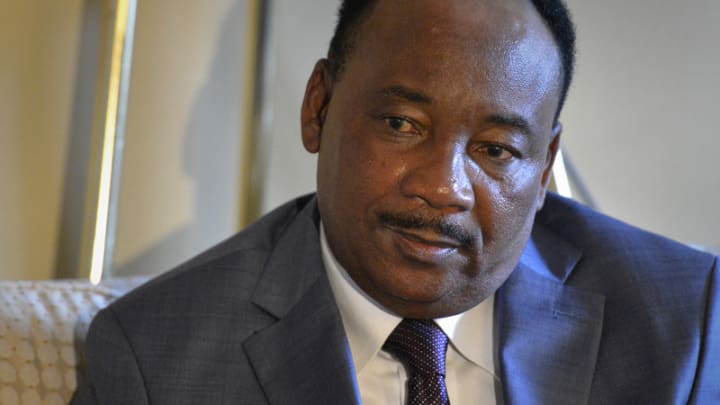 It's not easy to land a Millennium Challenge Corp. compact. For Niger, the process took a decade.
"It was a long road," Nigerien President Mahamadou Issoufou told Devex in an exclusive interview on the sidelines of the United Nations General Assembly in New York.
MCC's "constraints to growth" analysis identifies areas where development assistance could help a country realize its economic potential. While 80 percent of Niger's population depends on agriculture for their livelihoods, nearly 3.4 million Nigeriens are chronically food insecure, according to the United Nations. Under Issoufou, Niger has undertaken a "3N Initiative" — Nigeriens Feeding Nigeriens — aimed at boosting both food access and agricultural productivity.
Niger's $437 million MCC compact, approved by the agency's board in June, will focus on food security, with investments in agriculture, water resources and infrastructure. The MCC compact is unique among U.S. government foreign assistance instruments. Before countries can access funding, they have to show their commitment to democratic governance and curbing corruption, by scoring high enough on MCC's scorecard. Niger first qualified for MCC's "threshold program," which assists countries to become eligible for a full compact.
Issoufou has also made energy and water resources a priority. His enthusiasm for the World Bank-supported Kandadji Dam project has drawn criticism from some civil society groups that say the social and environmental costs associated with the mega project are too high. The dam is expected to displace between 30,000 and 60,000 people. While the MCC compact will not support this project, Issoufou noted that he hopes MCC and the U.S. government will help Niger make its case for more World Bank financing.
Here is an excerpt from our conversation with Niger's president and MCC CEO Dana Hyde, edited for length and clarity:
Given the focus on food security, water resources, agriculture — in looking through the constraints to growth analysis, it's clear that climate change is in there as well. If you're seeing climate change as a constraint to growth in more countries, can we expect MCC to be focused on climate change adaptation more going forward?
Dana Hyde: Certainly the president's remarks speak to how this investment in agriculture very much builds on the Nigeriens' plan for agricultural production. You mentioned the climate-resilient issues in the area. When we're looking at agriculture, that's at the fore of how we approach this. It's a large program, but we're going to be working with small farmers in climate smart, resilient ways …
The constraint itself was not identified as climate, but the climate ramifications of being in the Sahel and what it has done to productivity. Agriculture is the backbone of the economy in Niger, so the first consideration was how do we approach these interventions in this investment in a climate-smart way. There's much technology that has been brought to bare on that and we will be pursuing that. What's really important is that we're building on the plan of the country itself. MCC works in very country-owned way. There will be a team of Nigeriens who will be the professional staff implementing this, working closely with communities, and they'll be managed by a board of directors of Nigeriens. The timeline that the president spoke of is the time that we've been working so that we are very much in sync on how we approach this.
President Mahamadou Issoufou: It's intelligent agriculture that takes into account the effect of climate change. In the 3N Initiative we have an environmental policy — for land restoration, for reforestation. It's a vast program, a holistic program to increase irrigated agriculture, to increase rain-fed agriculture, to protect the environment — because land is the first capital of production, so we have to protect it — modernization of livestock, to transform the product from agriculture to modern, access to markets, infrastructure such as roads that will connect the production centers to the market. It will also deal with nutrition, the fight against malnutrition.
I know that the Kandadji dam has been a big priority in Niger. Can you give an update on that project? There's been some criticism of that project. Will the MCC compact support it?
Get development's most important headlines in your inbox every day.
Thanks for subscribing!
Issoufou: I believe that MCC will help. I told Ms. Hyde about the necessity of the United States' support. The MCC program will put an accent on irrigation … We have to rehabilitate, and we have new infrastructure that will be realized… We need energy. This is why we need the Kandadji Dam. It will provide Niger with energy at low cost. If you have low-cost energy you can do competitive irrigation. It costs [30 cents] per kilowatt for fuel. With the Kandadji dam it will be [less than 5 cents per kilowatt]. This will help the production of rice. The rice will be cheaper than the Asian rice. Otherwise, we wouldn't be able to do competitive irrigation. This is why we need the Kandadji Dam … It will help with climate. It will help restore the Niger River. It's not an ecological disaster. It's not true.
Hyde: Just let me add to the president's comments. MCC will not be investing in the dam or in that project. MCC's project is really small-scale irrigation. It's over a large swath. It is a large geographic area, but the approach is to look at the small scale farmer and to look at what productivity is in those lands to provide training, and then, as the president mentioned, it's the road rehabilitation, it's the market access for goods. So while it is a large program in terms of a $437 million investment over a large geographic area, it is not large-scale irrigation. We're working in a very community, small farmer manner.
Issoufou: She's right. Financially they won't intervene. What we ask of the American government, we want them to support us with the World Bank in regards to the Kandadji Dam, and I think that I have her support in regards to that and she will help us with the World Bank ... so we can further the program.
More than half of your country's population is under the age of 18. How are you ensuring that the investments that you're making today are both supporting the economy that you have now, but also investing in the economy that you want to build for the future for the youth of your population?
Issoufou: First of all, we have a very dynamic economy with 6 percent growth rates for the past five years, projected to be 7 percent … Agriculture is very important for our economic growth … This growth will be higher thanks to the MCC compact. If we have this growth, it will be beneficial for everybody, including the youth. It will help the government to have more resources to invest in education, for job training. Most of all, it will help people from Niger have food security. Before going to school you have to eat first. The benefits are extremely important especially for the youth and for women.
Poverty in Niger is mostly in rural areas. The poor are mostly women. Three-fifths of the poor are women. Three-fourths are in the rural areas. It happened that the MCC is going to invest in rural areas. It's going to be a factor to fight poverty. In 2011, 63 percent of the people were under the poverty line ... Our objective by 2020 will be to reach 31 percent, and the MCC will help. In the next five years, 14 percent of people from Niger will be middle class, thanks in part to the MCC.
Hyde: We will be targeting a grant facility specifically around youth and women in groups that are working in agricultural productivity, but also in post-harvest activities — in packaging and market access — as part of this compact.
Read more international development news online, and subscribe to The Development Newswire to receive the latest from the world's leading donors and decision-makers — emailed to you FREE every business day.