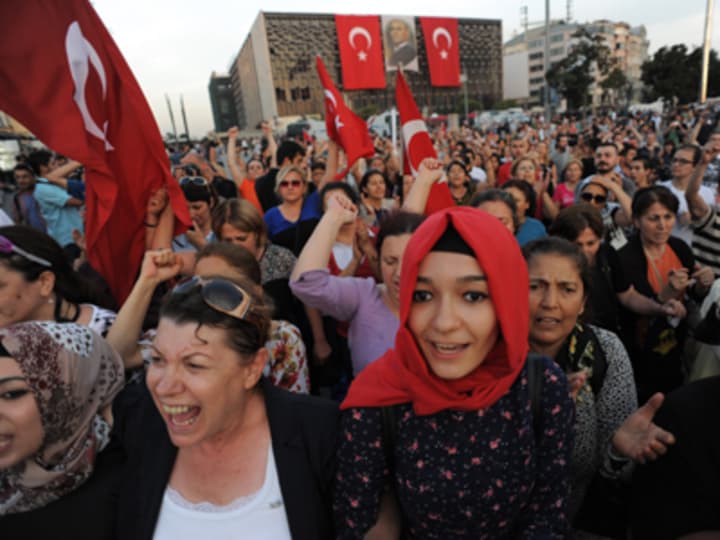 From the BRICs countries to South Korea, many of the world's emerging economies have become significant aid donors over the past decade. Turkey, the largest economy in the Middle East, is no exception to this trend.
In a bid to bolster its regional and international positioning in the aftermath of the Arab Spring, Turkey has recently stepped up its aid spending even further — vaulting Ankara to a league of its own among emerging donors.
In 2012, Turkey's official development assistance reached $2.5 billion, double the previous year's levels and 160 percent above 2010 levels.
By comparison, Indian foreign aid exceeded $1 billion in 2012 while South Korea reported $1.6 billion in ODA that same year. Both countries have a much larger gross domestic product than Turkey. Turkey's aid spending is more than conservative estimates of Chinese ODA as well.
Between 2011 and 2012, Turkey had the fastest-growing aid program among countries reporting ODA flows to the Organization for Economic Cooperation and Development's Development Assistance Committee.
Amid slowing growth and worsening political instability in Ankara, Turkish aid experts say that Prime Minister Recep Tayyip Erdogan isn't likely to put the brakes on the Turkish foreign aid program — widely seen as a key instrument of Turkish foreign policy under the current government. Erdogan and his AK Party are expected to win a fourth term in office, albeit more narrowly than in the past, in a series of national elections over the next year and a half.
Alpaslan Özerdem, director of the Center for Peace and Reconciliation Studies at Coventry University, argues that the Erdogan government could capitalize on its foreign aid program — which is broadly popular among voters — to help revive its political fortunes at home.
"When you face a difficult time in political affairs, the AK party may decide that by increasing our assistance in Somalia and other places — that can be quite useful for its credentials domestically," Özerdem said.
Much like its fellow emerging donors, Turkey claims its foreign aid program is not only demand-driven but also shaped by its long history as an aid recipient. Despite becoming a major aid donor in its own right, Turkey remains the largest recipient of EU aid.
"Being an aid provider as well as a recipient, I think Turkey's comparative advantages lie in the fact that we know the immediate needs of partner countries and our aid is tailored to their real needs, and it is based on demand-driven modality," Rahman Nurdun, senior expert and senior policy adviser to the president of the Turkish International Cooperation and Development Agency, told Devex.
Operating directly under the prime minister's office, TIKA is Turkey's principal aid agency, and is responsible for coordinating and monitoring Turkish aid activities. Other major Turkish aid agencies include the Disaster and Emergency Management Presidency, the Ministry of Health and Turk Eximbank.
READ MORE:Development agencies in Turkey
According to multiple sources familiar with the Turkish aid program, Ankara prefers to direct its aid money toward more visible social infrastructure programs whose results can be easily appreciated on the ground. For instance, Turkey has announced plans to build East Africa's largest children's hospital in Mogadishu — which would become only the latest in a string of Turkish-built hospitals in Somalia. Meanwhile, in Afghanistan, Turkey has built school buildings across the war-torn country.
"Turkey, in its development assistance, is much more tangible. In many countries, they build hospitals, they build roads, schools, they go and collect rubbish in big cities," Özerdem said. "They want their projects to be tangible and to be sought out by ordinary people."
The Arab Spring effect
When TIKA was founded in 1992, the Turkish foreign aid program was intended to focus on countries in the Balkans, Central Asia and the Caucasus, with which Ankara shared linguistic, cultural and historic links dating back to the Ottoman Empire. More than two decades on, Kyrgyzstan, Kazakhstan and Bosnia-Herzegovina remain among the leading recipients of Turkish foreign aid.
Not long after the AK Party government entered office in late 2002, the Turkish foreign aid program began to extend its reach globally, including into some of the most fragile states in the world. In the years that followed, Afghanistan, Pakistan, Myanmar, Iraq and Sudan would all receive significant development assistance from Turkey. Turkey also delivered tens of millions in disaster relief to Indonesia in 2005 and Haiti in 2010 in the wake of natural calamities in both countries.
It was in Somalia, however, that Turkey's emergence as a key player in development cooperation first captured the international community's attention.
Accompanied by a 200-strong entourage, in August 2011, Erdogan became the first non-African leader to visit Somalia in nearly two decades and urged the international community — with some success — to join Turkey in renewing its commitment to the war-torn country. In keeping with Erdogan's promises, Turkey dramatically increased its aid spending in Somalia — from $6 million in 2010 to $87 million in 2012. (Over the weekend, Turkey denied reports that it is cutting direct aid to the fledgling post-transition government in Mogadishu).
Get development's most important headlines in your inbox every day.
Thanks for subscribing!
Against the backdrop of the Arab Spring, Turkey's geographic priorities for its aid program seem to be evolving yet again. Much of the recent growth in Turkish aid can be traced to the government's accommodation of tens of thousands of Syrian refugees, as well as its emerging development partnerships with the post-Arab Spring countries of Egypt and Tunisia. Turkish ODA to Egypt in 2012 consisted almost entirely of a $500 million concessional loan to Cairo's then-Muslim Brotherhood-led government.
Neither Egypt nor Tunisia counted as major recipients of Turkish foreign aid prior to the uprisings in the two countries. Turkish aid experts say this evolution in Turkish aid priorities is clearly driven by Ankara's desire to capitalize on the power vacuum left by the Arab Spring.
Turkey is looking to establish a new regional order and a "zone of economic interdependence in the Middle East," Mehmet Ozkan, senior foreign policy analyst at the SETA Foundation for Political, Economic and Social Research in Ankara, said.
Bilateral relations between Ankara and Cairo have taken a turn for the worse, however, following last July's ouster of Egyptian President Mohammed Morsi and the Muslim Brotherhood-led government. Erdogan publicly condemned the coup that toppled Morsi, prompting Egypt's new military rulers to downgrade ties with Turkey. According to Ozkan, Turkey's aid ties with Egypt have also unsurprisingly cooled in the months since.
Amid Ankara's recent diplomatic overtures to Iraq and Iran, Turkey's foreign aid program could very well refocus its engagement in the region on those two countries. In 2012, Iraq and Iran received $19 million and $13 million, respectively, in Turkish ODA.
Reaching out to civil society
Turkey's development engagement in Somalia — the most widely scrutinized of Ankara's foreign aid programs — has drawn much praise from Somali government officials and international aid experts alike for leveraging its robust presence in Mogadishu to reach out to a broad cross-section of Somali civil society. Most Western donors — based in the relative safety of neighboring Kenya — have struggled to build relationships with local actors on the ground.
Ankara's aid engagement in Afghanistan has also been assessed highly by the Sabanci University's Istanbul Policy Center, a leading Turkish think tank. IPC has found that Turkey's provincial reconstruction teams in Afghanistan have been effective, in part due to their deliberate and extensive engagement with the local community and civil society.
Turkey's success at forging a robust and inclusive on-the-ground presence in both Somalia and Afghanistan — two of the world's most dangerous places for aid workers — is undoubtedly linked to its shared Islamic heritage with the two countries. Ankara will likely capitalize on its Islamic heritage yet again as it pursues closer development cooperation with the post-Arab Spring countries.
In view of Turkey's aggressive efforts to reach out to civil society abroad, some Turkish aid experts contend that dialogue and engagement with civil society groups at home has not been a particular priority of the Turkish foreign aid program. Borne out of the country's deeply rooted philanthropic tradition, for decades, many Turkish civil society groups have delivered significant aid overseas with little to no coordination with Ankara — arguably a missed opportunity to maximize resources and expertise.
"Turkish CSOs have extensive development expertise in areas such as children's education, women's literacy, domestic elimination of violence against women, agriculture and relief, rescue and reconstruction that could be more systematically and widely channeled toward Turkey's aid programs abroad," Brian Tomlinson, executive director of AidWatch Canada, argued in a recent report for the U.N. Development Program.
Based on Turkish government figures, in 2012, Turkish nongovernmental organizations disbursed $112 million in assistance — mostly to Somalia — outside the ODA regime. The Turkish government provided an additional $39 million in funding for aid programming implemented by NGOs.
The Humanitarian Relief Foundation, or IHH — a prominent Turkish aid group active in more than 100 countries — confirmed to Devex that it only coordinates its programming with TIKA on a limited basis. (The Turkish Red Crescent, on the other hand, does seem to align its activities with the Turkish government).
But according to Tomlinson, TIKA has begun to develop a longer-term strategic approach to promote cooperation with Turkey's civil society. TIKA's Nurdun further revealed that the Turkish aid agency has setup a dedicated branch in charge of coordinating partnerships with Turkish civil society groups.
Join the Devex community and gain access to more in-depth analysis, breaking news and business advice — and a host of other services — on international development, humanitarian aid and global health.