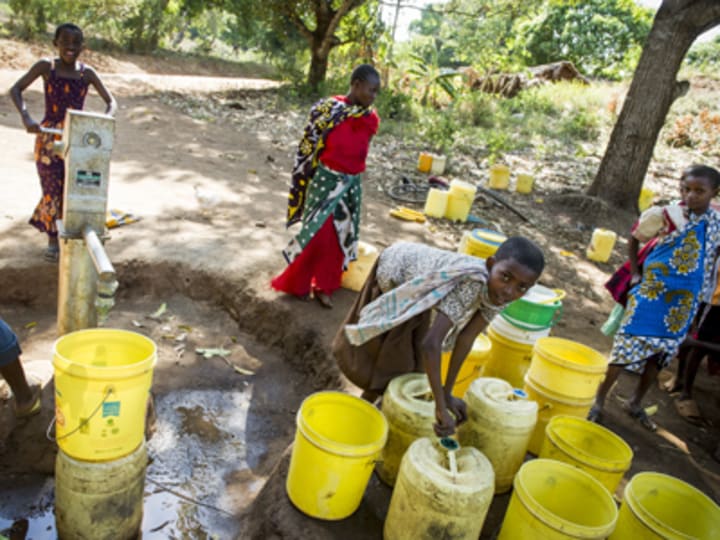 Irregularities in aid projects, particularly in war-torn countries, are a massive, costly problem. However, they happen so frequently that some consider them the norm.
To curb corruption in funded programs, donor agencies have instituted some safeguards — including establishing hotlines to report fraud.
One nonprofit takes a slightly different approach.
Much like donor agencies, Integrity Action encourages reporting of development funding abuses. The motive, though, is not to use any evidence of misdeeds to blow the whistle, but instead use it as leverage with public officials and other stakeholders to fix the problem, which may come in the form of improvements in infrastructure and public services.
"Development projects often fail to meet the needs of communities in war-torn countries, as resources are often lost or mismanaged," Emmanuelle Kunigk, communications advisor at Integrity Action, told Devex. "Transparency and effectiveness standards exist but there is no mechanism to engage or get feedback from the ultimate beneficiaries."
Under what it calls a community integrity building approach, Integrity Action trains staff members of its partner organizations and in-country volunteers to identify, monitor and improve — or fix — problems in development projects and services. The training is funded by grants from Google Global Impact Challenge, the Norwegian Agency for Development Cooperation and the World Bank Group.
Integrity Action plans to train more than 2,000 community monitors in seven war-torn countries over the next 18 months, with the goal of fixing 50 percent of problems in public services and infrastructure projects. This, it said, would lead to a better quality of life for an estimated 500,000 people.
Community monitors lodge their evidence with an online tool called DevelopmentCheck.org. They fill in an online form and may attach photos, videos and project documents. The site, which went live this year and is currently in a pilot phase, also informs visitors whether the problem has been addressed.
"We work closely with partners on the methodology and provide quality assurance by checking the data before publishing," Kunigk said.
DevelopmentCheck.org currently has verified information on four countries, including Afghanistan, where Kunigk said its partner Integrity Watch has uncovered major deficiencies in two-thirds of the more than 300 projects it tracked, prompting Afghan President Hamid Karzai to ask the organization to monitor all government infrastructure projects in the country. Integrity Action expects to add more countries soon, including Zambia and Uganda, "as there are monitoring coalitions there and interest from partners or trusted organizations to verify and publish the data."
Get development's most important headlines in your inbox every day.
Thanks for subscribing!
In case they cannot log into DevelopmentCheck.org due to poor Internet access, community monitors can fill in an offline questionnaire in English, French and in some countries, Arabic, and upload later when Internet becomes available.
Aside from publishing on DevelopmentCheck.org, Integrity Action also shares verified data on community forums and via community radio, an important communication channel in war-torn countries. It also shares project data and case studies through social media such as Facebook and YouTube. It is now exploring ways to link DevelopmentCheck.org with e-government tools, including data portals, online budget monitoring and e-procurement.
And there's more: Integrity Action is soon launching a smartphone application to allow for real-time reporting on issues with development projects and public initiatives. Kunigk said this move "empowers communities to generate pressure for improved services and projects."
A prototype of the app is undergoing testing this month, involving three partners. Integrity Action intends to involve its wider network of partners in the testing phase by the end of the year. In December, it will hold a workshop to gather feedback from these three partners on their experiences using the app, and from all its partners on using DevelopmentCheck.org.
For the pilot phase, the app will be available on Android phones and tablets. In 2014, an app for IOS gadgets will be made available.
Eventually, Integrity Action will create two versions of the smartphone application, one for its network of partners and another for use by members of the public.
"In the case where the public provides feedback on development projects or infrastructure, we will clearly state that this hasn't been validated by us and we will also encourage triangulation by other members of the public, providing feedback or reporting on the same project," Kunigk said.
Read our previous #innov8aid and let us know what you think about this innovation by leaving a comment below.