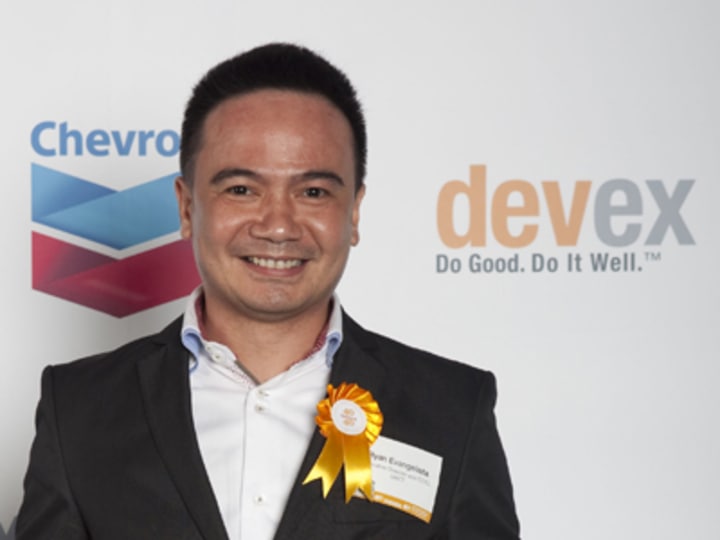 Ryan Patrick Evangelista is an influential adviser for both local private sector leaders and international organizations in the Philippines.
He helped create the I-MUST for Trade program, which envisions involving multiple stakeholders in trade policy development, and has consulted for the Philippine government, ASEAN and the U.S. Agency for International Development, among others. Evangelista is one the most influential development leaders aged 40 and under in Manila.
Devex is recognizing 40 of these young trailblazers in international development. They are social entrepreneurs, government leaders, development consultants, business innovators, advocates, development researchers, nonprofit executives and journalists.
We spoke with Evangelista about his role in trade negotiations and overseeing performance governance.
You've served as an adviser and consultant to private sector leaders and international organizations. Can you tell us about an instance where you feel the advice you gave helped make a real impact on development?
I am blessed and privileged to have led and managed projects that inspired and empowered private sector stakeholder participation in governance, economic policy formulation and trade negotiations.
I think one particular instance where I felt that my advice or direction helped open a gateway for the business community to be engaged more extensively in development primarily in the area of trade policy and negotiations, was when I co-founded [Universal Access to Competitiveness and Trade] in 2007.
In leading U-ACT, I served as [the Philippine Chamber of Commerce and Industry] leadership's catalyst in executing our vision of undertaking projects that empower stakeholders primarily SMEs in charting a more inclusive, dynamic and consensus-driven process in formulating our trade policies and strategy for negotiations.
Eventually, my team and I were able to conceptualize U-ACT's flagship project, "Institutionalisation of Multistakeholder Consultations for Trade Policy and Negotiations," or I-MUST for Trade, which was supported by the U.K. government. Shortly after, we gained recognition from government on our role in trade policy formulation, research and negotiations.
The I-MUST for Trade project led to our establishment of a dedicated learning center for trade policy education where we have been partnering with the International Trade Center in Geneva for nearly five years now to run an academic program on trade policy called the I-MUST-PLUS or "Institutionalisation of Multistakeholder Professional Learning and Universal Skills for Trade Policy and Negotiations."
To date, we have trained 400 stakeholders coming from the spectrum of government, SMEs, academe and civil society as agents of trade policy development. Currently, my team and I also support a broad engagement process to inform and educate SMEs of the implications of ASEAN integration in 2015 and possible free trade agreements between the Philippines, EU and the rest of Asia-Pacific.
How can the government and the aid community engage the private sector better in local and global development initiatives?
I think the best way for government and aid community to engage the private sector is to provide an institutionalised role of not just engaging us in an advisory capacity when conceptualizing projects but also involving us more thoroughly in implementing and monitoring key initiatives.
Every so often, we entertain some aid contractors, donors, government representatives and give advice when conceptualizing projects but they fail eventually to involve the business community during the implementation and monitoring phases.
Get development's most important headlines in your inbox every day.
Thanks for subscribing!
In my stint with PCCI for more than 13 years now, I have proven that private sector organizations, moreso the leaders have the experience, base, influence and pragmatic ideas to offer creative solutions to address development challenges. Experience-wise, PCCI played a substantive role in the National Competitiveness Council, Presidential Task Force on Education, Infrastructure Performance Monitoring and even in the advocacy on Population Management, among others. Our experience in these areas shows that the more engaged the private sector in the entire project cycle, the more dynamic and progressive the solutions become, adding integrity, buy-in and value to the development thrust.
What global development causes do you see yourself contributing to in the next 10 years?
I have always been interested in trade-related and economic governance initiatives — from empowering stakeholders' participation in trade negotiations — to advocating economic reforms that are consistent with our goals toward global integration.
I would say two causes I see myself being involved in the medium to long term are in. The first is trade negotiations where we are advocating a structure we term as the ISAAC or industry-services-agriculture advisory councils which mirrors the one of [the U.S. Trade Representative's] Industry-Trade Advisory Councils.
I worked with USAID and [the Department of Trade and Industry] in doing a study related to this and I believe that having this kind of consultation mechanism operationalized in the Philippines will provide a great opportunity for private sector and government to improve the process of consensus building in trade negotiations especially in the advent of more [free trade agreements] in ASEAN and across Asia-Pacific.
The second is the area of performance governance.
I am privileged to have worked with the Center for International Private Enterprise and Institute for Solidarity in Asia in assessing the application of local government units and government corporations to be recognized as models of good governance using the balanced scorecard-based Performance Governance System.
There is a similar project I am currently involved in with the International Trade Center, working with various trade promotion agencies to benchmark their organizational performance. Thus, in the process, I feel so inspired to continue advocating and promoting a performance-based standard to improve the function of economic and good governance founded on strategy formulation, organizational change, and stakeholder/ client satisfaction. I think these kinds of progams are the way forward to enable government agencies and leaders become effective agents of change especially in promoting multisectoral dialogue, transparent governance and global competitiveness.
Read more about the Devex 40 Under 40 International Development Leaders in Manila.