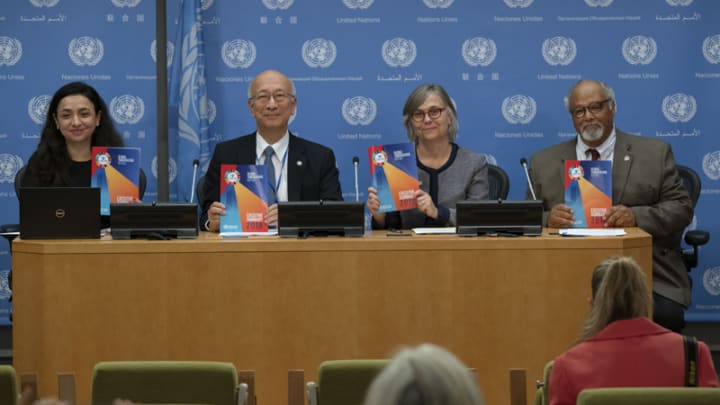 MANILA — With huge gaps remaining in tuberculosis detection and treatment, advocates are urging world leaders to take a strong stand at next week's United Nations high-level meeting to put an end to the disease. They want leaders to commit, at an unprecedented rate, to scaling up diagnosis and treatment of all forms of TB infection.
Ten million people developed TB in 2017, two-thirds of whom live in eight high-burden countries in Asia and Africa, according to latest WHO statistics. Severity varies across countries: From fewer than 10 per 100,000 of the population in most high-income countries to as high as over 500 per 100,000 of the population in places such as the Philippines, Mozambique, and South Africa.
In addition, 558,000 patients worldwide contracted TB that was resistant to rifampicin, "the most effective first-line drug." Of this number, 82 percent had multidrug-resistant TB. Almost half of the world's cases are in India (24 percent), China (13 percent), and Russia (10 percent). And of the MDR-TB cases, 8.5 percent were extensively drug resistant, or unresponsive to four anti-TB drugs: Rifampicin, isoniazid, any of the fluoroquinolone antibiotics, and at least one of the three injectable second-line drugs.
WHO also estimates 1.7 billion are at risk of developing active TB, while TB incidence rates continue to fall at a slow pace of 2 percent yearly, instead of the 4-5 percent per year needed to reach the End TB milestones by 2020. Those milestones include early detection and treatment of 90 percent of people with TB, reach at least 90 percent of key populations with treatment and care, and achieve 90 percent treatment success for those diagnosed with TB.
There is also serious gap in the reporting of cases. Of the 10 million found with TB in 2017, only 6.4 million were officially reported to national authorities.
Members of the TB community expressed disappointment over the latest figures, noting that the numbers have not changed much over the past five years, and have asked leaders to take next week's opportunity to reverse the trend by testing and treating more people, and in mobilizing sufficient funds for TB research and development of new drugs, diagnostics and vaccines.
"TB is still the biggest infectious disease killer in the world."
— Eric Goosby, U.N. special envoy on TB
"Does it matter if we have 10 million new cases, or 10.2? Does it matter if the numbers are 1.6 million deaths or 1.7?  Does it matter that we found and treated 6.3 or 6.4 million people with TB? For all of our collective efforts and new diagnostic tests we used, we were able to put in 2017 only 10,000 more people on treatment for drug-resistant TB, while hundreds of thousands remain suffering," said the Stop TB Partnership secretariat.
Sharonann Lynch, Médecins Sans Frontières' HIV and TB policy adviser, also described the latest figures as a "shameful report card" that serves as evidence of the "world's failure to confront this curable disease."
"Governments continue to tackle the world's deadliest infectious disease with lethal mediocrity," she said in a statement and asking, "what are we waiting for?"
The key asks, but who's committing?
The U.N. High-level Meeting on the Fight to End Tuberculosis on Sept. 26 is the first ever U.N. meeting focused on the infectious disease. Since its announcement, members of the TB community, particularly civil society, have seized the opportunity to raise awareness about the disease, its burden, and why world leaders need to take serious action. They've mobilized communities, launched videos, used social media, written letters to world leaders, participated in a number of key conferences, and closely followed negotiations on the political declaration. 
Get development's most important headlines in your inbox every day.
Thanks for subscribing!
U.N. Special Envoy on Tuberculosis Eric Goosby recognized their efforts during Tuesday's press conference on the launch of WHO's 2018 Global TB report.
"TB civil society has put their heart and soul in gathering political will from leaders around the world, and I believe results of their work will be seen [next Wednesday]," he said, noting how much hard work that required.
India aims to eliminate TB by 2025
The country with the world's largest tuberculosis burden this week launched an ambitious plan to eradicate the deadly disease five years ahead of the global target. But many doubt whether that goal can be attained.
But while those efforts have helped raise the profile of TB, he cautioned it's not yet "time for a victory dance," and called on stakeholders to reflect on whether there is real understanding of TB's burden in countries, and how adequate each country's response is.
"TB is still the biggest infectious disease killer in the world. Maybe we can give ourselves a moment to reflect on a positive movement with the convening of a high-level meeting, but it's really just the beginning. We must make sure the words we hear next week from our country leaders translate into action and, equally important … is holding our leaders accountable for the actions they promise to take. And we must make ourselves accountable for keeping the pressure on," he said.
In the lead up to the meeting, TB stakeholders and communities have put forward key asks to heads of states and governments. These include specific commitments to diagnose and treat 40 million people by 2022; remove discriminatory laws against people suffering from TB; speedy uptake of new tools including using the World Trade Organization's Agreement on Trade-Related Aspects of Intellectual Property Rights flexibilities; to double current funding for TB to reach $13 billion annually by 2022; increase funding for TB research; and to convene a follow up high-level meeting on TB in 2023.
Many of these "asks" made it to the final draft of the political declaration on TB for the high-level meeting, but not all. These included, for instance, specific commitments to introduce a short, oral cure for TB and its drug-resistant forms by 2028, and affordable point-of-care TB diagnostics that can identify new infections and drug-resistant strains by 2025.
Countries' rights to use the flexibilities provided in TRIPS also met resistance initially and was omitted from the previous draft. But countries such as South Africa challenged its exclusion, leading to a reopening of the negotiations. Last week, member states agreed to place the reference back in the text.
But stakeholders still face a dilemma. For months, they've been rallying world leaders to attend the summit, as a means to ensure the highest level of political support from countries. However, to date, it appears no more than 50 heads of states have agreed to participate. And as per the initial list by Stop TB Partnership, only 15 leaders of the 30 high-burden countries are represented. South Africa President Cyril Ramaphosa is the only one attending among BRICS countries, which cover more than 40 percent of the global TB disease burden, including 50 percent of drug-resistant TB.
Lucica Ditiu, executive director of the Stop TB Partnership, said in a recent tweet that any head of state not attending the summit "is comfortable with his own people, family, friends being sick and killed by airborne TB."