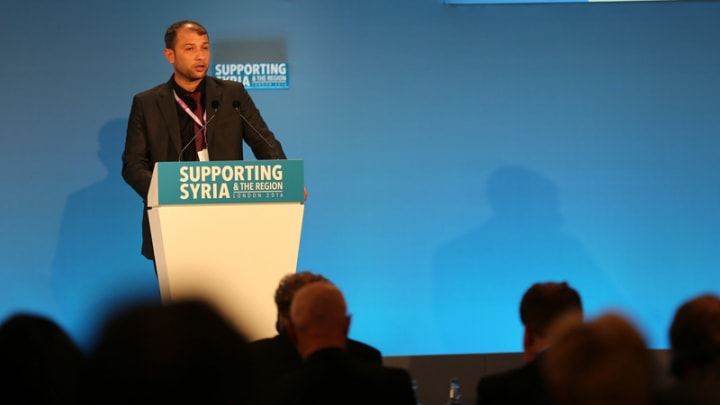 Raed Al Saleh was scheduled to receive InterAction's 2016 Humanitarian Award in a hotel ballroom in Washington, D.C., on Tuesday evening. Instead, he'll likely be back on the Syria-Turkey border when he'll be delivered the award on an undetermined future date.
Saleh, a 33-year-old Syrian national and head of the Syrian Civil Defense, was denied entry to the United States upon arriving at Dulles International Airport on the evening of April 18. Saleh had come prepared with a letter from the U.S. Agency for International Development to facilitate his entry with U.S. customs and immigration, but was told by U.S. officials that his visa had been cancelled. Saleh's visa is valid until September 2016, and he had not received any notification alerting him it had expired, according to a statement from his colleague and translator Zouheir Albounni.
The electrical supplies salesman turned humanitarian had been scheduled for months to attend InterAction's Forum, an annual gathering of humanitarian, development and sustainability professionals, where he was being recognized for his work leading more than 2,800 intrepid volunteers as the leader of the Syrian Civil Defense.
The group of unarmed and neutral civilians, also known as the "White Helmets" due to their protective hard hats, work as firefighters, paramedics and search-and-rescue teams. They have saved more than 40,000 lives in Syria on both sides of the fight, according to Saleh.
In March 2015, Saleh made a plea to the international community in a Washington Post op-ed to "stop the barrel bombs," a rusty barrel favored by Syrian President Bashar Assad's regime, packed with explosives, shrapnel and sometimes chlorine — the aftermath of which Saleh and his teams of volunteers respond to. The following month, Saleh traveled to New York to address the U.N. Security Council, where he detailed Syrians' daily life amid the destruction caused by the bombs and shelling.
President and CEO of Relief International Nancy Wilson credits Saleh as the reason the nonprofit is involved in humanitarian work in Syria. Relief International nominated Saleh for the award knowing that "there are many committed humanitarians all over the world," Wilson told Devex. "But Raed is doing what he does in the middle of a major conflict that touches the whole world. We feel it's important to remember the incredible courage of the people living — and acting — in the middle of it all."
Get development's most important headlines in your inbox every day.
Thanks for subscribing!
Neither InterAction nor Relief International has received an official response to their inquiries with the U.S. government on exactly why Saleh was denied entry. But the government's actions on Tuesday won't stop Saleh from being recognized, according to InterAction CEO Sam Worthington, who described himself as "shocked and saddened" when he learned Raed was turned away by U.S. officials.
InterAction leaders including Worthington and Patricia McIlreavy, vice president of the humanitarian policy and practice team, will travel to meet Raed on the Syria-Turkey border — most likely in May — to ensure his work is appropriately and personally acknowledged, Burt Edwards, InterAction's director of media and Web strategy, told Devex.
In the meantime, Worthington warned of the consequences of policies that prevent humanitarian professionals from traveling freely, "as any other modern global professional must to be effective," he said.
Read more international development news online, and subscribe to The Development Newswire to receive the latest from the world's leading donors and decision-makers — emailed to you FREE every business day.