The clean water and sanitation crisis: How we can do better
By John Hewko
---
On this year's World Water Day, more than 2.5 billion people lack access to adequate sanitation facilities. One in nine people lack access to safe water, and the number of people who own a mobile phone exceeds the number who has a toilet.
What can service organizations do about this? We know that only improving infrastructure is not enough for sustainable water, sanitation and hygiene improvements.
Instead, for WASH programming that has a lasting impact, it needs to observe several principles: to work with governments to ensure affordable, high-quality services that last generations; investing in people not just hardware; investing in systemic change; spending more time collecting data on what works than we do on writing success stories; measuring success in terms of how many communities have water and sanitation services over time; and learning from past failures.
This last point is vital, because even after decades of intervention, failure rates for water systems in developing countries are still high, with the cumulative "costs of failed water systems estimated to be $1.2 billion," according to Improve International.
And the development community missed the Millennium Development Goals target on access to improved sanitation, with great discrepancies still existing between urban and rural areas, despite our progress on other goals, such as reducing extreme poverty and improving maternal health.
Broken water pumps are an all too common sight, and are a symbol of water and sanitation projects that have failed the test of sustainability.
Despite good intention, the same simple reasons for failure are repeated. Communities are still left with an insufficient number of toilets. Or toilets require repair, without the expertise to fix them, due to projects that focus on installing new hardware without responding to local needs or implementing rigorous training processes.
In sum, providing new infrastructure without also providing training, education, and planning for sustainable services wastes time, funding, and most importantly, threatens the health of people living in these areas.
The U.S. Agency for International Development knew this, as early as 1981, when it observed that the main obstacle to improved WASH services is not the quality of technology, but the failure "in qualified human resources and in management and organization techniques, including a failure to capture community interest."
This is why Rotary's WASH in Schools Target Challenge aims to engage civic leaders (Rotarians) through a structured step-by-step approach that expands on two existing, proven models to improve not only basic education and literacy, but also water and sanitation. This hybrid challenge will pursue one overarching goal: to enhance the quality of education through teacher capacity building and curriculum enhancement, while improving access to safe water, sanitation facilities and hygiene programming.
The WASH in schools target challenge
Launched in January 2016, it will be piloted in Belize, Honduras, Guatemala, Kenya and India, for two and a half years. The model shifts the emphasis away from installing new hardware, focusing more on behavior change such as supervised hand-washing, planning for long-term financial management of services, menstrual hygiene management, operation and maintenance planning and implementation, teacher training  and capacity building, and improved governance.
Rotary applies this WASH model in a strategic water and sanitation partnership with USAID. The Rotary-USAID International H20 Collaboration brings together USAID's technical expertise and Rotary's network of grassroots volunteers to boost access to WASH infrastructure, strengthen delivery of WASH services, promote hygiene education, and mobilize communities and resources in developing countries. Rotary and USAID have committed $4 million to Ghana and $4 million to Uganda for 2015-2018, following earlier pilot projects in the Dominican Republic, the Philippines, and Ghana from 2009-2012.
It aims to buck the remarkable trend identified by USAID, according to which "less than 1 percent of WASH projects have long-term monitoring." The WASH Sustainability Index Tool was a product developed and utilized by the partnership to assess the likelihood of sustainable WASH interventions. It evaluates four critical factors: institutional arrangements, management practices, financial conditions, and technical operations and support.
So how successful has the collaboration been so far?
In Ghana, the H2O project provided more than 100 rural communities with WASH services, and in the Dominican Republic, more than 6,700 household water treatment and safe storage systems have been installed.
But simply counting the number of systems built and people served doesn't measure a project's continuing success.  
This is why the early initiatives of the H2O collaboration were a prime opportunity to test the Wash Sustainability Index Tool, and adjust strategies according to the results of rigorous surveys. In some communities, handpumps, even when fully functional, were not within 500 meters of the majority of the population, resulting in lower scores for accessibility. In others, the reverse was true, when pumps were accessible but unreliable.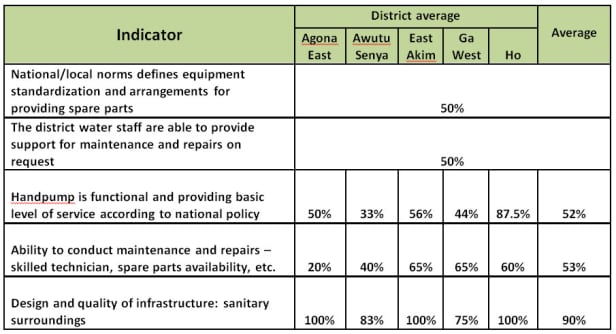 With precise data, the H2O collaboration can better direct its resources in the coming years, to enhance WASH project design, implementation, monitoring and sustainability.
A broad finding of the partnership in all three pilot countries — Dominican Republic, the Philippines, and Ghana — was the relatively low scores in aspects of financing. This highlights the need for understanding the life-cycle costs of different WASH interventions, and to establish early on who will meet these costs.
The impact and sustainability of WASH initiatives can be improved by rigorous monitoring of each intervention, the adaptation of projects to meet local needs and ensure broad participation in the planning and execution phases, and the understanding that technologies are only as strong as the accompanying maintenance, expertise and training required to keep them functional.
Beyond this, in the words of Harold Lockwood, who authored a review of the H2O pilot projects, "viewing monitoring through a sustainability lens can shift the policy dialogue." This can direct future WASH projects to address poor governance, policy vacuums, and a lack of long-term follow-up support, whether from those installing WASH infrastructure, or from local and national institutions. Engaging with stakeholders through the lens of sustainability, and with the solid data to back it up from robust assessments, will bring more clean water and adequate sanitation resources to the 2.5 billion people who deserve more from the development community.
Join the Devex community and access more in-depth analysis, breaking news and business advice — and a host of other services — on international development, humanitarian aid and global health.