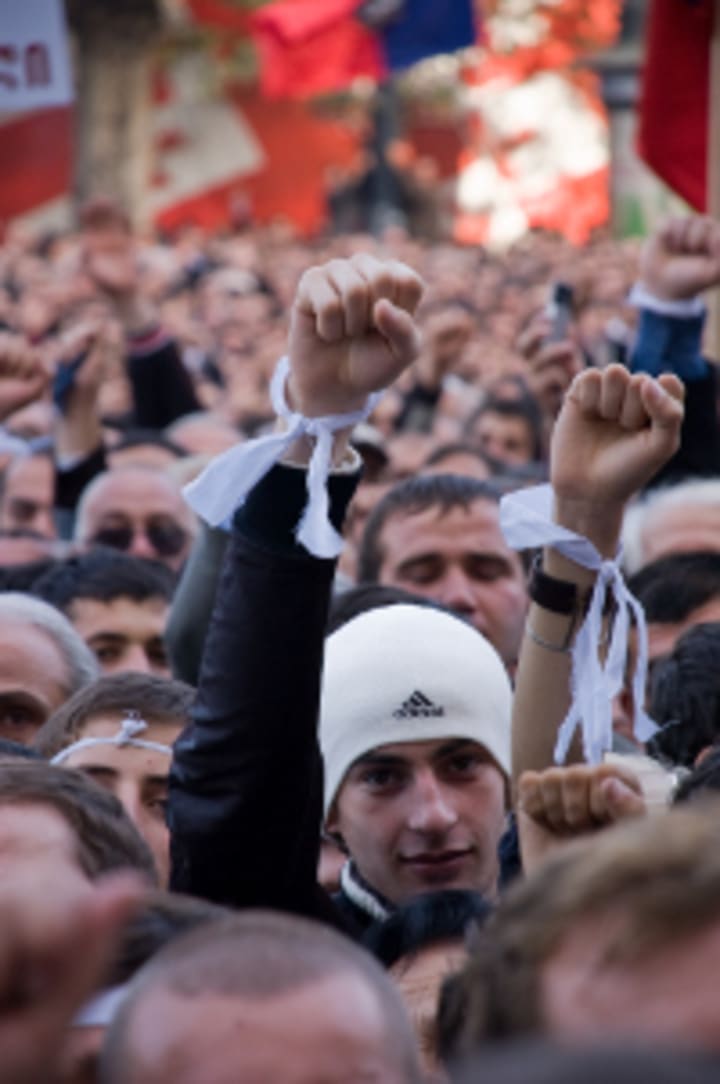 As the aid industry prepares for the Busan forum in late November, one thing appears certain: Donors will once again proclaim their faith in the power of local parliaments and "civil society" to make aid more transparent, accountable and effective. Having monitored international aid for a local NGO in the Republic of Georgia in 2008-2009, I have my doubts.
The last time donors and recipient governments gathered en masse to discuss aid accountability, in Accra in 2008, aid recipients promised to "work more closely with parliaments" on development policies, and also to "engage" with civil society organizations. In return, donors pledged "to increase the capacity of all development actors" – naming both parliaments and CSOs – "to take an active role in dialogue on development policy."
Working as an aid monitor in Georgia in the immediate aftermath of the 2008 war, I was thus outraged to discover that the country's future development strategy was being crafted by a narrow elite. Donors and the government drew up a comprehensive national recovery strategy without involving parliament or CSOs, kept the resulting document under wraps, and then proceeded to conduct a $4.5 billion donor conference behind closed doors. The only Georgians involved were the hand-picked representatives of a government that had just precipitated the whole mess by blundering into war. People outside this charmed circle remained unaware that their government had just signed up to a development strategy that envisaged national health care reforms, major road-building projects, and the settlement of over 100,000 internally displaced people.
All of this happened without any public debate, consultation or democratic deliberation. After congratulating themselves and their hosts on the speedy and efficient process, donors remounted the bully pulpit and resumed lecturing the Georgian government on the virtues of transparency, accountability and democracy.
A simple morality play? Not really. Let's look behind the scenes in Georgia, late 2008. Having gobbled up millions of donor dollars in technical assistance, parliament was a rubber-stamping body for a ruling party packed with tame opposition politicians and none-too-bright regime loyalists uninterested in complex policy debates. The more radical opposition parties had already removed themselves from the democratic scene by boycotting parliament altogether. Their sole political platform seemed to consist of daily calls for the resignation of the president, and soon after they tried to overthrow the elected government through confrontational street protests.
Local "civil society organizations" – including mine – had little to contribute to aid policy debates. Donor-imposed caps on NGO salaries meant that local organizations were usually unable to attract the top-notch staff needed to engage in sophisticated policy analysis and advocacy. (The best people went into government, the private sector, or international institutions.) The Georgian media was divided into sycophantic government-controlled television stations on the one hand, and demagogic newspapers that nobody read on the other.
Get development's most important headlines in your inbox every day.
Thanks for subscribing!
Meanwhile, having just lived through a traumatic war, and now facing the prospect of severe domestic upheaval, most Georgians were not interested in engaging in technocratic debates about development policy. (Remember, most people in the West aren't interested either.)
We published a Georgian-language summary of the national recovery strategy, hoping to kick off a lively discussion. Instead, all we got was a resounding silence. We commissioned a nationwide opinion poll on aid, only to discover that ordinary citizens wanted donors, not their own government, to allocate and control the funds. And when the World Food Program distributed inedible food rations to tens of thousands of people, local NGOs failed to notice, and neither the media nor local politicians seemed to care very much.
Accountability is inherently demand-driven. If local parliaments and NGOs are to effectively monitor and influence international aid, they must be highly capable, and willing and able to rise to the challenge. In most aid recipient countries, these preconditions for aid accountability simply do not exist.
The Busan forum will doubtlessly produce a polished document full of well-intended promises. But if these promises are based on fantasy, not reality, we cannot pressure donors to live up to them. Aid transparency is a necessary precondition for local aid accountability, but in itself is not sufficient. Accountability is a two-way process. Information gives local accountability agencies ammunition to press for change – but only if they are willing and able to do so.
Read more views on Busan's aid transparency agenda: