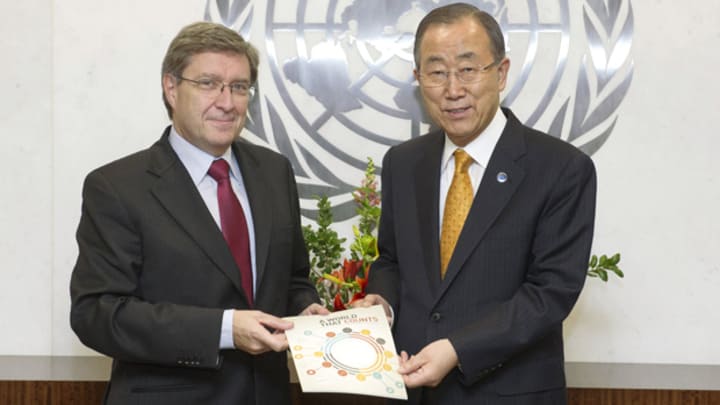 Data is a critical and powerful tool in international development.
Donors aiming to get more value for money need data to guide their budget decisions. Aid implementers need data to help shape their interventions, like for instance what's the biggest need in their target area and whether or not will they be able to reach the people they are aiming to help. Governments need data to know where to invest their scarce resources and which sectors should be prioritized. Finally, the private sector needs data to inform decisions on whether a particular development initiative is worth investing in.
However and despite this clear demand for more (and better data), the reality is that many gaps remain. Availability of data remains uneven within and across countries, sectors, development areas and even population groups. And where it is available, sharing is often constrained because of the different methodologies used or the lack of a common platform for different actors to collaborate on.
These and other problems regarding data were apparent following the launch last week of what was touted as the first-ever fully global report on nutrition by the Stakeholder Group, composed of experts from think tanks, nongovernmental organizations and the academe. The authors were only able to assess country-level progress for four — stunting, obesity, wastage and exclusive breastfeeding — of the six nutrition indicators set out by the World Health Assembly in 2012 because of lack of sufficient data on women getting enough iron to fight off anemia and newborns no longer suffering from low birth weight. Not all of the 193 U.N. member countries, including some high-income ones, reported enough data — or internationally comparable data — to allow the researchers to assess progress against the four indicators. The report also underscored the problem of tracking financial and nonfinancial commitments made by different stakeholders to address global malnutrition.
Not knowing how many women are not receiving enough iron in a given country makes it hard to estimate the budget needed to address the problem, like only being aware of obesity in certain countries in Africa and Asia, but not in small island states in the Pacific can create inequalities in aid interventions.
Building trust
So what can we do to improve data collection?
Claire Melamed, lead author of a recent U.N.-commissioned report on the issue, identified the different factors at play that is making data insufficient and uneven. Sometimes, she explained, it's about scarcity of resources and governments having to choose among a set of competing priorities. Other times, it's politics — government authorities less concerned with a particular minority groups' needs or decision-making based on donor policies — or even just technical difficulties.
But there are other reasons.
In its latest report to U.N. Secretary-General Ban Ki-moon, the Independent Expert Advisory — also known as the Data Revolution Group — suggested to establish a globally agreed set of standards and principles on what and how data should be shared, and which data can (or should) remain publicly unavailable.
The idea is to allow data to be more useful, but also to build more trust between providers and users.
"Unless people trust the data would be used in ways that help them and don't harm them, in ways they have confidence and have certain amount of control on how it will be used, they will not allow their data to be used, and then will miss out on all of the opportunities for progress that using that data could have provided," Melamed told Devex.
Get development's most important headlines in your inbox every day.
Thanks for subscribing!
Melamed and her colleagues are also advocating for a global 'Network of Data Innovation Networks' that would "level the playing field" in terms of technology availability. The rapid and increasing use of technology in data collection and consumption, while welcome, is also potentially increasing inequalities between countries, classes and sectors.
And while no concrete figures were set, the Data Revolution Group underscored the need to raise a substantial amount of resources for data revolution.
"A lot of these things depend on the [availability] of new resources. There are some things that you can do without money, but there are a lot of things that you can do with it," Melamed said. "There's a whole range of ways money can be raised, but it must be raised."
Efforts to ensure enough funds are allocated to improve data collection, she pointed out, better start now, as the meeting to discuss post-2015 financing is already scheduled for July next year.
Monitoring the SDGs
Another important detail that needs to be finalized soon is what the Data Revolution Group calls "data lab" for the sustainable development goals, set to replace the Millennium Development Goals after 2015 so stakeholders can set baselines and better measure progress on the SDGs.
"In September 2015, governments are expected to agree on a new set of goals, and [then they will] need to monitor a whole set of things we currently don't monitor," Melamed said.
The Data Revolution Group did not propose a monitoring architecture for the SDGs, but clearly there are different opinions on how the global development community should proceed on this. Some think monitoring should vary across different goals, a number of them tracked as often as monthly, while others only for a couple of years. The problem is identifying which goals should be monitored more, and which ones can take a back seat — a debate that will surely be quite heated as we inch closer to the 2015 deadline.
Other challenges include raising political support, securing endorsements from civil society actors, investments and gathering technical capacity to implement these ideas.
Melamed, however, is hopeful.
"Making things happen is always difficult," she said. "But we're very fortunate at this moment to have increased interest in general in improving data and the state of data on development, and specific political opportunity in the creation of a new monitoring framework for the sustainable development goals and interest in how that could be developed."
Read more development aid news online, and subscribe to The Development Newswire to receive top international development headlines from the world's leading donors, news sources and opinion leaders — emailed to you FREE every business day.