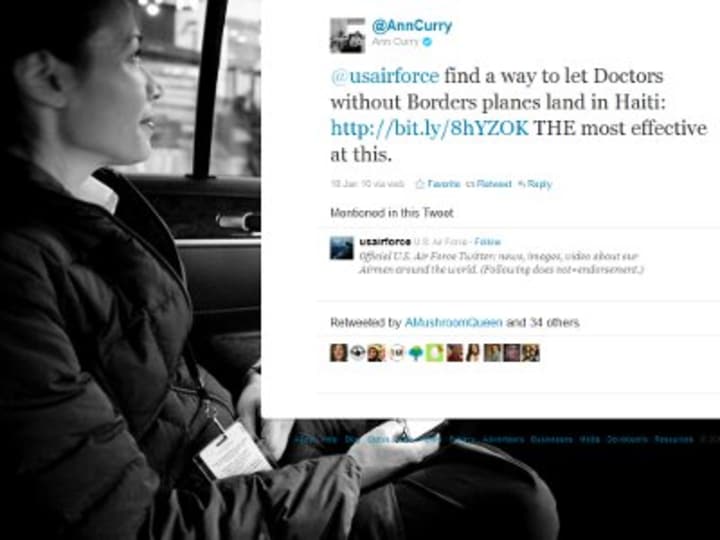 Twitter cited it as the most powerful tweet of 2010.
"@usairforce find a way to let Doctors without Borders planes land in Haiti: http://bit.ly/8hYZOKTHE most effective at this," U.S. television host Ann Curry tweeted.
The tweet went out on Jan. 18, 2010, six days after a powerful earthquake killed and displaced tens of thousands of Haitians. Within a few hours of Curry's tweet, the first Doctors Without Borders flight touched down, with another scheduled to land in Port-au-Prince.
The story, according to Doctors Without Borders Communications Director Jason Cone, shows that Twitter offers an "important tool for exerting leverage" on governments and other stakeholders targeted by the aid group's communications, provided advanced work has been performed to determine their @handles and understand their behavior on the social media platform.
Cone also noted that social media-driven communication strategies are most effective when combined with offline engagement with existing supporters and contacts.
Doctors Without Borders, the U.S. chapter of the Nobel Peace Prize laureate Médecins Sans Frontières, has a strong social media presence. It is on Facebook and Twitter — where its followers combine for more than half a million — as well as on Flickr, LinkedIn, Tumblr and YouTube.
In this exclusive interview, Cone shares the tweets and retweets that defined MSF-USA's successful campaign for its planes to get inside Haiti on Jan. 18. He also says that understanding communication objectives is key to determining the appropriate social media platform to use, the manner of engaging supporters and the types of content for disseminating any message.
In fewer than 140 characters, describe your social media strategy or vision.
Social media is a tool leveraged to support MSF's ability to provide medical humanitarian aid to people affected by wars, epidemics, and natural disasters.
What has your social media presence allowed you to do that you may not have been able to achieve otherwise?
Social media affords MSF the opportunity to engage our supporters — whether donors or the general public — to help carry the messages of the organization's field teams to a larger audience without the filter of conventional media. As a humanitarian medical organization, MSF is not organized to mobilize grassroots movements, but social media facilitates the potential for exponential reach of our public communications, which are primarily aimed at speaking out about the suffering of our patients, overcoming obstacles to providing medical aid in crises, and securing the human and financial resources required to carry out programs in over 65 countries worldwide. It also has been important in monitoring serious security issues such as kidnappings, acting as a sounding board for the clarity of our messaging, exerting pressure on pharmaceutical corporations to improve access to essential medicines, and other ways.
Give an example or anecdote for how you've used social media in an innovative way.
After the 2010 earthquake in Haiti, MSF distributed a press release saying that our planes were blocked from landing in Port-au-Prince. @MSF-USA sent out the press release over Twitter. It was picked up by the NBC News anchor Ann Curry, who had over a million followers on Twitter. A series of Twitter messages followed below that ultimately were helpful in applying necessary pressure on the U.S. government, which at the time was controlling air traffic into Port-au-Prince international airport, to facilitate the landing of MSF planes carrying essentially supplies for our surgical teams operating in several field hospitals. A combination of offline and online communications with Ann Curry played an important role in the response from top levels of the U.S. military. The office of Adm. [Mike] Mullen, head of the U.S. Joint Chiefs [of Staff], contacted MSF directly to address the issue and help in facilitating additional MSF aid flights reaching the destroyed capital.
Get development's most important headlines in your inbox every day.
Thanks for subscribing!
@AnnCurry: One of the best saving lives in Haiti is http://bit.ly/6×77wX Their hospital is still standing..but needs medicines, more doctors [10:45 AM Jan 17]
@AnnCurry: To the US military, running Haiti's airport, find a way to let Doctors without Borders planes land: http://bit.ly/8hYZOK [10:55 AM Jan 17]
One of her followers told her that the U.S. Air Force, who was controlling the airport in Port-au-Prince, was on Twitter. She then sent this tweet:
@AnnCurry: @usairforce find a way to let Doctors without Borders planes land in Haiti: http://bit.ly/8hYZOKTHE most effective at this. [11:52 AM Jan 17]
People started retweeting Ann Curry. The U.S. Air Force Twitter account replied to these people saying that they are looking into the issue.
@MSF_USA tweets that one plane landed, but another plane also needs in at 3pm
@usairforce: RT @MSF_USA: Doctors Without Borders cargo plane finally lands in PaP #Haiti. 2nd plane to arrive 3pm Plz RT
@MSF_USA: @AnnCurry 2nd Doctors Without Borders plane with med supplies MUST land as scheduled at 3pm today #MSF #Haiti
@AnnCurry Doctor's without Borders plane lands.. another is due at 3pm local.
What do development organizations, whether bilateral, multilateral, nonprofit or corporate, need to know about social media and how it can help them?
MSF's experience with social media has demonstrated that there are vastly different opportunities to achieve organizational objectives from investing in the different social media platforms whether they are Twitter, Facebook, Tumblr or others. Facebook's value is very different from that of Twitter. Understanding your objectives for any communication is fundamental to evaluating the appropriate platforms to disseminate those messages and the manner in which to engage supporters and influencers as well as the types of content to disseminate.