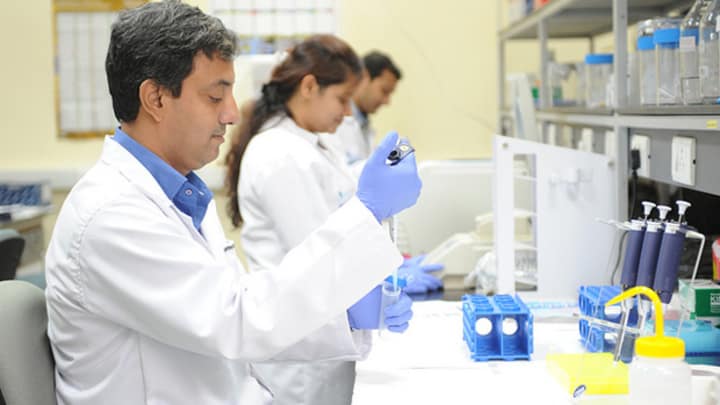 It has been said the most worthwhile achievements are the result of many small tasks being accomplished in the same direction.  
If that is true, the path to achieving large-scale social change should be no exception. In considering the enormity of the challenges we face in global health — creating an AIDS-free generation, ending preventable maternal and child death or fighting Ebola —  how, then, can we expect to solve pressing global issues without imagining a more holistic and coordinated approach?
In recent years, organizations such as the U.S. Agency for International Development, UNITAID, the Clinton Health Access Initiative, the Global Fund to Fight AIDS, Tuberculosis and Malaria and others have addressed this question by working together to enact ecosystem-level change in health care markets through a tactic known as market shaping. By examining the totality of buyers, sellers and actors in the marketplace, these organizations are coordinating to shape markets by leveraging their purchasing power, technical leadership and influence to address five archetypal market shortcomings  — what we refer to as the "5As": affordability, availability, assured quality, appropriate design and awareness, each individually capable of preventing access to potentially lifesaving products.
"USAID and the global health community are fully committed to realizing the once unimaginable goals of ending preventable child and maternal deaths and achieving an AIDS-free generation, but we cannot do it alone," said USAID Assistant Administrator for Global Health Dr. Ariel Pablos-Méndez. In order to push the boundaries of progress, he added, the agency and the global health community "can do more than operate within challenging and developing health care markets; we can work together to help shape them in ways that saves lives."
In a recent report, "Healthy Markets for Global Health: A Market-Shaping Primer," USAID's Center for Accelerating Innovation and Impact draws on experiences across health care products and markets to catalog and assess the commonalities among interventions to present the state of the practice in the emerging field of market shaping. Created in partnership with practitioners and experts in the field, the report presents a disciplined approach — described as the market-shaping pathway — consisting of five steps through which the veritable web of actors and transactions in a complex product market can be analyzed. Starting and ending with a thorough observation of market shortcomings, the pathway presents a high-level roadmap to diagnose underlying root causes constraining the market, tools for assessing intervention options and general implementation guideposts drawn from historical lessons learned.
To date, the derived impact of market shaping in global health is encouraging. In family planning and through the use of a volume guarantee that cut the price of contraceptive implants in half, USAID effectively doubled its product shipments from 1.04 million in 2013 to 1.97 million during the first 11 months of fiscal year 2014. In vaccines, over the past decade Gavi, the Vaccine Alliance helped develop a competitive marketplace for pentavalent vaccine, moving from one manufacturer in 2003 to six in 2013, and in turn realized an up to 65 percent product price reduction from $3.56 per dose to as low as $1.19. In the South African antiretroviral market, collective efforts between PEPFAR, the U.K. Department for International Development, CHAI and the local government to improve demand forecasts, increase the number of suppliers and negotiate volume discounts helped cut the cost of ARV drugs by nearly $1 billion over two procurement cycles.
These are just three of many success stories in global health. The list goes on. But examination of the full impact of market shaping to date points to the opportunity to do more. In an operational environment characterized by technological transformation and the democratization of information, fiscal tightening and expectations to accomplish more with less, market shaping has demonstrated its potential to enhance value-for-money in donor and recipient country investments by reducing transaction costs, increasing market information and balancing supplier and buyer risks.
Get development's most important headlines in your inbox every day.
Thanks for subscribing!
If used appropriately, market shaping can be an effective tool to support a broader approach toward solving issues of market access — this much we have seen. However, given the sheer complexity and interconnected nature of markets, we must recognize the potential for negative and unintended consequences, such as when short-term public subsidies drive down product costs at the expense of long-term private sector competitiveness and sustainability. Examination of any potential intervention should thus include an exhaustive inventory of the benefits, trade-offs and unintended consequences from multiple perspectives in the market, including public and private sector leadership in recipient countries.
Altogether, the global health community has come to appreciate the power of collective action in shaping the marketplace to drive results. Recognizing the inherent link between the health of the marketplace — our ability to manufacture, purchase, distribute and ultimately utilize products — and the global health community's overarching goal of saving lives, market-shaping interventions are designed to disrupt or transform existing market structures in order to remove bottlenecks and create efficiencies that lead to improved access to these all-important products and better health outcomes for the poor.
Want to learn more? Check out the Healthy Means campaign site and tweet us using #HealthyMeans.
Healthy Means is an online conversation hosted by Devex in partnership with Concern Worldwide, Gavi, GlaxoSmithKline, International Federation of Pharmaceutical Manufacturers & Associations, International Federation of Red Cross and Red Crescent Societies, Johnson & Johnson and the United Nations Population Fund to showcase new ideas and ways we can work together to expand health care and live better lives.