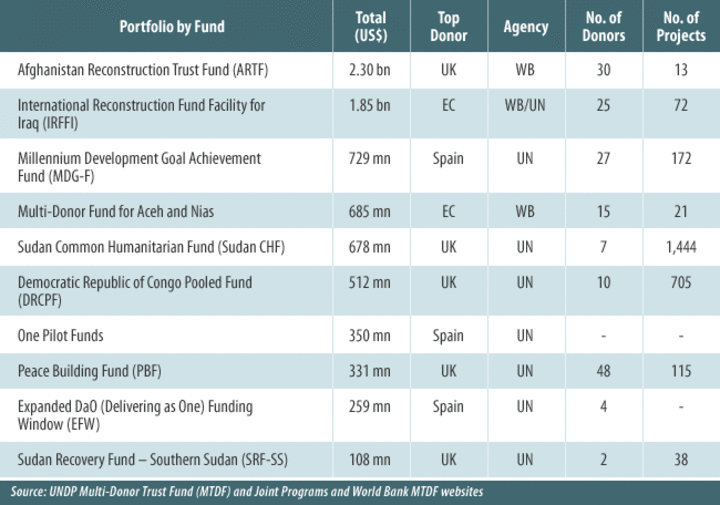 The clamor for better delivery of development assistance has resulted in the creation of financing modalities that could fill gaps in aid response. Donors have been exploring a gamut of possibilities, including multidonor trust funds, in order for aid to best serve the interests of its recipients, especially in times of conflict and disasters.
As a distinct financing instrument, MDTFs pool resources from various donors, with disbursements being managed by an administrative agent under tailor-made rules and regulations. This funding mechanism focuses on the specific needs of recipient countries to improve aid coordination and flexibility, as well as boost effectiveness.
MDTFs can be classified into three major categories: (a) those that respond to disasters, (b) those geared toward a particular global development goal or set of goals and (c) those that cater to the humanitarian needs of a specific country. Here are just some of the better-known multidonor trust funds being utilized in the development world.
MDTFs For Disaster Response
Haiti Reconstruction Fund This multidonor trust fund was established by the Inter-American Development Bank, United Nations, World Bank, and other contributing donors in response to the Haitian government's request for assistance. The fund's role is to support the post-earthquake Action Plan for the Recovery and Development of Haiti and other related initiatives. The World Bank Group's International Development Association serves as the fund's trustee. All proposals for HRF financing must have the endorsement of the Interim Haiti Recovery Commission.
>> US Unveils Contribution to Haiti Reconstruction Fund>> Haiti Reconstruction Panel Receives USD1.6B Project Proposals
Multi-Donor Trust Fund for Aceh and Nias
The Indonesian government requested the creation of this fund to fast-track disaster recovery and rehabilitation following the December 2004 Indian Ocean tsunami. This request was able to gather millions of U.S. dollars in pledges, with the largest contributions coming from the European Commission (USD272 million) and the Netherlands (USD172 million). The World Bank serves as the trustee. The fund focuses on disaster recovery, infrastructure and transport, governance, sustainable environmental management, and economic development. About 73 percent of funds are channeled through the government's national budget.
>> Post-tsunami Aid Effectiveness in Aceh>> Donors Provide $500M for Reconstructing Aceh, Nias
MDTFs For Global Development
Global Agriculture and Food Security Program
  As world food prices skyrocketed to alarming levels – even sparking riots all over the world in 2008 – this multidonor trust fund was formed during the G-8 Summit in L'Aquila, Italy, in 2009 to help reduce global hunger and poverty by focusing on food security and agriculture. The World Bank Group became its trustee, with the United States, Canada, Spain, South Korea and the Bill & Melinda Gates Foundation providing about $900 million in support. The World Bank also acts as the coordination unit for the fund, as well as its supervising entity. The GAFSP aims to connect farmers to markets, reduce their vulnerability to income shocks and climate change, improve off-farm livelihoods for people in rural areas, and provide technical assistance to help governments deal with food insecurity.
>> Global Food Security Fund Announces New Grant Recipients
Millennium Development Goal Achievement Fund
This fund was formed in December 2006 when Spain and the U.N. earmarked USD728 million to support 50 countries in meeting the eight Millennium Development Goals. Special focus, however, was on children and nutrition, conflict prevention, climate change, and culture and development. The fund allots 85 percent of its overall resources to financing joint programs, which involve at least six U.N. agencies. The fund is maintained through partnerships with local governments and civil society, mainly in the Americas, Africa and Asia.
>> Ways to Advance a Global Partnership for Development
Climate Investment Funds
These are a pair of funds that aim to help developing countries pilot low-emission and climate-resilient development. With CIF support, 45 developing countries are piloting programs in clean technology, the sustainable management of forests, and increased energy access through renewable energy. CIFs are channeled through the African Development Bank, Asian Development Bank, European Bank for Reconstruction and Development, Inter-American Development Bank, and World Bank Group.
>> 20 Nations to Boost Renewable Energy through Clean Technology Fund>> 3 Nations Win Climate Resilience Financing
One U.N. Fund
The One U.N. Fund is the brainchild of the U.N. to test if the diverse group of U.N. organizations can effectively deliver and coordinate aid at the country level. This initiative involved eight countries namely Albania, Cape Verde, Mozambique, Pakistan, Rwanda, Tanzania, Uruguay and Vietnam as part of the "One UN" pilots in 2007. As of end-2009, the biggest chunk of the budget went to the Vietnam One Plan Fund I and II (USD78 million), Tanzania One U.N. Fund (USD72 million), and the Pakistan One Fund (USD66 million).
U.N. Peace Building Fund
This is a flexible funding tool launched by the U.N. in 2006. It aims to address security gaps in countries at risk of violence or that are already in conflict, especially when immediate funding is not available. The Peace Building Support Office manages the fund and implements more than a hundred projects in 15 countries. The fund utilizes two financing facilities: the Immediate Response Facility for rapid funding for urgent peace building and recovery needs, and the Peace Building Recovery Facility, which builds on national ownership and stakeholder engagement at the country level.
Get development's most important headlines in your inbox every day.
Thanks for subscribing!
Expanded 'Delivering as One' Funding Window
This fund, established in 2008, is a collaboration between the U.N., Spain, Norway and United Kingdom which provides resources for country-led projects to help U.N missions "deliver as one." U.N. country programs that are planned jointly with governments are prioritized. By the end of 2009, it has so far operated in 12 recipient countries. The fund is being managed by the UN Development Operations Coordination Office.
Multidonor Governance Trust Fund
This fund was approved by the African Development Bank's board of directors on Sept. 29, 2010, and aims to help the bank's member countries strengthen transparency and accountability in managing public resources. The governments of Norway and Switzerland pledged USD1.11 million and USD2.99 million, respectively.
Country-specific MDTFs
U.N. World Bank International Reconstruction Trust Fund Facility for Iraq
Launched in 2004, IRFFI was the inaugural U.N.-administered MDTF and also the first to be jointly managed by the global body with the World Bank. The fund facilitates reconstruction and development activities in Iraq and is structured around two donor components, each with its own rules and financing procedures: the World Bank Iraq Trust Fund worth USD496.87 million and the United Nations Development Group Iraq Trust Fund estimated at USD1.36 billion.
>> UN Sees Good Prospect for Iraqi Reconstruction
Afghanistan Reconstruction Trust Fund
This World Bank-administered fund was launched in 2003 made possible by partnerships with Japan, the United Kingdom, Sweden, Norway, and Italy through the cancellation of Afghanistan's debt. It aims to make the Islamic country eligible for long-term development assistance, as well as spearhead immediate rebuilding efforts. The fund currently finances salaries of public servants – including teachers, health workers and civilian staff members – and initiatives in rural development, infrastructure, capacity building and procurement. The bulk of ARTF's active investment portfolio highlights agriculture and rural development as priority sectors. These receive 44 percent of the total allocation.
>> Afghan Reconstruction Fund Lays out New Strategy
Liberia's Health Pool Fund
Liberia's Health Sector Pool Fund was created to make the country's national health plan a reality. Its four contributing donors, including UNICEF, the U.N. High Commissioner for Refugees, the U.K.'s Department for International Development and Irish Aid, have contributed USD13.5 million as of 2009.
>> Why a New Multidonor Trust Fund, Managed by Aid Recipients in Liberia, Works
Sudan Common Humanitarian Fund
Sudan's CHF was established in 2005 to support humanitarian operations in the African country. There are two mechanisms for fund allocation: the 'standard' type wherein the bulk of funds and early financing for priority projects are set aside and disbursed, and the 'rapid onset mechanism,' which make up 10 percent of pledges and are for emergencies or disasters. While much of the funding is channeled through U.N. organizations, the largest portion (28 percent) is awarded directly to non-governmental organizations such as CARE, Oxfam, and the International Rescue Committee (IRC).
Democratic Republic of Congo Pooled Fund
This innovative funding mechanism has been the primary source of funds for humanitarian efforts in DRC since its inception in 2005. The pooled fund, a collaboration between Belgium, Canada, Denmark, Ireland, Luxembourg, the Netherlands, Norway, Spain, Sweden, and the U.K., seeks to provide prompt and targeted aid for DRC. The fund is being managed by the Office of the Humanitarian Coordinator and poised to be replicated in other conflict-afflicted countries given its current success.
Sudan Recovery Fund South Sudan
The fund was launched in 2008 by the Netherlands and United Kingdom to facilitate the smooth transition from humanitarian to recovery assistance in Southern Sudan. The fund is being administered by the United Nations Development Program, which maintains a close partnership with the government. This collaboration addresses core priorities though the quick disbursement of funds under the approval of a steering committee. The fund finances projects executed by U.N. organizations, the International Organization for Migration, international and national NGOs, and civil society organizations.
Find out more about multidonor trust funds by visiting this link. Do you think this type of financing mechanism makes aid more efficient and effective? Tell us what you think by leaving a comment below.
Louie-An Pilapil contributed to this report.