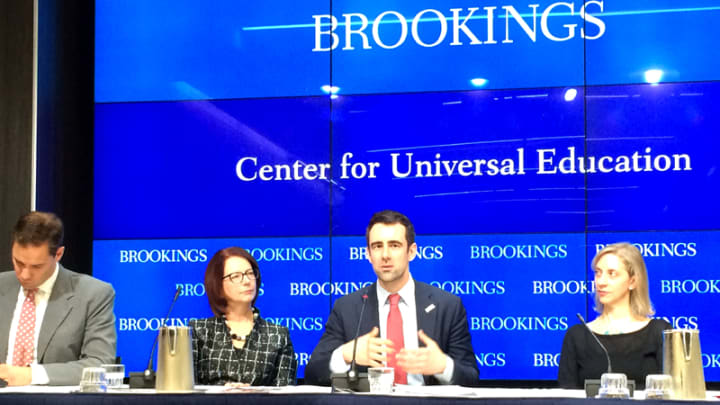 What do the U.S. presidential primary contests and the effort to build a realistic plan for universal quality education have in common? Hopefully not too much.
Sustainable Development Goal 4 — one of 17 SDGs finalized last year at the United Nations General Assembly — is ambitious by all standards. It zeros in on quality education for all and not simply on access to classrooms. But at the moment, there is no comprehensive plan to achieve the goal by 2030.
"There's all of this excitement, but unless we're able to pull this together into some type of credible plan moving forward, we run the risk of [getting to a point in 2030] where we make some progress but we're still far below the goals that we set for ourselves," Justin van Fleet, director of the International Commission on Financing Global Education Opportunity said Monday at the Brookings Institution in Washington, D.C.
The commission, launched at last year's Oslo Summit on Education for Development, is currently engaged in consultations with youth and members of civil society to refine their draft of a final report to be released at the United Nations General Assembly in September. Research institutions are weighing in with their findings to inform the process and stakeholders can register to host a consultation in their own communities.
"It's sort of like the primaries," van Fleet quipped, adding that as members of the global education community, "we need to push ourselves and really see how far we can go, but at the end of the day, get behind what we come out with as a team."
Get development's most important headlines in your inbox every day.
Thanks for subscribing!
The commission includes influential global development leaders like World Bank President Jim Yong Kim and former Australia Prime Minister Julia Gillard who, together with van Fleet and others, will develop a financing roadmap and case for investment in the form of a final report to be released at the United Nations General Assembly in September.
"We have to come up with something that's exciting...that makes people literally jump out of their chair," van Fleet said, adding that the final report also has to be "realistic."
Some commission members, like Gillard, hope the process will be somewhat less fraught than the political battles currently raging across the United States — one of the most divisive primary contests in American history.
"Justin's just made me feel incredibly anxious by comparing the financing commission to the primary," Gillard joked. "Heavens," she added.
Read more international development news online, and subscribe to The Development Newswire to receive the latest from the world's leading donors and decision-makers — emailed to you FREE every business day.