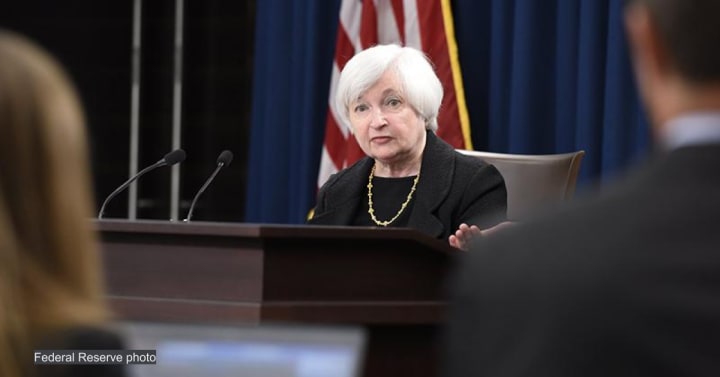 U.S. Treasury Secretary Janet Yellen met with U.S. faith leaders Tuesday to discuss the global economic response to the pandemic, debt relief, and financing efforts to address climate change.
It was a "historic meeting," said Eric LeCompte, executive director at Jubilee USA, who spoke at and helped organize the meeting. "I don't know of a time a treasury secretary sat down with some of the highest religious leaders in the U.S."
Part of our Focus on: Faith and Development
This series illuminates the role faith actors and their communities play in strengthening global development outcomes.
While Jubilee USA has met previous treasury secretaries, there has not been a serious meeting like this one with a group of religious leaders who have been raising issues about the pandemic and global economic crisis, he said. Jubilee USA is an interfaith nonprofit coalition of religious, development, and advocacy groups that works to address the structural causes of poverty and inequality.
Yellen "made clear the Biden Administration's commitment to reducing global poverty," and said low-income countries will need continued support to respond to the pandemic, according to a readout of the meeting from the Treasury Department.
The Treasury Department is committed to working with international partners to address the crisis, including the implementation of existing debt relief efforts including the G-20 Debt Service Suspension Initiative and Common Framework for debt treatments, according to the readout.
"The Secretary views a potential SDR allocation as part of a broader package of assistance to low-income countries, including increased support in the form of IMF financing, multilateral development bank grants and loans, and debt rescheduling and relief under the DSSI and Common Framework," the readout says.  
Leaders from Christian and Jewish faiths spoke about special drawing rights, boosting development bank support, how to prevent the next crisis, and debt relief, including for middle-income countries. Speakers included leaders from the U.S. Conference of Catholic Bishops, Reform Judaism, the Evangelical Lutheran Church, the Methodist Church, the Presbyterian Church, and the United Church of Christ.
Get development's most important headlines in your inbox every day.
Thanks for subscribing!
The Treasury Department is looking at several issues that it did not consider during former President Donald Trump's administration — including a new SDR issuance, boosting development bank resources, and most notably, LeCompte said, climate finance.
The "most significant part" of Tuesday's conversation concerned how climate decisions will be made by the G-7, G-20, International Monetary Fund, and U.S. Treasury, including the role of climate in the financial system and debt decisions, he said.
It was also an opportunity to discuss the importance of the private sector role in debt restructuring and some of the challenges middle-income countries face, LeCompte said.
While the meeting brought to Yellen's attention some of these key policies, it also paved the way for future collaboration and should lead to these issues being addressed more proactively by Treasury staff, he said.
There is likely to be more discussion about SDRs, recapitalizing development banks and debt relief efforts in weeks ahead of the G-7, G-20, and IMF meetings.  In recent months there has been a growing consensus at the G-20 around support for new SDR issuance of about $500 billion, though advocates are pushing for much more — $3 trillion.
Devex, with support from our partner GHR Foundation, is exploring the intersection between faith and development. Visit the Focus on: Faith and Development page for more. Disclaimer: The views in this article do not necessarily represent the views of GHR Foundation.