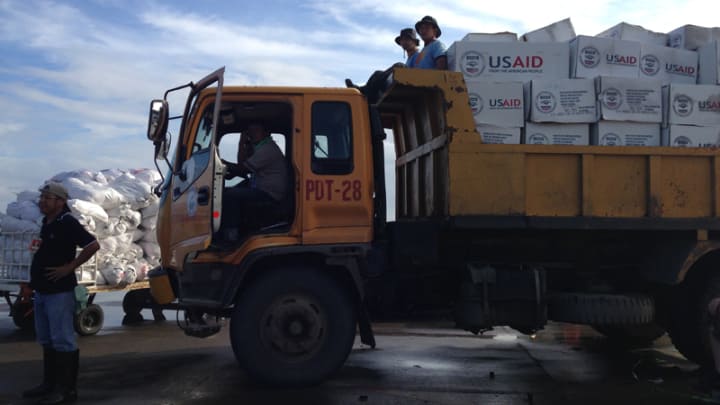 The new year is off to a fast start. Here's a rundown of the top stories making headlines in global development this week.
The largest-ever USAID award that was under protest...
… isn't anymore. Three days before Christmas the Court of Federal Claims ruled not to uphold a bid protest filed by the Partnership for Supply Chain Management. PfSCM is a coalition of government contractors, including John Snow, Inc., which previously held a contract to implement global health supply chain services on behalf of the U.S. Agency for International Development, a massive suite of health programs worth about $10 billion. As Devex reported last spring the group protested USAID's decision to award the project to a new coalition, led by Chemonics International. After the Government Accountability Office denied the protest, the partnership appealed, freezing start-up activities on the new project. The Court of Federal Claims ruling means that transition can now get underway. "With the resolution of the appeal, we are now moving forward in collaboration with USAID to ensure smooth, highly-coordinated transitions over the next 14 months between the old and new projects," said JSI's Washington Office Director Carolyn Hart in a statement.
"Who could possibly be against this?"...
… is what Mark Zuckerberg is asking Indians about Facebook's new "Free Basics" plan. In India, Zuckerberg has worked with Reliance Communications, the country's fourth-largest telecoms company, to offer basic Internet access that people can use without paying for data — so long as they use the Facebook portal to get online. Not everyone is ready to throw him a parade though. A vocal cohort of critics question Zuckerberg's right to serve as gatekeeper to the Internet for the world's disconnected; and they've pressed for alternative connectivity solutions that don't insert a private company's interests between citizens and the public utility of the Internet. In late December, the Telecom Regulatory Authority of India put free basics on hold. Facebook's spokespeople say their plan is being misrepresented, and that 86 percent of Indians support free basics. In a statement to The Hill, a Facebook spokesperson disputed that the principle of net neutrality "was ever intended to deprive poor people of the opportunity to experience the benefits of basic Internet services."
This month Devex will be reporting from India on this and a range of other critical issues facing a country on the front lines of the battle for inclusive growth. Stay tuned.
"Donor darling" for life?...
… is what Rwandan President Paul Kagame could become. Kagame officially announced his intention to run for a third seven-year term in 2017, and then promptly took to Twitter to defend his decision against criticism from the U.S. State Department. The Rwandan government's tendency to buck certain democratic principles in favor of "development," "stability" and "security" has stood out as the inconvenient truth of a post-genocide nation that is otherwise credited for achieving some of the most significant global health and development victories in the world. It is not yet clear whether Kagame's decision will prompt a change in policy among the world's donor nations who have held Rwanda up as an example of what integrated development can achieve. Kagame's announcement was no surprise; it followed on the heels of a national referendum in which Rwandans voted for a constitutional amendment that would allow Kagame to stay in office until 2034. With such broad support — whether genuine or partly coerced — Kagame's reelection next year looks like a foregone conclusion.
Get development's most important headlines in your inbox every day.
Thanks for subscribing!
The Ebola virus of 2016...
… could be a formerly obscure mosquito-borne illness called Zika virus, which last year spread from Africa and Asia to South America and has now infected more than 1 million people in Brazil. A virus once considered relatively non-threatening — with mild symptoms for only some of those infected — Zika has now been tentatively linked to a condition called microcephaly, a birth defect associated with small heads and brain underdevelopment that is afflicting Brazilian infants in numbers never seen until the arrival of Zika last year. Some researchers say the spread of Zika is just one example of climate change driving mosquito-borne illnesses to new parts of the globe, expanding their ranges and generally making global health a more difficult proposition.
Welcome to the "hardest job at the UN"...
… Filippo Grandi! The Italian diplomat officially took over this week as United Nations high commissioner for refugees, responsible for coordinating a global response to the worst refugee crisis since World War II. "Other challenges include critical shortfalls in humanitarian funding, fewer voluntary returns than at any time in more than three decades, people staying in exile for longer periods of time and the increased politicization of refugee issues in many countries," a UNHCR press release soberly noted. Devex has long speculated about who would take on this challenging role. In his own remarks Grandi acknowledged the threat "growing xenophobia" poses to sensible refugee relocation, settlement and services, recalling a recent UNHCR statement criticizing U.S. presidential candidates such as Donald Trump for their anti-refugee rhetoric. Grandi also committed to looking at how UNHCR can tackle root causes driving refugees away from their home communities.
Join the Devex community and access more in-depth analysis, breaking news and business advice — and a host of other services — on international development, humanitarian aid and global health.