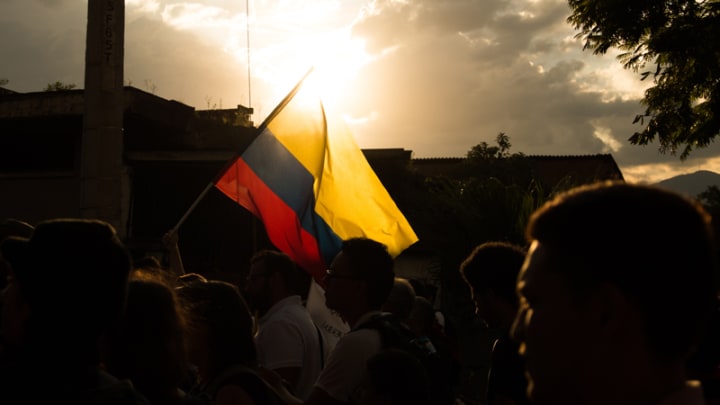 BOGOTA, Colombia — Miguel Perez was going about his daily work in Colombia's verdant Antioquia province when he was murdered in cold blood in late October. A humble, well-respected leader of a rural farming community, Perez had been promoting and defending access to crop substitution, a component of last year's peace deal reached with Marxist rebel group the Revolutionary Armed Forces of Colombia. The measure is meant to allow farmers to substitute illegal coca crops for food staples.
When he was gunned down, Perez's story became part of a spate of dozens of similar murders in recent months that has targeted civil society actors, local activists, and indigenous leaders. Often, it's unclear who the perpetrator is, though the message is clear. Local nongovernmental organizations — and their international partners — are worried that this violent reduction of civil space could have implications for the tentative peace deal and the development it promises to usher in.
Closed offices, seized records, bureaucratic delays, and new laws targeting their work —  these are just some of the ways that governments are cracking down against aid groups across the globe.
In this series, Devex will examine this shrinking civic space and go behind the scenes to understand why and how NGOs are being singled out — and how the impact resonates far beyond the borders of those countries involved.
"I am more scared now than I was before the peace deal was signed," says Reinaldo Villalba, the vice president of CAJAR, a local collective of lawyers that represents victims of Colombia's 53-year conflict and of state crimes. CAJAR works with INGOs including Christian Aid and Peace Brigades International, alongside a number of embassies, to bring its cases to court. It maintains a presence in some of Colombia's most violent and abandoned rural regions.
Many in Colombia hoped that the one-year-old peace deal would usher in a new era of development and human rights in a country that for decades has been plagued by violence.
Yet in many places the climate appears to be moving in the opposite direction. Since the implementation of the accords began in January this year, some 56 social leaders have been killed, worrying many that Colombia is entering a new phase of violence that strikes at those in rural communities who are key to building peace.
Local NGOs and their international partners are sounding alarms that unless civil leaders are protected and the perpetrators brought to justice, the violence will put the peace deal in doubt. Colombian President Juan Manuel Santos has called on the National Commission on Security Guarantees, an arm of the Interior Ministry, to analyze the murders and threats against activists. Many on the ground worry the measures are too little, too late.
The longest war
Colombia's conflict dates back to 1964, when the FARC first took up arms in defense of peasant farmers. The war has since left over 220,000 people dead and nearly 7 million displaced, the majority of them civilians.
The peace deal, which was reached after four years of negotiations in Havana, Cuba, seeks to address the root causes of the conflict. The accord, narrowly defeated in an October 2016 referendum but later passed through Congress, included keystone agreements on how to tackle land equality and drug production. The deal boasts pledges to farmers of credits and farmland through a land bank that aims to redistribute 3 million hectares of land over the next decade. Today, two-thirds of the Andean nation's agricultural land is concentrated in just 0.4 percent of farmland holdings, according to an Oxfam report released in November last year.
Similarly, the deal includes a pledge to reduce coca production in Colombia while empowering peasant farmers who have long relied on the crop to subsist. Colombia joins Peru as the world's top producers of coca, the base ingredient of cocaine. A program of voluntary substitution, in which farmers will be subsidized as they switch to growing legal crops, is currently being implemented.
While community leaders, alongside union representatives and human rights activists, have long been targets in Colombia, the current wave of murders marks a chilling increase in the bloodshed that began in 2015 when the peace negotiations showed signs of breakthrough.
In 2014, 78 leaders and activists were killed. That figure jumped to more than 100 the following year. In 2016, 116 social leaders and human rights defenders were killed, according to local conflict-monitoring NGO Indepaz.
In the months since the agreement came into effect, watchdogs and authorities have noticed an increase in the presence of criminal gangs in isolated regions where the rebels once held sway. Many of the gangs have their roots in state-aligned paramilitary organizations set up to fight the FARC. These new groups are suspected of carrying out the attacks against activists.
"The escalating murders are tragic for civil society leaders in Colombia, many of whom have labored for years to build peace," said Lisa Haugaard, executive director of the Washington-based think tank the Latin America Working Group. "They warned the government that this was coming as peace accords were drafted and signed — violence often does escalate in the power vacuum as warring groups demobilize."
Get development's most important headlines in your inbox every day.
Thanks for subscribing!
Despite those warnings, Haugaard said, the Colombian government has "failed to act effectively to rein in, especially, the paramilitary successor groups that are expanding their reach and that target leaders protecting community and victims' rights."
President Santos, in response to the killing of a social leader in the Pacific port city Tumaco in early October, announced that he would be increasing police and military presence on the ground. The move was not well received in Tumaco, where, just a week before the murder, police and army soldiers gunned down seven coca-farming protesters. "Due to the peace, the problems that were submerged below the conflict are now visible," he said on a visit to the city.
Shrinking space
International and local NGOs have watched with concern as the violence has rolled back civil space in key communities.
"I have seen cases where a community leader would say to me, 'I'm no longer sure what I can say in my community. There could be informants listening in, and they could tell somebody else and I could become a target,'" Thomas Mortensen, Christian Aid's country manager in Colombia, said, referring to networks of informants that armed groups often establish. "So these attacks are having an effect on the social cohesion of these communities."
Should this civil space shrink, Mortensen worries, the implementation of the peace deal — intended to address the root causes of the conflict — will be hampered at the grassroots level. People will not participate in programs such as crop substitution or claim their rights to land for fear of reprisal.
Kristian Herbolzheimer, director of the Transitions to Peace Program (Philippines and Colombia) at Conciliation Resources, a conflict-monitoring consultancy firm, believes the new violence has hamstrung any chance to debate the implementation of the peace deal. Grassroots initiatives by indigenous, Afrodescendant and peasant communities have struggled to gain traction amid the insecurity.
International aid response
Many leaders and activists in Colombia rely on a network of INGOs for international visibility and support. Similarly, INGOs rely on these individuals, in conjunction with local NGOs, for access and implementation. The security of local leaders is therefore paramount to INGOs in order to avoid jeopardizing programming.
Christian Aid is part of a network of civil society organizations that works on a national and international level to help guarantee the rights and security of social leaders in Colombia. They, alongside PBI, often accompany CAJAR in the field.
The threat to civil society so far hasn't affected his own team's safety, Mortensen said. "Our protection strategy consists mostly of good analysis of the threats that are there, and then having a political profile that implies that it would have high political implications to attack us," he said. "Of course the more it goes into criminal gangs and the mafia, the less they would weigh those political costs."
PBI is also disturbed by the wave of killings, though it too is continuing its work in the field. Coordinating from its offices in Colombia, Washington, and Europe, the INGO often accompanies leaders and human rights defenders while they work in order to grant them more visibility, alongside psychosocial support.
"We are meeting with Colombian civil and military entities at a regional and national level to put across our worries over the situation of those [activists] we accompany," Bianca Bauer, a spokesperson from PBI's Colombia office said. "We understand that protection, in addition to security protocols and measures, involves emotional support. Therefore, it is important to strengthen social and individual capacity development to achieve self-protection."
Keeping donor interest
Another issue facing PBI and similar organizations is a reduction in funding following the announcement of last year's peace deal. Many donors now view Colombia as transitioning from a conflict to post-conflict country. PBI has seen many of its donors reallocate funds to Africa and Asia, and to refugee crises around the world.
"I think that the international community needs to re-evaluate Colombia's situation, but [instead] they are making mistakes," Villalba at CAJAR said. "Colombia is a middle-income country, but what they miss is that Colombia has among the highest inequality in the world, that we are in a peace process but in reality we are seeing something else.
"The reality is showing us that the international community needs to remain aware of what is happening here."
Read more about the Devex series, "Civil space in peril."