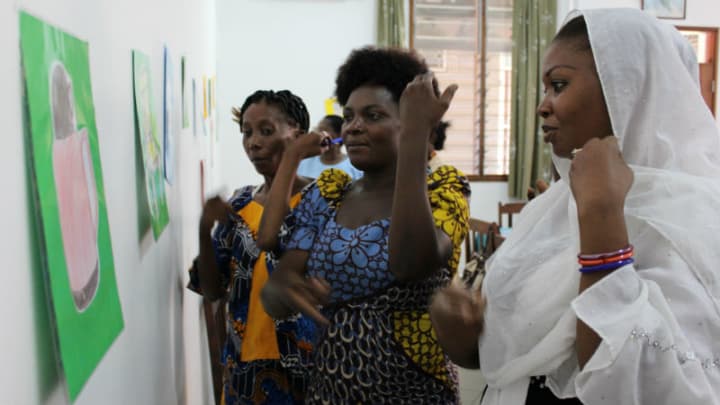 CANBERRA — Developing a disability-inclusive aid program works best when it starts small, is scaled over time, is inclusive of one or more organizations working with people with disabilities, and seeks to be innovative. As the first donor country to implement a disability inclusion strategy, Australia's aid program provides an opportunity to review the strengths, weaknesses, and challenges of disability inclusion in development and humanitarian programming.
In December, the government released its review of Australia's disability inclusion program, midway through the Australian aid program's second "Development for All" strategy. The report provides important reading for organizations seeking to become disability-inclusive or improve disability inclusiveness throughout their programs.
Assessing disability inclusiveness
The Australian aid program has had official strategies in place to support disability inclusion within its programming since 2009, but the December 2018 review by the Office of Development Effectiveness is the first assessment of the effectiveness of disability programming and policies and their role within the aid program.
As an independent arm of the Department of Foreign Affairs and Trade, ODE can produce independent recommendations to continue expanding and improving on disability programming.
To assess the impact of disability inclusion within Australian aid, a range of data including aid quality checks — annual self-assessments conducted on aid projects exceeding 3 million Australian dollars ($2.09 million) in value — interviews, fieldwork, case studies, and other program-specific data was used.
The aim was to rate the performance of aid investments against the two key aspects of disability inclusion — the active involvement of people with disabilities and the identification and addressing of barriers to inclusion and opportunities for participation for people with disabilities in each aid investment.
What enables disability inclusion?
The ODE assessment found a number of factors that have enabled disability inclusion within the Australian aid program.
Starting small before scaling up to build and maintain a focus on disability for many years is important in creating sustainable change for people with disabilities.
Building the capacity of organizations working with people with disabilities and working in partnership to ensure the voices of people with disabilities frame program development and assessment ensures needs are properly understood and supported.
The use of technical expertise from CBM Australia, a partner of DFAT, providing technical support on disability inclusion, as well as other individuals who understand disability, has to date provided crucial capacity where permanent staffing resources within DFAT are limited.
Senior management support has helped ensure dedicated funding for disability exists. And leadership by DFAT staff at all levels has further ensured a knowledge base has been built for the benefits of a disability-inclusive program and partner agencies, coalitions, and supporting networks have been encouraged to adopt and expand disability inclusion.
The use of innovative approaches to improving inclusion has also enabled DFAT to be more flexible to the diverse needs of people with disabilities in development and humanitarian settings.
"This evaluation found that when there is a focus on disability inclusion and resources are available, Australia's development and humanitarian assistance has become more inclusive," the ODE report read.
Where is Australian aid less inclusive of disability?
While the report showed DFAT has been making good progress toward being disability-inclusive within the aid program, "the Australian aid program is still far from being fully disability-inclusive." And the review identified a number of areas where disability could easily be overlooked or reduced in focus within an aid program.
Get development's most important headlines in your inbox every day.
Thanks for subscribing!
For Australian aid, areas outside the Indo-Pacific region — the focal region for the Australian aid program — did not have strong a strong disability element.
"Disability inclusion was relatively weak in regional investments in general, but particularly in Africa and the Middle East," the report read. "Disability inclusion is also weak in some countries including Afghanistan, Myanmar, Nepal, Solomon Islands and Vietnam."
By sector, areas of weakness included infrastructure as well as agriculture, fisheries, and water, which the report said "provide clear opportunities to improve inclusion."
Some global programs, such as Australia Awards short courses and scholarships within some countries, were found to be areas where disability inclusion can be improved. But humanitarian responses were a key challenge for disability inclusion.
"In recent humanitarian responses, assistance provided by some implementing partners was much less inclusive than that delivered by NGOs," the report said.
Improving disability inclusion in aid
Increasing the knowledge and understanding of disability-inclusive development within DFAT was an important component of the six recommendations made. ODE said this can be achieved through consistent messaging from senior management that disability inclusion is a priority human-rights issue; making internal operations more inclusive; training; communicating disability-focused outcomes; and requiring all programs to identify and measure outcomes for people with disabilities.
Building on and expanding the partnership with CBM Australia was an important recommendation in improving capacity — but ODE also recommended "significantly increasing the number of staff positions in the Disability Section in Canberra" for greater permanent capability. It was a recommendation DFAT agreed with only in part.
"DFAT's internal capacity to support disability inclusion is not dependent on staffing within [the] Disability Section alone," the management response to recommendations read on the report. "Other measures, including building staff capacity and leveraging off the availability of technical assistance, are important."
Improving the rigor of disability ratings was also recommended, finding that current systems were too variable and limited for them to be useful to assess disability inclusion.
Providing a focus in areas where disability compounds disadvantage, for example with gender, was another important area of focus for ODE.The Australian aid program must continue to build the capacity of organizations working with people with disabilities, including in humanitarian settings.
In assessing six humanitarian responses — the 2015 Nepal earthquake, Cyclone Pam in Vanuatu, the ongoing conflict in Myanmar, famines in Yemen and South Sudan, and the ongoing refugee crisis in Syria — only one-third of responses were rated as disability-inclusive.
Without a strong focus on disability in the humanitarian setting, ODE warned that "hard-won development gains" can be reversed, increasing poverty and causing instability for decades. With people with disabilities are especially vulnerable and overrepresented among victims of disasters, they need to have a louder voice in disaster preparation and response.
And the motto of development for all is one ODE said should drive Australian aid forward — with disability inclusion part of all programming, development, and assessments.
For more coverage on creating a disability-inclusive world, visit the Development Enabled series here.