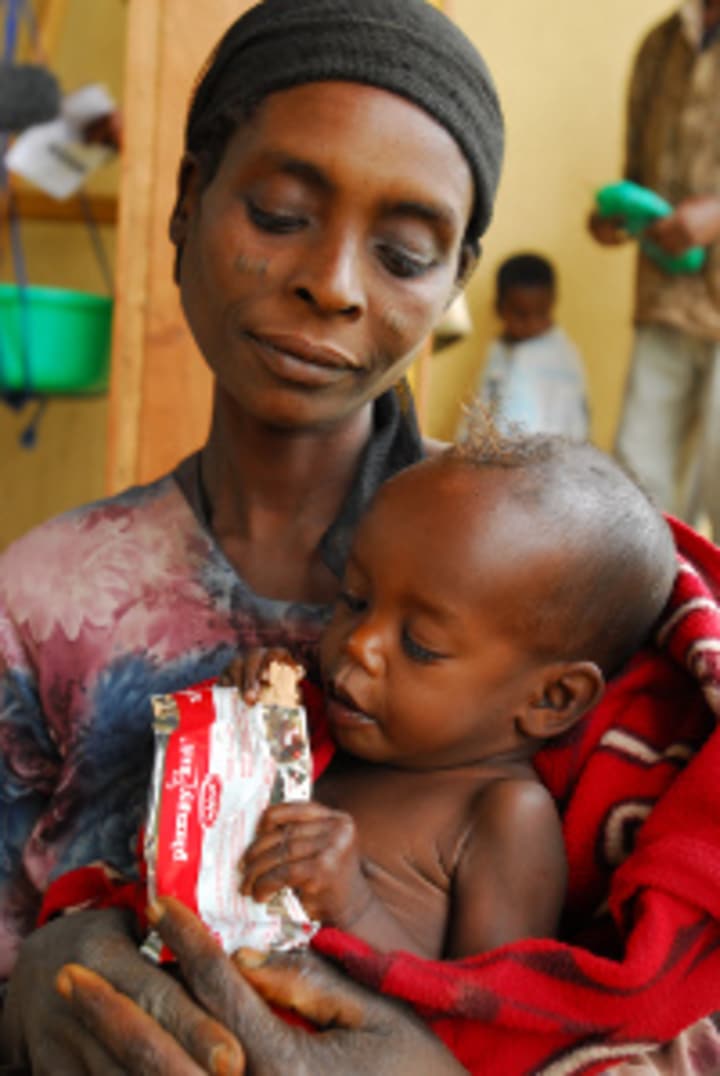 The drought engulfing East Africa has left international relief agencies scrambling to help millions of people facing famine in Ethiopia, Kenya and Somalia. UNICEF, for its part, seeks donations to prevent death among nearly 2 million children under 5 by providing them with, among other things, high-energy, vitamin-rich peanut paste in a foil pack that is seen by many as a silver bullet for severe acute malnutrition.
Plumpy'nut has been around since 1996. But it only became a household name in the aid community in the mid-2000s. Plumpy'nut is produced and trademarked by Nutriset, a French company with a mission to "invent, produce and make accessible solutions for the treatment and prevention of malnutrition and so contribute to the nutritional autonomy of developing countries."
The accolades showered on Plumpy'nut stem from its remarkable potency to re-nourish malnourished children, with patients emerging from near-death state to relative health in a month, as the New York Times noted in a September 2010 story. Each 92-gram sachet contains peanut-based paste, sugar, vegetable fat and skimmed milk powder, enriched with proteins, lipids, and essential vitamins and minerals. It provides 500 kilocalories.
Because of its long shelf life (24 months) and simplicity to administer, Plumpy'nut has been the ready-to-use therapeutic food, or RUTF, of choice by UNICEF to treat severely malnourished children, particularly in Africa. In 2010, UNICEFdistributed the peanut-based product to more than 330,000 severely malnourished children in Niger. According to the Nigerien health ministry, 79 percent of these children recovered.
Plumpy'nut was born out of a joint research by Nutriset founder Michel Lescanne and IRD nutritionist André Briend. Its popularity with UNICEF and other relief agencies along with what many see as Nutriset's aggressive protection of the patent for the product have not only spurred debate but also a legal war over intellectual property. Currently, Nutriset allows organizations to produce, market and distribute Plumpy'nut, but they must be based in Niger and Mozambique, where it has granted exclusive license agreements, as well as in developing countries where the company and the French Institute of Research for Development have registered their common patents, namely Benin, Burkina Faso, Cameroon, Gabon, Gambia, Ghana, Guinea, Guinea-Bissau, Equatorial Guinea, Ivory Coast, Kenya, Lesotho, Malawi, Mali, Mauritania, Uganda, Central African Republic, Republic of the Congo, Senegal, Sierra Leone, Sudan, Swaziland, Tanzania, Chad, Togo and Zimbabwe.
Get development's most important headlines in your inbox every day.
Thanks for subscribing!
Nutriset, without a doubt, accounts for a sizable portion of the RUTF procurements by UNICEF. In 2010, the United Nations agency ordered 970,483 cartons of RUTF worth $47.5 million, or about 63 percent of the total RUTF procurements of $69.1 million.
RUTF, although it has become virtually synonymous to Plumpy'nut, doesn't necessarily mean peanut-based. There's Compact AS's BP-100, MSI's F-100 COMPRI and Challenge Dairy RUTF.
Inspirational: RUTF is made exclusively for developing countries, particularly the poorest ones, proving – against conventional wisdom – that it's possible to create a business helping the most vulnerable among us. The industry surrounding the product, in fact, has exponentially grown over the last decade: UNICEF's RUTF procurement volume has gone from a mere three metric tons in 2000 to 20,700 metric tons in 2010.
And that's just UNICEF. Countries such as Afghanistan have also procured RUTF in the past. Check the Devex website for RUTF-related procurements.
Check out last week's DevTrivia and play the DevTrivia game on Facebook.