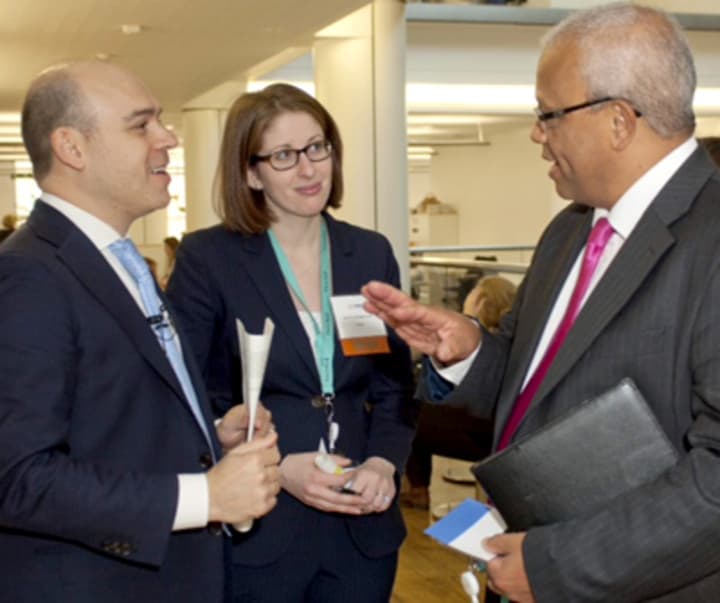 This week, Devex Impact made a trip to London, taking the occasion of our strategic advisory council meeting to convene a group of key business and NGO leaders for a series of important conversations about the role of business in development.
The event, hosted at the U.K. Department of International Development, featured a conversation between the U.K. Secretary of State for International Development Justine Greening and Devex President and Editor-in-Chief Raj Kumar.
"Working with the private sector and working on economic development is actually key if we're going to really have a holistic strategy," Greening said.
She discussed DfID's private sector strategy and the post-2015 development agenda, highlighting how both DfID's strategy and the global debate have changed since the creation of the Millenium Development Goals, especially related to the role of business in poverty fight. (Read more about Greening's talk.)
The event jump-started what was a whirlwind trip for us and a great opportunity to connect with leaders at a variety of companies and NGOs, including Marks & Spencer, Sainsbury's, Diageo, Anglo American, GlaxoSmithKline, Save the Children U.K., Oxfam and more.
So what have we learned so far?
Businesses want to change the current dynamic where they're viewed primarily as a source of funding. They are eager to be part of the decision-making and design processes, rather than being brought in once agendas have been set.
There are, however, practical challenges, chiefly that many donor agencies lack avenues to engage companies in that way and that they're often constrained by procurement regulations. The Devex Impact strategic advisory council was an opportunity for business leaders to raise this and other issues with donor agencies. I'll certainly be keeping track of where the conversation goes from here, so stay tuned to Devex Impact.
DfID's approach to development is shifting, not only to include more partnerships and private sector engagement but also to create a pipeline of cooperation depending on a country's development status and growth trajectory.
"There is a real recognition that as countries transition, we have to transition our strategy with them and it's got to be like a baton pass, like a relay race," Greening said.
As countries emerge from the core development phase, the focus may shift to trade initiatives, perhaps aided by some ongoing technical assistance and help to boost innovation.
Part of this approach means a rollback in traditional grant aid to countries that reach a certain threshold in development and a shift to "returnable capital" where DfID will expect a small return on the money it provides and will in turn reinvest that capital.
Get development's most important headlines in your inbox every day.
Thanks for subscribing!
The House of Commons International Development Select Committee is working on a report about the future of development financing which discusses "returnable capital" and this progression from grant aid to loans to a normal trade or commercial relationship, according to the committee's chair, Sir Malcolm Bruce.
Sir Malcolm, whom I met with Tuesday, also hinted that the upcoming report may include a recommendation that as DfID considers alternative avenues of financing development, it also considers setting up a British development bank. The United Kingdom hosts the European Bank for Reconstruction and Development and is a major contributor to the World Bank and regional development banks, so the creation of a new development bank would raise questions about how it might be set up and how it might impact contributions to other institutions.
I also have found many of this week's conversations — particularly the panel discussion at Monday's event — quite refreshing. While often at such gatherings there may be a tendency to extoll the virtues of partnerships, we were able to facilitate a frank conversation about the challenges and limitations of private-public partnerships for development.
Erinch Sahan, a private sector policy adviser at Oxfam U.K., which partners closely with businesses but can also be critical of business's role in development, challenged businesses to enter "uncomfortable territory." What did he mean by that? Businesses need to look holistically at what they do and not merely use their participation in development as a way to find new business opportunity. (Read more about the debate, including how USAID and business leaders responded.)
It seems to me that healthy critique internally and externally among NGOs, donor agencies and businesses engaging in development work will serve to foster better cross-sectoral understanding, create more effective partnerships and, ultimately, hopefully achieve better development outcomes.
There will be much more to come from my time here in London, so stayed tuned to Devex Impact.
Join Devex, the largest online community for international development, to network with peers, discover talent and forge new partnerships — it's free. Then sign up for the Devex Impact newsletter to receive cutting-edge news and analysis every month on the intersection of business and development.