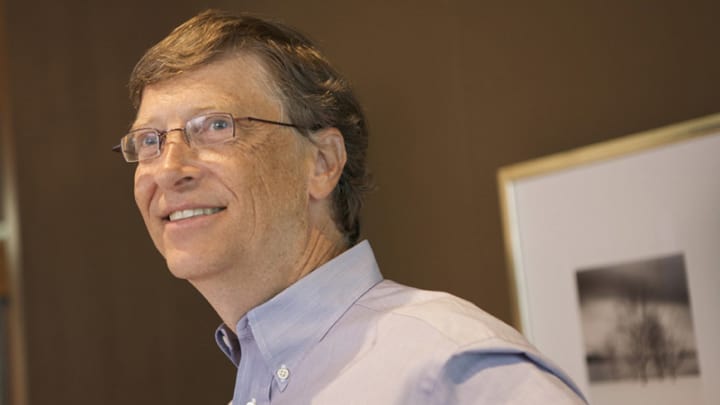 At the Bill & Melinda Gates Foundation Visitor Center in Seattle, an exhibit pairs the reasons the foundation chooses not to fund alternative energy research with the reasons it funds crop biotechnology. A screen displays Bill Gates talking to the camera about how, together with improved farming techniques, genetically modified seeds can help small farmers and their families live better lives. Next to him, red text reads, "Sometimes people disagree with our approach," acknowledging the controversy around genetically modified organisms. Now Bill Gates is taking that bold argument to the blogosphere.
"It's quite common to see these farmers double or triple their harvests and their incomes when they have access to the advances farmers in the rich world take for granted," Gates writes in a post published Tuesday on his GatesNotes blog about the impact of climate change on small farmers. "This new prosperity allows them to improve their diets, invest in their farms, and send their children to school. It also pulls their lives back from the razor's edge, giving them a sense of security even if they have a bad harvest."
In his post, titled "Who will suffer most from climate change? Hint: Not you," Gates expands on the connection between agriculture and nutrition — two Gates Foundation programs that are increasingly working together. With the adoption of the sustainable development goals on the horizon, Gates is sure to be more vocal, despite the controversy, on climate change adaptation through biofortification. By investing in GMOs to help poor farmers adapt to the harsh realities of climate change, the foundation hopes to set examples for how the Green Climate Fund, which was set up as part of the U.N. Framework Convention on Climate Change to help countries adapt to climate change, might spend its $10 billion.
The world can expect more from Bill Gates himself on this connection between agriculture, nutrition, and climate change, Geoff Lamb, chief economic and policy advisor to the co-chairs and CEO at the Gates Foundation, told Devex.
"The way he sees it [is] in typical Bill terms, in a very direct way, is you've got to have that zero-emission, low-carbon energy future. You need a lot to do with science and technology and research and investment and government action and private sector responsiveness and so on," Lamb said. "But in the end we've got to make sure that both the threat of climate change and the promise of solutions feed through directly into the quality of life for the most disadvantaged and vulnerable people. That's what drives him on this."
The Gates Foundation is known for its focus on addressing problems before our eyes, from food security to maternal health to infectious disease. But now Bill Gates is directing attention toward climate change adaptation and this blog post marks the beginning of a communications push that will continue to climate negotiations at COP21, the upcoming United Nations climate conference in Paris.
"Part of what Bill is arguing for is where the focus should be of the money that will be forthcoming internationally," Lamb said, adding that the fear is that the money will not benefit those farmers with "very little margin between an adequate life and abject poverty and crisis."
Gates explains in his post that when he and Melinda first visited a group of rice farmers in Bihar, India years ago, they learned how the rivers would swell and drown the crops during the monsoon season. Since then, the Gates Foundation has been hard at work with partners to develop seed varieties that can survive droughts and floods. Now those same farmers are using a new variety called "scuba" rice that can survive two weeks underwater.
Get development's most important headlines in your inbox every day.
Thanks for subscribing!
Laura Birx, the only program officer at the Gates Foundation who works on both the Nutrition and Agricultural Development teams, explained how the increased focus on nutrition at the foundation will lead to more projects like "scuba" rice.
"Previously, we didn't have a shared goal.  Now we do — that goal is ensuring equitable access to safe, affordable, nutritious diets year-round," she told Devex in a foundation conference room with a view of the Space Needle. "While the money is helpful, that shared goal opens so many doors for us, even more so than the money."

Birx, who previously worked as senior nutrition advisor at USAID, explained that the foundation approaches the agriculture and nutrition connection through different pathways, finding numerous intersections with other priority areas. Household economics, health and women's empowerment are key areas of overlap.
"For us, there's not a single program we have currently or will have in food systems that doesn't have a major component on empowering women," she said.
In his blog post, Gates describes how, without access to agricultural technologies like improved seeds, many farmers around the world are walking on high wires without safety nets. Rising temperatures around the world will have a disproportionate effect on the farmers who lack tools to manage these risks.
"Here's the good news," Gates wrote. "Many of the tools they'll need to adapt are quite basic — things that they need anyway to grow more food and earn more income: access to financing, better seeds, fertilizer, training and markets where they can sell what they grow."
Expect to see more from the Gates Foundation, and Gates himself, on how small farmers can adapt to climate change to improve their own lives and feed a growing population.
Read more international development news online, and subscribe to The Development Newswire to receive the latest from the world's leading donors and decision-makers — emailed to you FREE every business day.