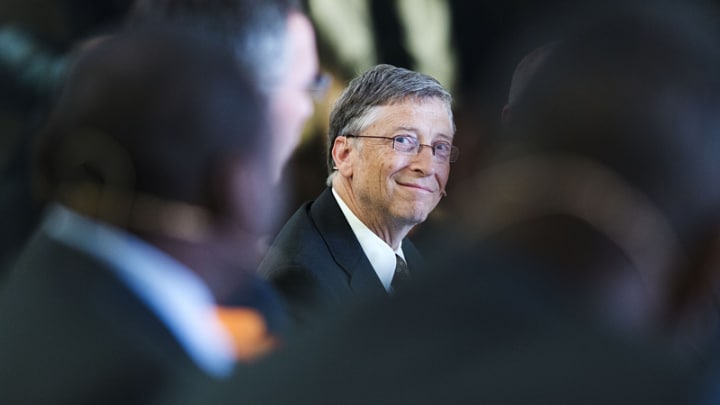 NEW YORK — Bill Gates is not convinced that wiping out all the world's mosquitoes is a good approach for alleviating the suffering caused by malaria and other mosquito-borne diseases.
Asked — somewhat in jest — by American financier and philanthropist David Rubenstein whether a campaign of mass mosquito extermination would make sense, Gates offered a serious response.
"The main thing is that it's precedent-setting," Gates said at the Bloomberg Global Business Forum on Wednesday. "If you think: "Okay, humans could go and get this species." What's your criteria for anything that might be a nuisance?"
The billionaire philanthropist and co-chair of the Bill & Melinda Gates Foundation, which has spent hundreds of millions of dollars on malaria vaccine research, pointed out that in selecting certain species for extinction, humans might make a mistake, accidentally eliminating a species that plays a key ecosystem role.
Gates, however, does not oppose efforts to use genetic engineering on the type of mosquito most harmful to human beings — Anopheles — which only makes up about one out of every 1,000 mosquitoes, he said. A technique called "gene drive," currently under development in labs, could be used to propel a malaria-resistant gene throughout Anopheles populations in places that still bear heavy malaria burdens. The gene technology has the potential to reduce Anopheles populations by 99 percent over five years, Gates said.
"For the toughest part of Africa — that includes Nigeria, sort of the center where malaria is really a huge problem — we probably need that tool," Gates said.
Get development's most important headlines in your inbox every day.
Thanks for subscribing!
"How we're going to get consensus on that is tricky, because some people worry — I suppose there must be somebody who worries about mosquitoes — most people worry about the precedent of how such decisions are made," he added.
The idea of wiping out an entire species because it poses health threats to humans is neither new, nor hypothetical.
Former U.S. President Jimmy Carter is on a mission to witness the death of the last Guinea worm during his lifetime. That effort has even produced a satirical "Save the Guinea Worm" campaign. But given the human suffering these parasites create, as well as their ecological insignificance, the Guinea worm seems to have few, if any, genuine guardians.
Devex is on the ground in New York at Global Goals Week, bringing you daily morning briefings with everything you need to know — whether you're here in person or following the events from afar. Sign up for our daily briefings.