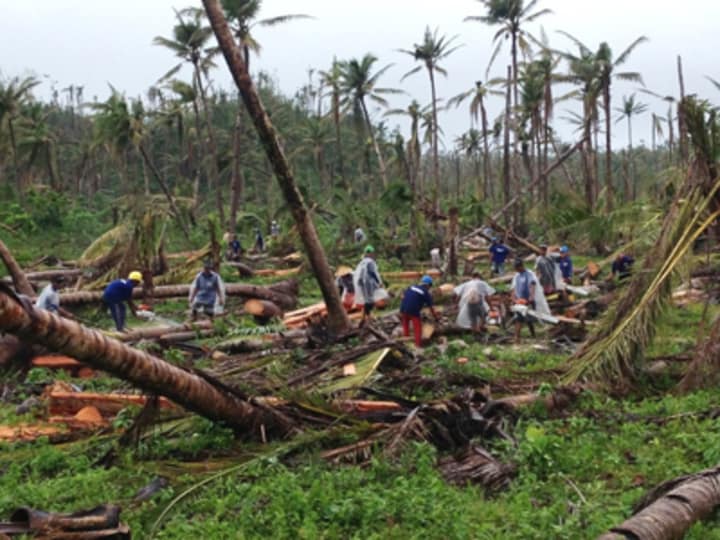 It is still fresh on my mind how a World Vision colleague has described Typhoon Haiyan's impact at least a day before it hit the Philippines: "It's like standing next to a jet engine as the plane takes off." A douse of hot water seemed to have washed over me hearing this.
Haiyan's strength was a no-match for  poverty-stricken, already struggling communities in the Philippine provinces of Leyte and Panay — so getting a mega-storm in the midst of such poverty was like whacking more pressure to a gaping wound. According to a recent report by the International Labor Organization, an estimated 6 million people lost their livelihoods after the typhoon, although most of them were already vulnerable.
You don't have to go far to see why. On our way from Tacloban to Ormoc last month, I saw part of the estimated 41,000 hectares of coconut plantations devastated. All the coconut trees looked like matchsticks, rendered useless even if they were still standing.
My father being a coconut farmer in Mindanao, I know fully — albeit painfully — well that it will take at least seven to 10 years before one can make a coconut farm productive again. Ten years? Most of these farmers, I surmise, are in their mid-30s to 60s, perhaps even older.
Much as I do not want to be a skeptic — I wonder how can they learn another skill, after having performed the same job for such a long time? For these farmers and their families, the road to recovery seems arduous.
But there is one bright spot, particularly for this disaster and for the people involved. This could be the one most important thing that key actors helping the Philippines should keep in mind.
Filipinos, having gone through so much, personify the concept of resilience. The whole world saw this after Haiyan, when victims not only were observed picking up the pieces of the rubble that was once their homes but standing on their own and even cracking a joke about the things they had lost in the storm.
While most of us around the world are thinking big to help the survivors, 36-year old mother Alicita Arcelo and the 24 members of the Community-Managed Savings Association in northwestern Leyte have figured out what to do. Out of their savings, they started preparing when they heard a typhoon was coming.
Get development's most important headlines in your inbox every day.
Thanks for subscribing!
"When we heard about the super typhoon, we used our savings to prepare for the emergency," said Alicita. "We bought canned goods, flashlights and candles and other things that we might need after the disaster. We even bought nails and ropes."
Five days after Haiyan devastated their houses and swept their properties away, the group started rebuilding their damaged houses using their own savings pooled by the association, one of 145 supported by World Vision through a 15-year community project dedicated to helping enhance child and maternal health, child education and family livelihoods by promoting savings consciousness.
Little did the COMSCA members know that this would play such a huge role in their recovery from the disaster. Now, with about 2,000 active members, the campaign is gaining ground, and kids are starting to help encourage the saving habit as part of disaster preparedness efforts among the local youth.
Alicita said it was difficult to save again after losing almost everything, but having realized the importance of putting aside money — literally, "for a rainy day" — she has already started to do so before the next calamity hits.
That's not all — she explained that people in her communities have realized that they must be able to survive on their own once all the aid groups leave. It's about learning to harness one's own (meager) resources to get on the real road to recovery.
Join the Devex community and access more in-depth analysis, breaking news and business advice — and a host of other services — on international development, humanitarian aid and global health.