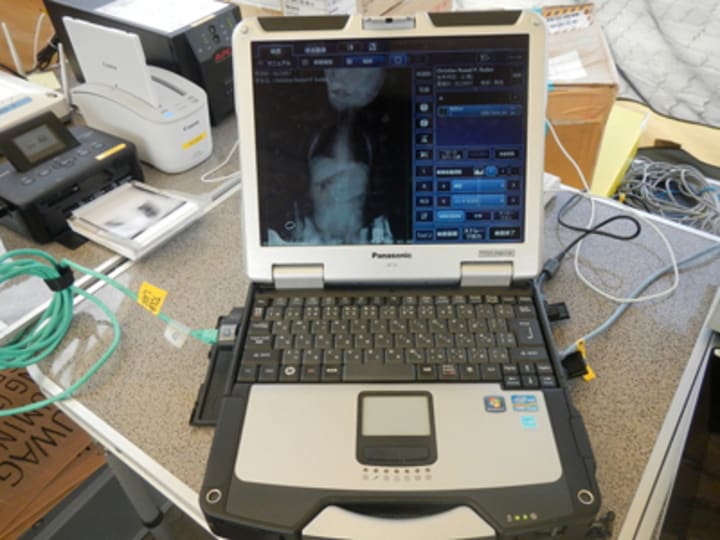 Immediately after Typhoon Haiyan hit the Philippines, one of the most pressing needs — aside from food and water — was medical aid.
Medical aid had to be delivered fast and provide most of the health services that could not be performed in the destroyed hospitals and clinics. A month later, this type of assistance is still necessary in most typhoon-affected areas.
Among the international humanitarian organizations that stepped up to provide mobile medical assistance is the Japan International Cooperation Agency, which sent teams equipped with the latest gadget: wireless mobile X-ray devices. The technology provides precisely the immediate medical assessment that local governments and aid groups need to better respond to disasters in the future.
But there's a catch — it costs a lot of money.
"The [wireless X-ray device] in total costs around $400,000. [At this point], it's very expensive," Jun Murakami, JICA's disaster relief team leader in Tacloban, told Devex. "[Despite this], disaster affected areas has nothing just after the disaster, so [the] wireless function of X-ray devices are very useful and helpful."
Over a month after the Philippines suffered one of the strongest typhoons ever recorded, almost 30,000 injured survivors still require medical attention, in many cases because the lack of facilities and access to health services has delayed their healing process. As of posting time, only a handful of hospitals with limited functionality are working in the hardest-hit province of Leyte, where most survivors are being treated by local and foreign NGOs in makeshift tents, or even inflatable hospitals like MSF.
Get development's most important headlines in your inbox every day.
Thanks for subscribing!
This is where technology can play a bigger role, and the wireless X-ray device can be the first step.
According to Murakami, the device, developed after Japan's deadly tsunami in 2011, allows the technician to view X-ray images on a computer or tablet right after taking them and without having to develop the photo or printing out the image. The data can also be sent electronically to the patient's email or hospitals for faster communication and diagnosis.
However, aside from the steep cost, limited usage and vulnerability to weather disturbances are crucial factors in the gadget's effectiveness.
"The device sometimes stops because of heavy rain and hot weather … [because] it might affect the wireless functions. Unfortunately [at this point] also, only X-ray experts can use the device," Murakami explained.
Japan is one of the biggest country donors in post-Haiyan relief and recovery efforts, dishing out over $53 million in assistance so far. Operations are mostly focused on providing medical assistance to victims and training to local aid groups helping out in the relief efforts, where JICA has been unique in sending Tagalog-speaking specialists to the affected areas.
Read more development aid news online, and subscribe to The Development Newswire to receive top international development headlines from the world's leading donors, news sources and opinion leaders — emailed to you FREE every business day.