A recent report by the Mastercard Foundation exposes gaps in African capacity-building strategies and offers suggestions on how to better approach employment trainings to reach more youth in Africa, specifically in rural populations.
---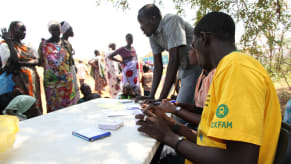 What does it take to attract and retain staff in one of the world's most unstable countries? Devex spoke with leaders of several agencies operating in South Sudan to better understand the challenges — and to glean tips for how to do it well.
---
Save the Children's new Emergency Health Unit will provide a rapid medical response in humanitarian crises. And as part of the team, a storyteller will be an essential asset in their lifesaving operations.
---
Online courses can be a viable and affordable option for development professionals looking to up their skills and further their careers. Here is an overview of the top institutions and platforms offering online courses for global development pros.
---
Gender experts are increasingly sought after in order to better target programs and distribute aid most effectively. Devex sat down with one of Australia's leading gender specialists to discuss what it takes to be a gender expert in development today.
---
The story — from a fast pitch to a media kit to other investments ranging from social media outreach to film production — can make all the difference in goals such as raising funds, attracting investment, mobilizing supporters and bringing new partners on board.
---
Knowledge isn't always enough to change behavior, according to scientists at the London School of Hygiene and Tropical Medicine. Devex caught up with the experts on the invisible forces behind behavior and understanding the settings to better reach key populations.
---
A chance volunteer experience eventually led Julia Lalla-Maharajh to found her own nonprofit to combat female genital cutting. She shares her journey from corporate advocacy expert to Orchid Project founder with Devex.
---
As any experienced innovator knows, it takes years — and plenty of trial and error — for a big idea to reach market. At the core of this success are those believers who support the innovation through each hurdle. Devex spoke to several innovators about why networks and champions are so vital to the process.
---
The African Development Bank, the French Development Agency and the World Bank are just a few of the institutions with offices in Rabat. Here is the global development professionals' guide to navigating Morocco's capital.
---
For an expat to expect a lifelong development career is an illusion, argues Thomas Dichter, an international development consultant and contractor with 45 years of experience. The developing world has changed dramatically since the development aid field took off in the late 1950s, and the message is simple: We are not as needed as we once were.
---
The criticism of the development and aid sector isn't as constructive as it could be. And although almost everyone has an opinion about this, barely anyone agrees how to actually fix it. There are an abundance of viewpoints, but the crucially lacking ingredient is a cool-headed deference to the facts, explains Chris Meyer zu Natrup, director and head of advisory at MzN International.
---
While the lean startup has its roots in Silicon Valley entrepreneurship, it is finding its way into efforts to address global poverty. Devex attended Lean Startup Week to round up ways you can use these tools.
---
Want to work on global development issues in Asia? Consider pursuing your graduate education in the region you hope to work. Khong Yuen Foong of the Lee Kuan Yew School of Public Policy at the National University of Singapore talks about his move from Oxford to Singapore and the unique perspective programs like his give students.
---
How do you break into agriculture work in development? Chuck Chopak, vice president of technical services at DAI and Anne Mbaabu, head of markets and harvest management for the Alliance for a Green Revolution in Africa, share their own experiences.
---
Grappling with how to increase diversity on your teams? Here are some of the key ways organizations can think about advancing diversity and inclusion within their workforce.
---
Only a handful of health innovations go beyond pilot phase to scale. Why, and what are a few pieces of advice to remember when innovating for health? Devex spoke with several health experts and developers to find out.
---
WHO for years has recommended adults and children reduce their daily sugar intake to approximately 12 teaspoons a day. Now, as part of its "Walk the Talk" initiative, the U.N. health body has banned all sugary beverages from its headquarters.
---
Anthony Ngosi grew up in Malawi but has worked in nine African countries during his nearly 20-year development career. Along the way, he's learned a few things about working as a "third country national" in international development. Devex caught up with him in Meru, Kenya, to ask his advice for other Africans interested in working elsewhere on the continent — or the world.
---
Social franchising has given small private health care providers opportunities to grow, while at the same time broadening people's access and options for health care services. Those looking to dive into this market-based approach could consider a few lessons from an organization that's done it for years.
---
The term "microtasking" is often associated with crowdsourcing, which involves both the use of technology and a large number of people. But there's a difference. Here's an introduction and a few tips on how the technique might be useful for your organization.
---