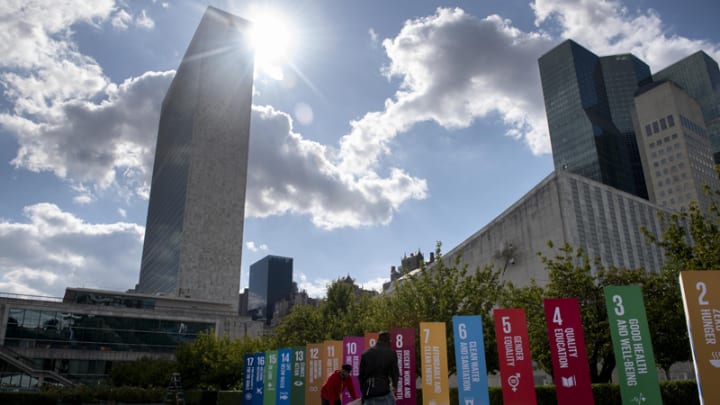 NEW YORK — The buzz within the halls of the United Nations is growing louder ahead of the annual U.N. General Assembly debates, which kick off their 74th session early next week.
A crammed week of events will see conference halls and New York City sidewalks teeming with diplomats, civil society leaders, and philanthropists — and offers a unique opportunity to check the pulse on some of the toughest issues in international development.
Despite overall progress on the Global Goals, some trends — including global hunger — are again on the rise. And at least 430 million people are predicted to be living in extreme poverty by 2030, more than previous projections estimated, according to new research from the Overseas Development Institute.
There's also an increased urgency to address the global climate change "emergency," U.N. Secretary-General António Guterres has said, and for governments to convene at the Monday climate summit with hard pledges rather than the usual rhetoric. New climate action commitments, including those in cities, will gain focus next week.
Devex will be on the ground, finding the takeaways from flashy events and conducting exclusive interviews on universal health coverage, climate action, and Sustainable Development Goals financing. We will also be paying attention to new funding announcements and partnerships.
These are a few of the key stories we'll be following throughout the week:
UHC has arrived at the U.N. What's next?
This summer, governments drafted and approved the first international agreement that commits them to providing UHC access. The agreement spells out that a "paradigm shift" — and much more investment — is needed to ensure that all people can secure health care. Governments will have the chance to formally adopt the agreement on Monday.
At least half the world's population lack access to essential health care services. The first-ever high-level meeting on UHC at the U.N. won't offer a quick fix, and some experts have speculated that the agreement is also unlikely to generate significant new funding.
The meeting will, though, elevate the complicated issue to an international stage. It will also provide the chance to consider what UHC can actually look like, country to country, and how progress can be tracked. We will be looking out for new mechanisms to amplify and measure UHC engagement and how digital health can drive progress on UHC.
Follow Amy Lieberman for more on UHC.
Will Trump go all-in on 'America First' development?
U.S. President Donald Trump's delegation will arrive in New York at a tumultuous moment for U.S. global development programs. In recent months, the White House has severed funding to Central American countries, proposed yet another massive foreign affairs budget cut, and mulled even more significant cutbacks in refugee admissions. It has also used little-known budget authorities to restrict foreign aid spending, and undertaken a foreign assistance review that is expected to call for cutting aid to "adversaries and competitors" and reserving it for "friends and allies."
The U.S. aid community will be watching to see if President Trump's efforts to reshape global development along "America First" lines will feature in his speech to world leaders on Tuesday morning — and whether he adds any more clarity to what these policies might look like.
A draft of the administration's new development framework — circulating under the heading, "Realigning Foreign Assistance for a New Era of Great Power Competition" — calls on U.S. aid agencies to "shift foreign assistance to bilateral channels as much as possible." This skepticism on multilateral cooperation extends from the administration's rejection of the Paris climate agreement to restrictive talking points sent to U.S. government officials on what they should and should not say about the SDGs.
Get development's most important headlines in your inbox every day.
Thanks for subscribing!
The White House's effort to distance itself from the U.N. contrasts sharply with the approach of China, which has sought to draw direct links between its Belt and Road Initiative for infrastructure development and the SDGs. We will be watching as the Chinese government takes part in Guterres' climate summit on Monday. Some countries are expected to make new, bold climate change commitments. The U.S. government, among other countries including Brazil, is not expected to speak. 
Follow Michael Igoe for more on U.S. aid.
How is philanthropic leadership speeding up Global Goals implementation?
Private foundations are playing an increasingly important role in supporting the SDGs. But a key question posed each year at UNGA is how to scale up philanthropic leadership, resources, and action to accelerate progress on SDG implementation. Now, with just a decade before the 2030 deadline, foundations are likely to bring a greater sense of urgency to best practices during Global Goals Week.
Bill and Melinda Gates, billionaire co-chairs of the world's largest private foundation, are slated to discuss how gender and geography stand in the way of the SDGs, and how this inequality should be tackled, at Goalkeepers, the annual event hosted by the foundation.
The World Economic Forum's Sustainable Development Impact Summit, meanwhile, will include a workshop on scaling up philanthropic impact, featuring models including Co-Impact, a new approach to collaborative philanthropy.
And a number of funders will come together at the Ford Foundation on Monday to share learnings from an initiative called Scaling Solutions toward Shifting Systems. They will discuss how philanthropy can work more effectively with other sectors including business, government, and the U.N. system. Additionally, they will explore ways funders can support systems change, such as streamlining the processes for application and reporting, providing nonmonetary support, and shifting the power dynamics between givers and receivers of funds.
Follow Catherine Cheney for more on the future of philanthropy.
Who will pay for it all — and how?
It will likely require around $2.4 trillion a year of additional investment to achieve the SDGs by 2030, according to a 2018 report from The Business and Sustainable Development Commission.
Back in July 2015, shortly before the SDGs were adopted, world leaders gathered in Addis Ababa, Ethiopia, to discuss how to finance global development. Thursday will mark the first high-level dialogue on the matter since then, and is seen as an important landmark in efforts to mobilize additional capital for financing the SDGs and the global climate agenda. 
There will be discussions about public resources, including how to curb illicit financial flows and how to provide financing as more countries face growing debt challenges. There will also be a greater role for the private sector, with representatives from at least a handful of financial institutions slated to participate.
Discussions will extend beyond the walls of the U.N., with financial institutions and corporations hosting their own events, and organizations releasing reports on the state of blended finance and the role of development finance institutions, as well as side events on climate finance, outcomes-based financing, and more.
Follow Adva Saldinger for more on finance.
Activism. UHC. Climate. Read more of Devex's coverage from the 74th U.N. General Assembly.