KALOBEYEI SETTLEMENT, Kenya — Andrew Ngiro, a driver working in Kakuma Refugee Camp, knows all the roads inside the 27-year old settlement. Five days a week, he drives the dusty, rugged tracks that crisscross the camps like a maze, lined on both sides by tin-walled housing or the invasive mesquite plant.
On one trip, in sweltering heat and unforgiving dust, Ngiro pointed at a blue iron-sheet roofed building partly obscured by a mesquite bush a short distance outside Kakuma 1, the first of four subdivisions that comprise the refugee camp, which was founded in 1992 and has a population of over 147,000.
"That is a GSU [general service unit] police camp," Ngiro shouted above the roaring engine of the 4x4 LandCruiser. The police camp, he said, was set up in 2003 after clashes between Turkana, the ethnic group that lives in the area, and South Sudanese refugees.
Conflicts between the host community and the refugees are mainly over resources, particularly firewood. Turkana County, where Kakuma Refugee Camp sits, is generally dry and windswept with dust storms. During the day temperatures often reach 40 degrees Celsius, and with little rainfall residents rarely cultivate crops, while their livestock often suffer from lack of pasture and water due to frequent drought. The main source of livelihood for people living near the camp and Kakuma town is selling charcoal and firewood to refugees and those living in town.
For Pro subscribers: Can refugee camps go green?
Humanitarian groups working in displacement camps remain reliant on fossil fuels to power their work — but a combination of new companies and donor funding is helping to change that.
The refugees — over 186,000 people from 19 countries, with the largest number coming from South Sudan — rely on charcoal and firewood to cook their meals. The firewood rations issued by the UN Refugee Agency are rarely enough to sustain a family for the whole month. For many refugees, lack of a steady income makes it difficult to buy firewood or charcoal to fill the gap, and so they often gather firewood themselves from the bushes around the camp. This puts them in conflict with the Turkana, who consider themselves the "owners of the soil."
Sometimes conflicts escalate, leading to injuries and even deaths on both sides. In an effort to improve relations between the two groups — and acknowledging that many of the refugees would likely remain in Kenya for the foreseeable future — UNHCR created a new camp, which aimed to integrate refugees and the host community in a model it hoped would prove mutually beneficial. The result was Kalobeyei Settlement, which launched in June 2016.
In Kalobeyei, UNHCR is not placing refugees in camps, isolated from the host population and receiving separate aid provisions. Instead, it is setting up permanent homes, providing livelihood training and business support services aimed at benefiting refugees and the host community alike. Breaking down those barriers is challenging against a backdrop of government concerns that have often painted refugee communities as threats to national security.
The country's Refugees Act of 2006, which governs refugee affairs, states that a refugee shall "not leave the designated refugee camp without the permission of the Refugee Camp Officer." Despite this, refugees can still be found in urban centers in Kenya. In response to an escalation in terrorist activity in the country in 2014, the government rounded up refugees — mainly Somalis — in Nairobi and kept them in deplorable conditions, which were described by human rights groups as a Somali gulag, before taking them back to refugee camps.
In February this year, the police in Dadaab refugee camp reported the arrest of 12 suspects linked to the DusitD2 Hotel attack in Nairobi, which killed 21 people in January.
The government has, in many instances over the past few years, attempted to close the refugee camps, enforced the refugee act that restricts free movement, and shot down a bill that sought to allow refugees to hold land and gain employment. The camp system makes it difficult for refugees who have started businesses to venture out of the camp to restock their inventories.
"Business people experience a lot of challenges getting goods from Kitale and Nairobi due to movement passes and restrictive encampment policy," said Bruno Owiti, an employee of Action Africa Help International-Kenya, an NGO that works with both refugees and host communities.
A new model
The Kalobeyei Integrated Socio and Economic Development Programme brought together the Kenyan government, World Bank, UNHCR, and NGOs. Its plan was to help increase self-reliance among 36,025 refugees — according to Tayyar Sukru, UNHCR head of the Kakuma sub-office — and the host community.
UNHCR works in partnerships with other development organizations, and is now encouraging its partners who deliver services in Kalobeyei to extend their programs to the host communities as well, Sukru said.
Get development's most important headlines in your inbox every day.
Thanks for subscribing!
The creation of the settlement has resulted in a significant population increase in Turkana West, the part of Turkana County where Kalobeyei is located, and major public and private sector investments are needed to expand economic and social services.
A project called Safe from the Start, run by AAH-K, seeks to ensure that the refugees and the host community have an income and are not only dependent on aid.
"We take them through skills training, engage them to work on production of these products once they have learned, and then we remunerate them for work done," said AAH-K's Owiti, who works as the project liaison officer.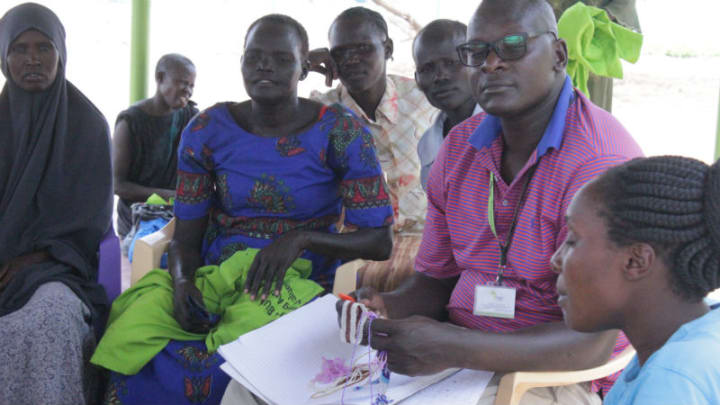 The refugees and the host community members participate in the same training, where they are taught skills in basketry, jewelry, and tailoring. The project is striving for a 70-30 percent ratio between refugees and host community participants in its sessions. When participants already have the necessary skills, AAH-K brings individuals together in a group so they can sell their products — clothes, jewelry, or baskets — at greater volume.
Theodora Ndukiryo, 65, a Burundian refugee and accomplished basket weaver, is a mother of eight who arrived in Kenya in 2017. She left four of her children in Burundi, two in Tanzania, and two others fled to Uganda.
Back home in the city of Kayanza, Ndukiryo weaved the traditional Igiseke basket, which was popular with embassy and government officials in Bujumbura and other towns including Kirundo and Gasenyi.
"Weaving is what I like to do. I have weaved baskets since I was young and used to sell them to make a living back at home," she said.
Ndukiryo taught other women to weave the traditional basket, and now more than 20 women are weaving baskets in a hall inside Kalobeyei.
Katarina Rosa, 45, an ethnic Lotuko from Torit, South Sudan, learned to make necklaces, bracelets, and earrings when she was a young girl. The mother of five fled to Kenya three years ago and lives with her four children in Kalobeyei. Rosa and other women make jewelry and are now awaiting payment. The products they make are transported to Nairobi where they are marketed by Bawa Hope, an organization that specializes in linking marginalized handicraft artisans in Kenya to global markets.
There are Kenyans undertaking basketry, tailoring, and jewelry in groups together with refugees, but, according to Kamau Githaiga, country program manager at AAH-K, it has been challenging to engage them in the project.
"The host community is yet to fully embrace the concept of integration," he said.
Members of the host community, some of whom live inside the settlement, engage in other businesses there too.
Rebecca Akai runs a successful shop in village three, a subdivision of Kalobeyei Settlement. The 32-year old mother of four is a Kenyan from the village of Towokayeni, a few kilometers from Kakuma Refugee Camp. She dropped out of school at the age of 8 to take care of her father's goats. When her father died, her family moved to Kakuma town where, together with her mother, she started selling vegetables within the town and inside Kakuma Refugee Camp.
When UNHCR founded the new integrated settlement in Kalobeyei, she was among those allocated space to run businesses inside the new camp.
"I have already applied for a loan with AAH-K so that I can increase stock in the shop. I am still waiting for them to approve it," she said.
Betty Itapar, 29, born in Kakuma Refugee Camp of a Ugandan refugee father and a Kenyan mother, is now married to a man who is a Burundian refugee. She lives in Kalobeyei Settlement with her husband who runs a motorbike business between Kakuma Refugee Camp, Kakuma town, and Kalobeyei Settlement. Itapar sells vegetables and second-hand clothing within the camp's market, not far from her house. Both Itapar and Akai work and live inside the refugee camp, as do many other Kenyans.
Despite the challenges, AAH-K's Githaiga believes the settlement camp is a good way to cultivate peace and ensure that the integration of host and refugee communities is a success. 
"Very few conflicts have been witnessed — and therefore less interruptions when it comes to programming — thus to a large extent integration has really helped," he said.