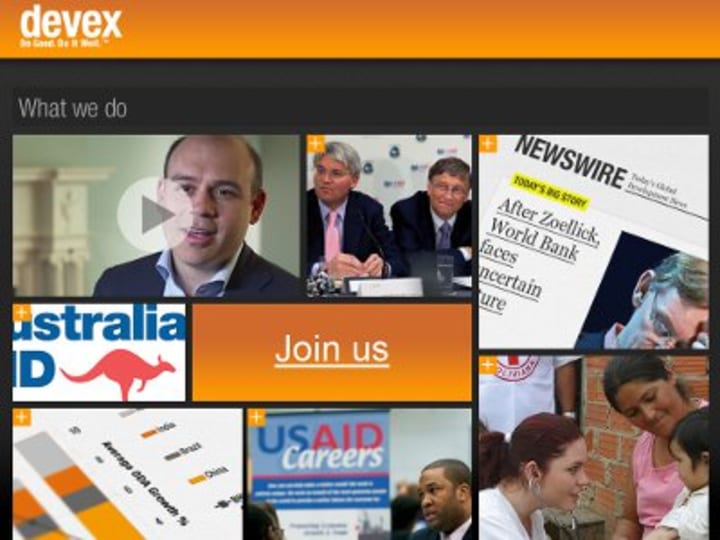 What's your story?
It's a question that, in some permutation, we've all heard before.
Telling your organization's story, the story of your work and the impact it has on people in need can drive the success of your business and the aid industry at large.
We all need to be storytellers.
"Stories are crucial in showing people how UK aid is changing lives around the world," the country's Department for International Development wrote recently in response to a story we published on its data-heavy annual report. "That's why – in addition to our annual report – we're sharing the success stories that highlight these results."
Check the DfID Facebook site for some of these stories. The bilateral donor, like other aid groups, has been beefing up its online presence lately, especially on social media sites such as Twitter and YouTube.
READ MORE: Top 10 global development groups on social media
We at Devex have the opportunity to hear from so many of you who are making development happen around the globe, every day. And we want to give you the opportunity to learn a bit more about us as we connect people and organizations with the information and ideas they need to create more impact.
We realize the importance of putting a face to a name and, in our case, the 100 talented and passionate staff and correspondents in four offices and key development business news markets around the world who work each and every day to connect you, the development professional, to the people, information and ideas that can help you make more impact for more people. We want to make sure development professionals across the globe are connected not just to each other, but also to us. To tell the Devex story, and introduce you to key members of our global team, we've created an entirely new "About us" page.
Get development's most important headlines in your inbox every day.
Thanks for subscribing!
You'll notice that this isn't your everyday, run-of-the-mill "About us" page. But, as you know, we at Devex like to do things a bit differently. So, take a few minutes to get to know our team and the range of services – including news, insight & analysis and comprehensive tender tracking to help your organization identify project partners and experts – used by the 1,000 organizations and half a million international development professionals like you who make up our global community.
We hope that by serving international development professionals like you, we can be just a small part in the story you tell about how your work is improving lives and changing the world.