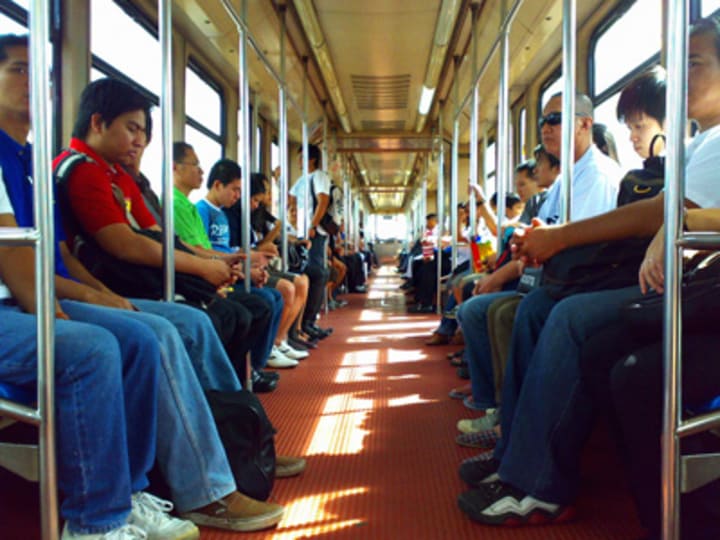 In a region thirsty for energy, the Asian Development Bank wants to lead by example — encouraging its employees to "go green" and save energy.
The initiative is gaining traction at the bank's headquarters in Manila, where Thierry de Longuemar, ADB vice president for finance and risk management, this week went viral after taking the Metro Rail Transit to work, something quite uncommon for expats or Filipinos who can afford to use their private car in the Philippine capital.
"The main reason I commute to work is I need to exercise … By taking the MRT, I walk 20 minutes to the station, in the morning and evening. I'm walking at least three-quarters of an hour a day," De Longuemar was quoted by the bank's "No Impact" community page on Facebook. "Reason number two is I don't like the idea of being in a car by myself where I could be stuck in a traffic jam. In the early morning it's not too hot, not too polluted, so I enjoy the walking."
De Longuemar's decision to commute to work was widely commented on social media, and the local media picked up the story, which sparked netizens to commend the ADB official for his support to public transportation in a country where culturally no one of his status would be caught dead riding a train or a bus to work.
On Twitter and Facebook, many Filipinos wondered whether local politicians will be willing to follow this example and help to decongest traffic along EDSA, one of Manila's main thoroughways and along which the bank's compound is located.
Get development's most important headlines in your inbox every day.
Thanks for subscribing!
Environmentally-sustainable development is a top priority for ADB, the first multilateral development bank to earn both ISO 14,000 and LEED certifications. The institution claims to have significantly reduces energy consumption on a per staff basis thanks to including solar rooftops, air conditioning chiller replacement and rainwater harvesting.
However, saving energy by commuting to work has its risks in crime-ridden Manila — last January, an ADB consultant was attacked and robbed by three teenagers at the MRT station closest to the bank's headquarters.
ADB hopes incidents like this will not deter staff from leaving their private cars at home and continue the "go green" policy.
Read more development aid news online, and subscribe to The Development Newswire to receive top international development headlines from the world's leading donors, news sources and opinion leaders — emailed to you FREE every business day.