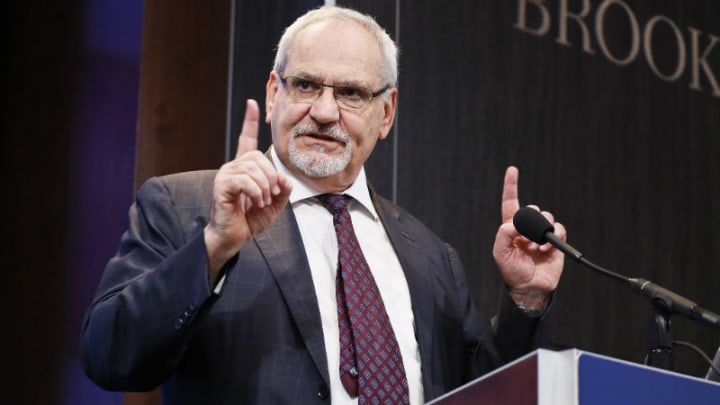 LONDON — Advocates have welcomed "significant" reforms by the International Finance Corporation to improve its record on environment and social issues as its CEO struggles to deliver on his ambitious promise to put development impact back at the heart of IFC.
In an exclusive piece published in Devex last week, IFC boss Philippe Le Houérou unveiled more details about reforms designed to enhance IFC's accountability and make the institution more proactive in preventing and responding to complaints from communities. First announced in April, the changes will go live on July 1 and include a 20% increase in resources for environment and social issues, or E&S, and governance changes to give E&S staff greater independence.
The move comes as the private sector arm of the World Bank faces increased pressure to improve its accountability record after the landmark Jam v. IFC ruling by the U.S. Supreme Court. The decision, reached in February, could see IFC forced to compensate a group of Indian farmers who say their health and livelihoods were damaged by an IFC-backed coal plant.
Honduran farmers are also attempting to sue IFC over its financing of palm oil projects that have been linked to death squads.
The increasing number of cases being brought by communities to IFC's complaints mechanism, the Office of the Compliance Advisor and Ombudsman, or CAO, has also raised questions about IFC's E&S performance. While CAO takes on anywhere between nine and 16 new complaints per year, the Inspection Panel — which handles complaints about World Bank projects — only accepts about two on average.
"The new structure could meaningfully amplify the role of E&S personnel and ensure that E&S risks are not negotiated away or passed over as afterthoughts throughout the investment cycle."
— Kindra Mohr, policy director,
Accountability Counsel
IFC's activities — spotlighted by the Jam v. IFC ruling — have also raised concerns among U.S. lawmakers. In April, during the World Bank Spring Meetings, Maxine Waters, chair of the House Financial Services Committee, accused IFC of "subsidizing private firms" in fragile, and conflict-affected countries. Waters subsequently threatened to withhold support for the bank's $13 billion capital increase package — of which IFC is due to receive $5.5 billion — unless the institution shows greater transparency.
On the same day that Waters' made her remarks, IFC boss Philippe Le Houérou announced a string of reforms.
The stakes are high for Le Houérou, who has two years left on his term, and has the challenging task of increasing IFC investments in International Development Association countries — among the most disadvantaged in the world, including fragile and conflict-affected states — to 40% by 2030. But the E&S risks of doing business in these areas are much higher. Le Houérou, who took over in 2016, has made it his mission to "put development impact at the heart of what IFC does."  
Alongside promises to hire more staff and change the reporting lines, Le Houérou unveiled plans to create a new, separate unit — the Environment and Social Policy and Risk department — tasked with regulating IFC's E&S functions, which will report directly to the CEO.
The new unit will have powers to mobilize a rapid response team if compliance issues arise and serve as the "corporate interface" between IFC, its board, and CAO.
"We must improve E&S risk management and accountability throughout the project cycle and close any existing gap in IFC's responsiveness to complaints from affected communities … We will improve and learn, and, project by project, we will always keep in mind our development mission," Le Houérou wrote in Devex.
Get development's most important headlines in your inbox every day.
Thanks for subscribing!
Accountability advocates said they welcomed the changes but also called on IFC to fix legacy CAO cases, including complaints by tea workers on plantations in Assam, India.
"We are very encouraged to see Mr. Le Houérou's decisive action to initiate these much-needed reforms … [but] we have yet to see clarity around how IFC will play an active role in addressing outstanding CAO cases," Kindra Mohr, policy director at Accountability Counsel, an NGO that advocates for people who say they were harmed by internationally financed projects, told Devex.
The increased resources should strengthen IFC's ability to spot and fix E&S risks early in the project cycle and also "screen out" risky projects before they get approved, David Hunter, professor of international and comparative environmental law at American University's Washington College of Law, told Devex.  
He credited Le Houérou for recognizing that IFC has a "legacy of projects that have impoverished local communities," adding that the reforms "hold the promise that fewer of these projects will be supported by IFC in the future."
According to Mohr, changing the reporting lines for E&S staff will bring IFC more in line with other development finance institutions, including the World Bank's public lending arms, where the team in charge of E&S — Operations Policy and Country Services — reports to the CEO, Kristalina Georgieva. Similarly, the U.S. Overseas Private Investment Corporation's Office of Investment Policy reports to the CEO.
The move is designed to increase the E&S team's status and independence and ensure its advice is not unduly influenced by the interests of the legal or investment teams.
"The new structure could meaningfully amplify the role of E&S personnel and ensure that E&S risks are not negotiated away or passed over as afterthoughts throughout the investment cycle," Mohr told Devex. However, wider reforms to the way IFC staff are incentivized are needed so that "staff are rewarded for development impacts rather than lending volume," she said.  
CAO's Vice President Osvaldo Gratacós also welcomed IFC's efforts: "We support IFC engaging more with communities with a view to understanding and responding in meaningful ways to their concerns about project impacts," he said in an email to Devex.