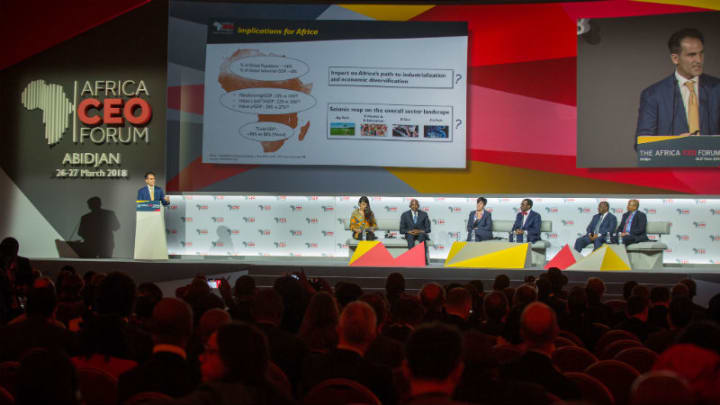 ABIDJAN — Transforming Africa — and how to effectively do so in a digital era — shaped panel discussions and sideline debates during the opening day of the sixth annual Africa CEO Forum, the continent's premier private sector conference, which kicked off Monday in Abidjan, Côte d'Ivoire.
Some 1,600 African and international CEOs, bankers, investors, and government officials representing 60 countries assembled to discuss the economic development opportunities on the continent at a moment when tech revolutions and digitization offers new areas for employment and business models across sectors.
As African countries seek to diversify economies, increase employment rates, and achieve food security, experts also argued that digital solutions must be met with the physical infrastructure and regulatory framework needed for technology to work for good.
The continent is expected to boast six of the world's 10 fastest growing economies in 2018, according to World Bank findings. At the conference, heads of state reiterated that the region is "open for business" and solicited interest in sectors ranging from fintech and health to agriculture and manufacturing.
"My administration's top priority is the resuscitation and revival of the economy and re-engagement with the international community," President Emmerson Mnangagwa of Zimbabwe announced during the opening ceremony. "We have the resolve and political will to institute clear, coherent, and sound business policies which will allow for a vibrant private sector which can thrive and meaningfully contribute to our national aspirations and development agenda."
Mnangagwa also referenced a new one-stop "mining investment desk" at the Ministry of Mines and Mining Development and his plans to streamline import and export regulations to "improve the investment climate" in the southern Africa country.
Get development's most important headlines in your inbox every day.
Thanks for subscribing!
There are three major ways to grasp the digital revolution in Africa, Chief Operating Officer of the International Finance Corporation Stephanie von Friedeburg explained during a session on whether the digital advancements are creating opportunities or widening gaps within societies. Countries must have a structural backbone that allows for widespread connectivity at affordable prices, she said, as well as knowledge around maintenance and how to expand.
"Technology is a tool … the outcome we are looking for is economic transformation," von Friedeburg argued. "Most importantly in Africa, we need to start bottom up and encourage entrepreneurship that will drive the use of these technologies."
To build more sustainable health care systems, Amit Thakker, chairman of the Africa Healthcare Federation told Devex that private-sector led public-private partnerships would modernize current health systems. "Public sector should do what they do best and focus on regulation, and private sector focus on provisions," he said.
Digital transformation is not just a matter of technology, but also requires changes in culture as well as evolutions in the regulatory space. Sound regulatory frameworks, Thakker argued, remains the biggest deterrent to foreign investment in Africa.
The two-day event culminates on Tuesday with sessions on solar energy, aviation, and private equity investment opportunities, along with spotlight on young business leaders and their tips for success.