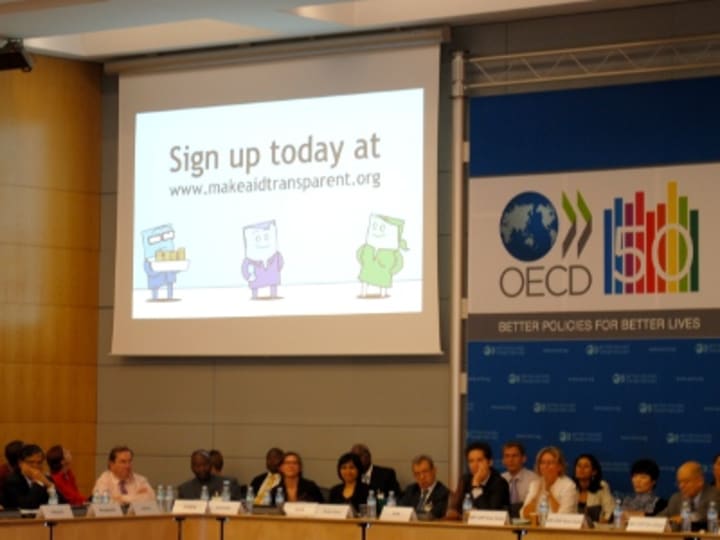 A few weeks ago in Paris, high-level donors, partner country representatives and civil society battled it out across an OECD roundtable.
They were combing through a draft of the Busan Outcome Document, an agreement on effective development which will be finalized by high-level national representatives in South Korea in November 2011. Their goal: to reach some kind of consensus before the likes of Hillary Clinton, Ban Ki-moon and U.K. Secretary of State for International Development Andrew Mitchell have to board a plane east in just over a month.
One of the most progressive things in the document is a firm commitment to the International Aid Transparency Initiative. This commitment was agreed at during the negotiations back in July. But by the end of the recent discussions, it was clear that the battle to hold donors to their aid transparency commitments is not yet won.
A handful of recalcitrant donors have attempted to dilute or undermine hard-won commitments by removing all references to IATI from the text. This matters because IATI is the best existing mechanism for ensuring donors' reporting on aid is comparable and effective. It provides a common format and agreed standards and is the obvious way to move the transparency agenda forward.
The co-chairs of the working party responded to this unexpected dynamic by stressing that commonality of standards is crucial, that IATI is important, and that a political agreement without dates for implementation is really unacceptable. They also stressed that current commitments are unbalanced – partner countries are being expected to do much more than donors.
Get development's most important headlines in your inbox every day.
Thanks for subscribing!
The Fourth High Level Forum on Aid Effectiveness is six weeks away, so we've still time to turn this round. Please help us spread the word to prevent a rearguard action by a handful of countries. Aid transparency is an essential first step for many other aid effectiveness commitments. Until we know how much aid they're giving, to who and for what – and can compare this between counties, sectors and over time – donors are simply not going to be able to deliver on bigger promises to report on results, increase predictability and coordination, reduce conditionality, and enhance ownership.
At a time when aid budgets are under huge pressure, failure to deliver on transparency and accountability at Busan could have serious implications for the effectiveness of our development assistance and for the lives of the poorest. Without transparency, many of the poorest and most vulnerable may not get the help they so urgent need, as governments and donors will not know where best to invest their resources.
Read Save the Children position paper on Busan, and show your support for aid transparency by signing the "Make Aid Transparent" petition.
Read more about the run-up to Busan in Full Disclosure: The aid transparency blog.
This guest opinion was adapted with permission from an article originally published by Save the Children. Read the original article.