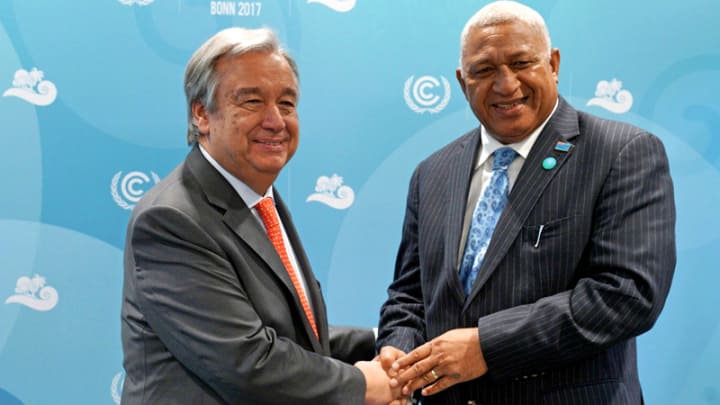 BONN, Germany — Heads of state and ministers from around the world spoke at COP23 on Wednesday, kicking off the high-level segment of the U.N. climate conference. But it might have been the least known speaker who left the biggest impression.
Fijian Timoci Naulusala, a 12-year-old who was invited to Bonn as part of a climate week speech competition for children, made a passionate plea for climate action. "The sea is swallowing villages, eating away at shorelines, withering crops. Relocation of people … cries over lost loved ones, dying of hunger and thirst. It's catastrophic. It's sad … but it's real."
"You may think it will only affect small nations … You are wrong," he said.
The high-level speeches were a mix of plans, pledges, and pleas, both old and new, with a focus on the need to financially support those bearing the brunt of the adverse effects of climate change, particularly island nations such as conference chair Fiji.
Hailing Europe's climate leadership, German Chancellor Angela Merkel and French President Emmanuel Macron pledged to make up any funding shortfall for the Intergovernmental Panel on Climate Change, after the United States outlined plans to cut funding earlier this year. Merkel announced that Germany will double its climate finance by 2020.
"Germany will be able to export clean technology worldwide," Merkel said during her speech. "And it is ready to support developing countries to go green."
NGOs criticized Merkel for dodging the question of how Germany will reach its climate targets, alongside comments about the future role of coal. "This message from the host of a world climate conference must sound cruel to the poorest countries most strongly affected by climate change," Oxfam Germany climate expert, Jan Kowalzig, said.
Leaders' rallying cries
COP23 President and Prime Minister of Fiji Frank Bainimarama urged governments to make swift progress on taking climate action and finalizing the rulebook of the Paris Agreement on climate change. U.N. Secretary-General António Guterres called climate change "the defining threat of our time."
"The catastrophic effects of climate change are upon us," said Guterres, who has been serving as secretary-general since January. "The voice of small island states that are on the frontlines of climate change must be the voice of us all."
The U.N. chief called for more ambition in five specific areas: emissions, adaptation to the inevitable impacts of climate change, finance, partnerships, and leadership.
He also said that the Kyoto Protocol, the first international treaty to cut greenhouse gas emissions, remains an essential vehicle for developed countries to make more rapid and urgent cuts in their emissions.
"In this 20th anniversary year of the adoption of the Kyoto Protocol and the 25th anniversary of the adoption of the climate change convention, I call on all relevant nations that have not yet done so to ratify the Doha Amendment," he said.
The Doha Amendment to the Kyoto Protocol covers the period before 2020, the year the Paris Agreement is to take effect. To date, 88 countries have accepted the amendment. A deprioritizing of pre-2020 commitments at COP23 has been a particular point of contention for developing countries, who see it as crucial for the Paris Agreement to have impact.
Germany President Frank-Walter Steinmeier shared a personal story of how he saw the impacts of climate change while flying over Pacific islands.
"Climate protection is a question of global justice," he said. "Small island states contributed the least to climate change, but are bearing the brunt of the burden, and haven't participated in wealth built on fossil fuel yet. They need our solidarity the most. We must help them help themselves."
Genevieve Jiva of the Pacific Islands Climate Action Network told Devex that although she welcomed the statements, the world has a long way to go to meet the 1.5 degree temperature goal set by the Paris Agreement.
"Developed countries need to take more ambitious action in the next few years to ensure the Pacific and other small island developing states survive," she said in an email. "Their fossil fuels is our loss and damage."
Get development's most important headlines in your inbox every day.
Thanks for subscribing!
Who will foot the bill for climate finance?
During COP23, the call from the least developed countries for more support and financial assistance from industrialized nations has grown louder. The yet-to-be-adopted pre-2020 agreement highlights the need to scale up climate finance to meet the $100 billion a year goal starting in 2020.
Climate finance is among the most contentious issues being discussed in Bonn. According to the latest U.N. Environment Programme Emissions Gap Report, current pledges will only deliver one-third of what is needed to stay in the safety zones of the Paris Agreement, and scientists from the Global Carbon Project have said 2017 will see the first increase in CO2 emissions in three years.
Last week, Germany's Federal Environment Minister Barbara Hendricks announced support for the Adaptation Fund with an additional 50 million euros, and earmarked another 50 million euros for the Least Developed Countries Fund.
The announcements were "extremely welcome," said Harjeet Singh, global lead on climate change for ActionAid International. "But vulnerable countries need more than ad-hoc handouts. They need a fair and robust system that can allow them to prepare for climate impacts and help victims ... We need serious solutions that provide lasting help."
This week, more initiatives were announced. Among them were InsuResilience, a German-led effort to reach 400 million more climate-vulnerable people with disaster risk insurance; a 177 million pound investment from the U.K. government in sustainable and climate-resilient infrastructure in Latin America and the Caribbean, in partnership with the Inter-American Development Bank; a new regional NDC Partnership hub in the Pacific to support implementation of nationally determined contributions in the region; and the Global Climate Action Agenda, which involves regions, cities, business, investors, and civil society.
LDCs have welcomed the announcements, but the real question is whether they are enough to move the needle in developing countries' increasingly costly fight against rising sea levels, the acidification of oceans, and the growing numbers of storms.
For a start, LDCs say a lot more needs to go toward adaptation rather than mitigation measures such as reducing emissions. Right now, only about one-fifth of the $100 billion goal is intended for adaptation. And experts say $100 billion is a small sum compared to the scale of the challenges developing countries face. Oxfam has calculated that far more will be needed.
What's more, discussions about financing for "loss and damage" — the question of where money will come from to aid countries that suffer from climate change despite playing little to no role in contributing to it — appear to have met the end of the road in these negotiations. While the LDCs want the funding to continue operations under the Paris Agreement, the industrialized countries have signaled that they agree in principal, but want the topic to be discussed at COP24 in Poland next year.
And the plan to raise capitalization of the Green Climate Fund to $10 billion by 2018, which is supposed to reduce emissions from developing economies, looks unlikely at this stage.
The issue of climate financing is a big unresolved issue — and key parts of it could remain on the table when COP23 comes to a close. The high-level remarks will continue through Friday, with heads of state eventually giving way to specialized country ministers and chief political negotiators, whose role is to help find solutions for protracted negotiations.
Update, Nov. 16: This story was updated to include additional comments received after publication.
Read more Devex coverage on COP23.