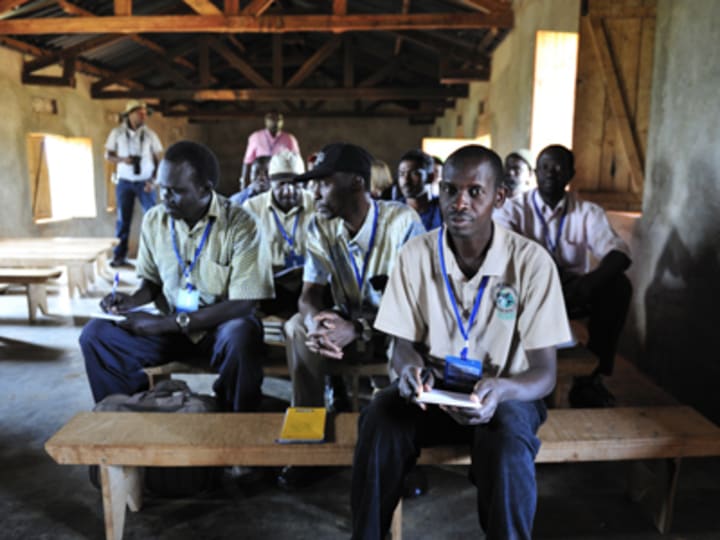 The ability to apply theory to practice and use practice to inform theory in a virtuous cycle is a key part of a development implementer's skill set.
That is according to Rowan Putman, director at DAI, a global development company with more than 40 years of experience on the front lines of international development.
"We take an iterative approach to development implementation, investing in developing solutions, frameworks, tools, and systems to support what we're doing and what we need to achieve for our clients," explained Putman.
Putman took time out to speak with Devex just a few weeks before DAI makes its inaugural appearance at the European Development Days 2013 — the EU's premier forum on development cooperation — in Brussels on Nov. 26-27. There, DAI will host a lab session on gender equality and women's empowerment which aims to focus on practical ways to harness and catalyze public-private partnerships to better incorporate women in global supply chains.
"It's the first time at EDD for both myself and DAI and it presents a unique opportunity, one that is particularly special because it feeds into the post-2015 debate and — since the forum covers such a broad range of topics — gives us the perfect platform from which to highlight topics that speak to our experience and in-house expertise."
According to Putman, it is this wide-ranging expertise — integrating areas as diverse as democratic governance, judicial reform, trade, private sector development, banking and finance, water and natural resources management, and sustainable energy financing and climate change — coupled with highly professional project implementation that has kept the company in such good stead for so long.
"We've been in the business for 40 years, working on large-scale, complex projects for USAID and other major donors all around the world, including in conflict-affected areas and fragile states," Putman said. "We have a wealth of knowledge at our disposal, but we are constantly learning — and increasingly we take it as our challenge to bring that learning together across sectors and across clients."
The European project
The company's high-profile appearance on the EU stage is no coincidence then, coming at a time when it is making a concerted effort to diversify, explore new frontiers and connect into the notoriously competitive European market.
In 2010, DAI decided that if it was to be a truly global leader in development thinking and practice, and really make a difference in the world as its mission requires, then it would have to broaden its client base by augmenting its traditional core markets in the United States. It was necessary to "leverage our experience with USAID to meet the needs of other donors," said Putman, "and vice versa."
Working out of its London-based European office, the DAI team relatively quickly won a succession of challenging and technically rich assignments with the U.K. Department for International Development, which has become the company's second largest bilateral client. It was a recipe for success, according to Putman.
"We were delighted to become one of the preferred contractors for DfID. But part of the diversification strategy was also to look towards the European Commission," she said.
Putman herself was brought on board to explore opportunities along this line: "In the first quarter of this year we finally got a team in place and, after a busy summer, we heard back on two proposals: the first one we lost, but the second one — thankfully — we won!"
So what are the next steps?
"We're really in a 'getting to know you' phase, raising awareness on what DAI has to offer, getting people more familiar with the experience we have in-house and what we can bring to the European arena."
Securing staff buy-in
Putman believes that the staffing setup is also a plus, with the majority of DAI's personnel either working or having worked directly for the company on a permanent basis.
This approach, she stressed, reaps dividends: "What ties you to a company as an expert should be more than just a contract. Ideally it is a mutually rewarding working relationship for the long term, whether as a permanent member of staff, as a valued consultant, or a combination of both. Our people are what make our clients successful, and DAI recognizes that."
Get development's most important headlines in your inbox every day.
Thanks for subscribing!
The result is a joint commitment for success, something the firm strives to extend to counterparts and stakeholders, whether in the private sector, civil society, the public, or governments.
"It's a more holistic approach and development today certainly needs to be addressed from all angles," explained Putman. "When donors witness this joint commitment, it provides them with reassurance that they'll get the product or service that they want. Fundamentally, they're answerable to the taxpayers across Europe and they have to demonstrate that their investments are achieving results."
But how will the company and its people help them do this?
"DAI will continue to do what it does best — take stock of what we know, learn and experience in our development work with key clients around the world, and innovate ways and means to help them achieve greater impact. Our presentation at EDD13 is a prime example of how we have learned from our work with private sector and donor clients alike on this crucial issue of bringing women into global supply chains."
Working in tandem
Is the company open to working with other players or specialists in responding to particular donor needs?
"Absolutely. We look for complementarity and niche organisations who share our values. Our considerations of course depend largely on the nature of the opportunity, the sector, the geography and the specifics of the call for tender."
Putman noted there are strict criteria to be adhered to in order to get to the point of responding to a call for tender, and "so far," she said, "we've been somewhat successful." She puts this success down to careful screening of opportunities.
"We're discriminating. We assess whether it is in our heartland in terms of expertise and experience, and in very concrete terms what we can bring to the table to ensure success."
But beyond demonstrating the appropriate experience and qualifications, how does a "new" company like DAI make headway in a market like the EU?
"Fundamentally [the European Union] has a process it has to follow and we have to work within that process. Making the EU aware of our successes with other donors and what we can do for them can only help to reassure them that we're a firm that is professional, and that has all the required technical ability and experience to back it up."
This won't be easy, Putman admits, noting that "many companies fail to appreciate the differences in 'approach and appetite' in the methods of working. But we are well aware of the differences between U.S., U.K. and EU cultures. You have to be mindful of those differences, but with 'Paris declaration'-type discussions still very relevant today, our insights into how USAID, DfID, EBRD, EIB, or the World Bank operate — and bringing that experience to bear in the projects that we implement for the EU — puts us in a strong position, because we can draw from a range of different approaches, experiences and perspectives to any given subject."
Putman is confident that participation in fora such as European Development Days will feed into the company's future work with the European Commission and other clients.
"The way we've set it up allows us to examine the issue at macro-, meso-, and micro-levels. And we're bringing in representatives from each of these levels to take part in the discussions."
She added that the company will remain true to its ethos of feeding back lessons learned into its ongoing work, with a future session already planned to take stock of what is done following the EDD presentation.
"As far as DAI is concerned, every project is both a standalone assignment and a part of the cumulative development effect and the longer-term impact we are trying to achieve with our clients. That is why we invest in continued discussion and learning to ensure that we deliver continued improvement — not only in theory, but in practice, and not only in one part of our enterprise, but across the firm, its disciplines, and its clients."
Find out more about DAI via its website and follow the company on LinkedIn,  Facebook and Twitter.
For the latest news, views and announcements on European Development Days 2013, visit the website or follow the forum on Facebook or Twitter.