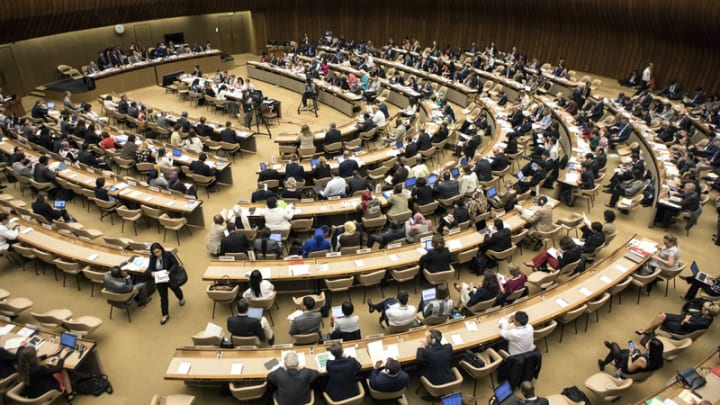 Below are some of the most noteworthy events for the week starting May 22:
EVENTS IN THE NEXT 7 DAYS
70th World Health Assembly
May 22-31
Geneva, Switzerland
African Development Bank Annual Meeting
May 22-26
Ahmedabad, India

Innovate4Climate: Finance and Markets Week
May 22-26
Barcelona, Spain
Understanding Financial Education: What Works, What Doesn't, and What's Next?
May 23
Washington, D.C., United States and online
China-US Action and Cooperation in the New Age of Global Climate Governance
May 24
Beijing, China
UK General Election: Priorities for International Development
May 24
London, United Kingdom
Investing in R&D from AMR to Zika: Laying the Foundation for Sustainable Development
May 24
Geneva, Switzerland
Better Targeting Food Safety Investments in Low and Middle Income Countries
May 24
Brussels, Belgium
EU-US Leaders' Meeting
May 25
Brussels, Belgium
7 Stories to Change the World
May 25
Giardini Naxos, Italy
From Panic and Neglect to Building Global Health Security: Investing in Pandemic Preparedness at a National Level
May 25
Geneva, Switzerland
Global Health R&D: How Can We Best Set Priorities Based on Evidence?
May 25
Geneva, Switzerland
Get development's most important headlines in your inbox every day.
Thanks for subscribing!
G7 Summit
May 26-27
Sicily, Italy
Child Development in the SDG Era: What are the Big Implementation, Measurement and Research Questions?
May 29
London, United Kingdom
The Think 20 Summit
May 29-30
Berlin, Germany
International Conference on the IAEA Technical Cooperation Programme: Sixty Years and Beyond — Contributing to Development
May 30 - June 1
Vienna, Austria
2017 SID-Washington Annual Conference
June 1
Washington, D.C., United States
INTERNATIONAL OBSERVANCES
International Day for Biological Diversity
May 22
International Day to End Obstetric Fistula
May 23
International Day of UN Peacekeepers
May 29
Know of an upcoming event that might be of interest to the international development community? Leave a comment below or email us at news@devex.com.
Read more international development news online, and subscribe to The Development Newswire to receive the latest from the world's leading donors and decision-makers — emailed to you free every business day.