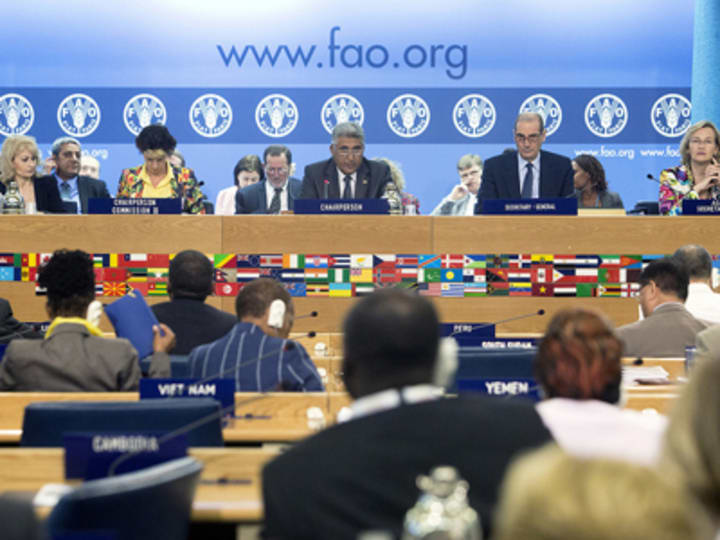 Delegates from all FAO member states gathered this week in Rome for the U.N. Food and Agriculture Organization's biannual conference, the main governing body that approves the strategy and budget.
The main topic on the agenda was the budget and program for 2014-2017, with action plans of the agency's five strategic goals for the next three years.
Delegates are expected to approve on Saturday a $1.0281 billion, or 2.2 percent, increase on the levels of the past two years.
FAO Director-General Jose Graziano da Silva urged member states — many of them cash-strapped due to worldwide austerity measures — to make an extra effort and commit more funds toward technical assistance, communication and partnerships.
Here are a few takeaways from the week-long discussions:
1. Budget: A majority of developing countries welcomed the push for more funds, especially in technical assistance. Even though some member states, most of them developed countries, rallied against the budget increase in recent months citing austerity, the budget was approved by an overwhelming 135 votes in favour, with just two abstentions. 
2. Post-2015 agenda: What will happen to FAO's programs after the Millennium Development Goals expire in two and a half years? Eve Crowley, the U.N. agency's director for gender, equity and rural employment, told Devex that the post-2015 development agenda will probably lead to further adjustments on a mid-term strategy that is still being defined.
3. More field presence: FAO wants to be "closer to the countries" where it works, and so plans to reinforce its presence in the field by deploying about 50 additional staff in regional and subregional offices, mainly for technical assistance.
Get development's most important headlines in your inbox every day.
Thanks for subscribing!
4. Partnerships: The agency is looking to strengthen its relationship with civil society via a new civil society strategy. During the Conference, civil society organizations and the FAO debated the implementation of the strategy. Crowley asserted the need for stronger civil society involvement in the post-2015 framework discussions.
5. Hunger: The agency awarded 38 countries that achieved the target of reducing hunger by have in the past 20 years. Among them was Venezuela, which despite the honor still suffers severe food shortages.
6. New member states: Brunei, Singapore and South Sudan were admitted as new members of the U.N. agency. South Sudanese agriculture minister Betty Achan Ogwaro told Devex that this is a great opportunity for her country to not only receive more relief funds but also foster public-private partnerships.
7. EU award: The European Union received the first Jacques Diouf award for its €1 billion initiative against hunger, partly implemented together with FAO in response to high food prices in poor countries.
Read more development aid news online, and subscribe to The Development Newswire to receive top international development headlines from the world's leading donors, news sources and opinion leaders — emailed to you FREE every business day.