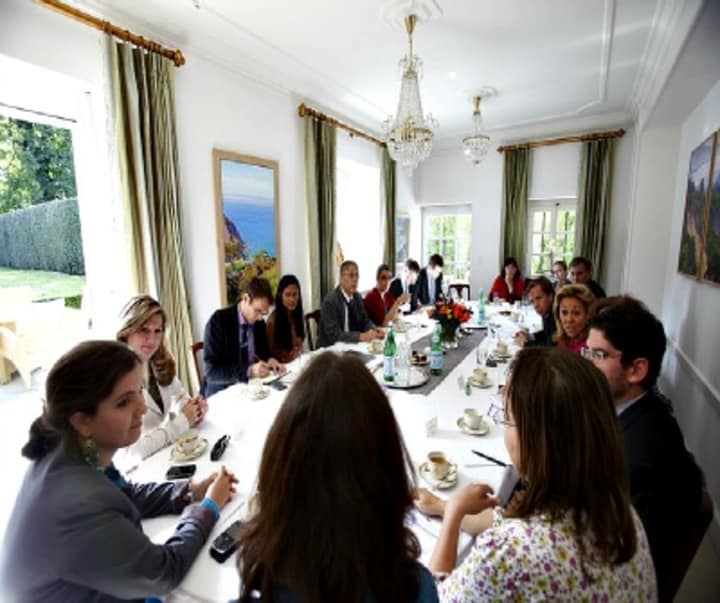 This article is produced and published by Devex Impact, a global initiative of Devex and USAID, that focuses on the intersection of business and global development and connects companies, organizations and professionals to the practical information they need to make an impact. The content published by Devex Impact does not necessarily reflect the views of USAID or the United States Government, nor constitute an endorsement by the United States Government.
As multinational corporations join the international development community, the lines between sectors – corporate, non-profit, government – are blurring. At the individual level, this means people are not only changing jobs, but crossing once rigid sector boundaries. In an exclusive Devex Impact series, we explore the transitions of four individuals from the corporate world to global development non-profits.
In the coming weeks, we'll bring you the story of a Harvard MBA and McKinsey consultant who now serves as managing director of a non-profit; a former hospitality industry executive now working with a corporate-led non-profit; an engineer at a technology giant now serving as CTO at a tech-focused NGO; and a financial analyst who now heads program development at a child-focused non-profit in India. All four of these individuals are not only pursuing their dreams of contributing to global development, but also bringing their business acumen and skills to the job.
Career experts, development practitioners and veterans of the process are the first to say that the transition from corporate to non-profit is not always easy. The cultural shift can be jarring, with expectations around time management, performance objectives and even the question of who buys lunch diverging according to sector.
"If you've worked at a large company, it can sometimes be hard to relate to the fact that NGO leaders might think twice whether or not to serve lunch at a working meeting," explained Andrew Mack, founder of AMGlobal, who works with both corporate and non-profit clients. "In the non-profit world, there is a general assumption of resource scarcity — the feeling that there's never enough money for the size of the task — and that will feel unfamiliar to someone coming from the corporate world."
Similarly, reward systems are different by sector, said Mack. "In the for-profit world, you're rewarded for solving a big problem, especially if you can do it quickly. In the non-profit world, you're rewarding for attempting to solve a big problem. And in some cases, if you do solve a problem, your organization might actually lose resources."
But because today's international development work requires so much "bridging" among sectors, said Mack, career-changers are more valuable than ever. "Their ability to speak to donors and other corporates, and their ability to track results and manage money – those are all incredibly valuable skills for a non-profit."
3 elements of 'fit'
Both career experts and veterans of the switch agree that, if executed thoughtfully, a corporate-NGO transition can reward the job seeker with new career satisfaction and a sense of meaningful impact.
Get development's most important headlines in your inbox every day.
Thanks for subscribing!
The challenge for corporate workers is to learn enough about the non-profit sector – and themselves – to make the right strategic move, said Dr. Mrim Boutla, co-founder and managing partner of More Than Money Careers, a career firm that provides counseling and training for those seeking jobs in corporate responsibility, social enterprise and related fields. "When someone doesn't unpack [their motivations], we often find that they change jobs but end up feeling as unfulfilled in their new job as they did in their old one," she said.
According to Boutla, career changers should think through three elements of "fit" when looking for their new job. "The first consideration is what type of impact you want to have," said Boutla. Do you have a burning desire to help African women become social entrepreneurs? Do you want to work in global health? Because non-profits tend to focus on a core set of issues, career changers need to take time to conduct the necessary "detective work" to find out which organizations share their goals.
The second consideration is what type of "community" – the organization and its people – is the best fit. "If you want to shape procedures instead of just apply them, don't work for the United Nations. If you want to change things on the ground, don't work for a think tank," she said. "If there is a disconnect, you will be unhappy."
The third aspect of fit is function or skill set, she said. Successful career changers are often those who take a similar type of role. "Different sectors have different ways of talking about the same skills, and you have to learn the language of where you want to be," said Boutla. For example, an employee that works as a marketing manager in the corporate world may become a "resource development officer" in a non-profit.
Career changers coming from the corporate world should also understand the differences among non-profits organizations. "Traditional non-profits, which rely on donations and grants, tend to attract very different people than revenue-generating non-profits, which earn their own income," she said. Those with a business background may find a better fit at the revenue-generating non profits, such asFSG Social Impact Consultants, Land O'Lakes International Development or ACCION International, said Boutla.
Have you made the change from corporate to non-profit? Tell us about your transition in the comments section below.
Next in this series:
Join the 500,000-strong Devex community to network with peers, discover talent and forge new partnerships – it's free! Then sign up for the Devex Impact newsletter to receive cutting-edge news and analysis every month on the intersection of business and development.